New & Feature
Casio Pathfinder: One of the Toughest Outdoor Watches
Nov 23, 2021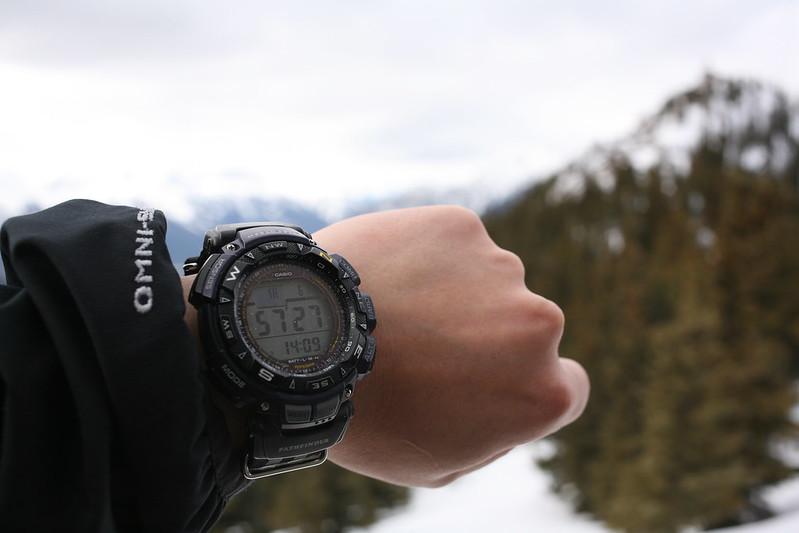 The Casio Pro Trek Pathfinder is one of the most admirable watches in the entire Casio lineup. This watch is known for its ability to withstand all sorts of harsh conditions. Like its fellow G-Shock models, this Pro Trek watch is exclusively designed and crafted by the Japanese brand for wilderness enthusiasts such as climbers, hikers, campers, and so on. Equipped with advanced technical features necessary for outdoor adventures, you can never go wrong with the Casio Pathfinder
Without further ado, let us take a closer look at the superior features and functionalities to be found in the Casio Pathfinder. 
First Impressions

Right off the bat, the Casio Pathfinder PAG240-1 is a top-notch timepiece that is designed for individuals who lead an active lifestyle. The design of this watch may look pretty complex at first, especially with all of its buttons, but it is actually very easy to use, even for first-timers. This is because the functions on the Casio Pathfinder are all carefully labelled, so you will not get confused while navigating this multifunctional watch. 
With its rugged build, this Casio Pathfinder is a highly reliable watch that you can use for just about any outdoor adventure. Jam-packed with all sorts of necessary practical features, this is a robust and high-quality timekeeper you should definitely consider for your collection.
Specifications

Case and Strap
At first glance, you can already tell that the Casio Pathfinder PAG240-1 offers a simple and sporty look. It is a ruggedly built watch packed with excellent features. The watch has a rather complex design due to the various buttons that can be found all over its case. That said, it follows the same layout as many other digital Casio timepieces, so if you have ever owned a Casio watch before, you should be familiar with the Casio Pathfinder, too. If you are a newcomer to Casio watches, fear not! The buttons on the Casio Pathfinder are all meticulously labelled, so you easily remember what each button is for. 
You can find the three buttons that control the watch's triple sensors on the right side of the case. One button is used to control the altimeter, one for the barometer, and another for the compass. In addition, there are four buttons that you can use to switch the backlight on and off and adjust the different modes of the watch. As with all Casio watches, this Casio Pathfinder has large buttons that you can easily press even while wearing gloves.
The Casio Pathfinder is also a very robust watch, with an oversized 51mm case. Typically, the case of the Casio Pathfinder is made out of resin, a material that is known for its lightweight nature and its extreme resistance to shocks and scratches. As such, although this watch is big, you do not have to worry about the resin variants being too heavy on the wrist. The Casio Pathfinder is also offered in stainless steel. These options can be rather hefty and are best suited for those with larger-sized wrists. Both versions are paired with a plastic resin strap secured with one pin buckle.
Digital Dial

The Casio Pro Trek Pathfinder watch has a full digital display with a duplex LCD. It comes with two different layers so that it can display more than a single function at a time. With its large text, the dial is clear and straightforward, which makes it easier to read the time even during outdoor adventures. The Casio Pathfinder is also equipped with a layer of scratch-resistant mineral glass for optimal protection.
Some of the features you can find on the Casio Pathfinder's dial include a countdown timer, an alarm feature, a stopwatch, full calendar data, automatic backlighting, a thermometer that can go from 14℉ to 140℉, sunrise and sunset data, and more.
Solar Power Battery
One of the most remarkable features of the Casio Pathfinder is its solar power capability. This watch is able to power itself using the thin strap of solar cells scattered around the outside of the watch's screen. You do not have to worry about changing the batteries from time to time since this Pathfinder piece can run by itself using solar power. When fully charged, it can last up to a whopping six months. 
Triple-Sensor Function
One of the most essential features that any sports or outdoor watch should possess is the triple-sensor function. This refers to the altimeter, barometer, and compass features, commonly known as the ABC features, which are extremely useful for explorers and adventurers. As the ultimate outdoor watch, the Casio Pathfinder is also equipped with this triple-sensor function. 
The altimeter feature utilises a pressure sensor to make accurate readings of your current elevation level. For instance, if you are climbing a hill and notice that the watch indicates you are at an altitude of 200 metres above sea level, you can set the altimeter simply by pushing the right button. From there, the altimeter sensor will do all the work for you, refreshing the new recorded altitude level every 2 minutes. 
Next, the barometer is perhaps considered the most useful sensor as it essentially helps you monitor weather changes and air pressure. If the barometer displays a low air pressure, then this is a signal that it might possibly rain. If the recorded air pressure is unusually low, then you can expect incoming storms. On the other hand, if the barometer indicates rising air pressures, it is definitely good news as sunny weather is on the way. 
Lastly, the compass is used to keep track of the direction you are headed in. You can switch on the compass function simply by pressing the right dedicated button. Once it is set, you just have to follow the directions indicated by the compass to decide where you need to go.
Water Resistance
Given that the Casio Pathfinder is designed for outdoor activities, then it is only natural that it is equipped with some level of water resistance. The Casio Pathfinder has a  substantial 100-metre water-resistance rating. As such, it is able to withstand some splashes and even a swim in the pool. However, since it is not a dedicated diver piece, this is not the greatest option for scuba diving or sea walking. 
Price
As with many other Casio watches, the Casio Pathfinder has a very affordable price despite being packed full of practical features. In fact, it is one of the cheapest timekeepers equipped with ABC sensors. As such, it is no surprise that the Casio Pathfinder continues to be an incredibly sought-after piece. You can purchase this watch for just $200 USD.
Alternatives to the Casio Pathfinder
The Casio Pathfinder is a great outdoor watch that is simply built to last. That said, it is also not necessarily to everyone's tastes. Maybe you don't like its rugged build, or you find its size too big and cumbersome. If so, you have nothing to fear! Here are three of the best alternatives to the Casio Pathfinder which you can find in the market today.
1. Suunto 9 Baro Titanium Ref. SS050149000
If you are looking for a sleek yet sporty watch that can keep up with all your outdoor adventures, the Suunto 9 Baro Titanium SS050149000 is the right option for you. As you might have guessed, the "Baro" in its name refers to the barometer sensor incorporated in the watch, which helps to monitor weather changes and air pressure. This barometer sensor also allows the watch's GPS to be much more accurate. In addition, this Suunto watch boasts a glass fibre-reinforced polyamide case and a smooth black silicone strap. Its digital dial is protected by a layer of hardy sapphire glass. 
Performance-wise, this Suunto 9 watch is powered by a top-notch quartz movement. It is equipped with an altimeter, compass, heart rate monitor, activity tracking, and sleep tracking. In addition, it has over 80 different sports modes, so this is truly the perfect watch for the active sportsman. That said, one downside to the Suunto 9 Baro is that its battery can only last up to 14 days when used in time mode, unlike the Casio Pathfinder's battery life of six months. 
You can purchase this watch for just $678 USD.
2. Tissot Touch Collection Solar Ii Ref. T110.420.44.051.00

Next up, we have the Tissot Touch Collection Solar Ii T110.420.44.051.00. This is a robust and versatile watch that would look great on your wrist, whether you are going for an adventure into the wilderness or a dressy dinner party. The case and bracelet of this watch are made of titanium, giving it a sturdy but lightweight build. This is paired with a black digital dial, with black-and-white hands and a luminous finish. In addition, this watch also comes with an altimeter, built-in compass, weather forecasting, and a second time zone. As with the other watches in the Tissot T-Touch collection, this model comes with a sapphire crystal to protect the dial from any scratches or damage. 
This Tissot watch is powered by a top-notch calibre E84.301. It also comes with a solid 100-metre water-resistance rating to ensure it can withstand more than a little moisture. If you are into stylish yet hardy timekeepers, make sure to check out this Tissot piece, which retails at $929 USD.
3. Garmin Fenix 6 Pro Solar Edition Ref. 010-02410-23 

One watch brand famous for its collection of top-notch watches designed for people with an active lifestyle is Garmin. This brand has a lot of durable and sleek watches for sports enthusiasts. The Garmin Fenix 6 Pro Solar Edition 010-02410-23 is our top recommended watch for you. It features an anthracite plastic case, a digital dial, and a black titanium bracelet to complete the handsome appearance.
When it comes to performance, this Garmin Fenix 6 watch is powered by solar technology, making it as eco-friendly as the Casio Pathfinder. Other than having the necessary ABC sensors, this Garmin watch is also equipped with advanced GPS, a day and date calendar, stopwatch, alarm, as well as vibration alerts. With such advanced features, it is no surprise why this Garmin Fenix 6 Pro Solar Edition 010-02410-23 retails at a heftier price of $1,169 USD.
Final Thoughts
The  Casio ProTrek Pathfinder is the ultimate go-to outdoor watch that can keep with any outdoor adventures you enjoy. Launched especially for individuals who enjoy an active lifestyle, it is equipped with all the features you need for conquering any outdoor activities. Indeed, you would be hardpressed to find a watch as rugged and bold as this one. 
Photos credited to TheWatchCompany.com unless stated otherwise.
Featured image by Wilson Hui on Flickr.
If you are curious what are the best altimeter watches on the market, why not have some time to read our article about the 15 Altimeter Watches To Bring To Your Daring Adventures.