New & Feature
Glashutte SeaQ: An In-Depth Look At The Glashutte Spezialist Dive Watch
Feb 07, 2022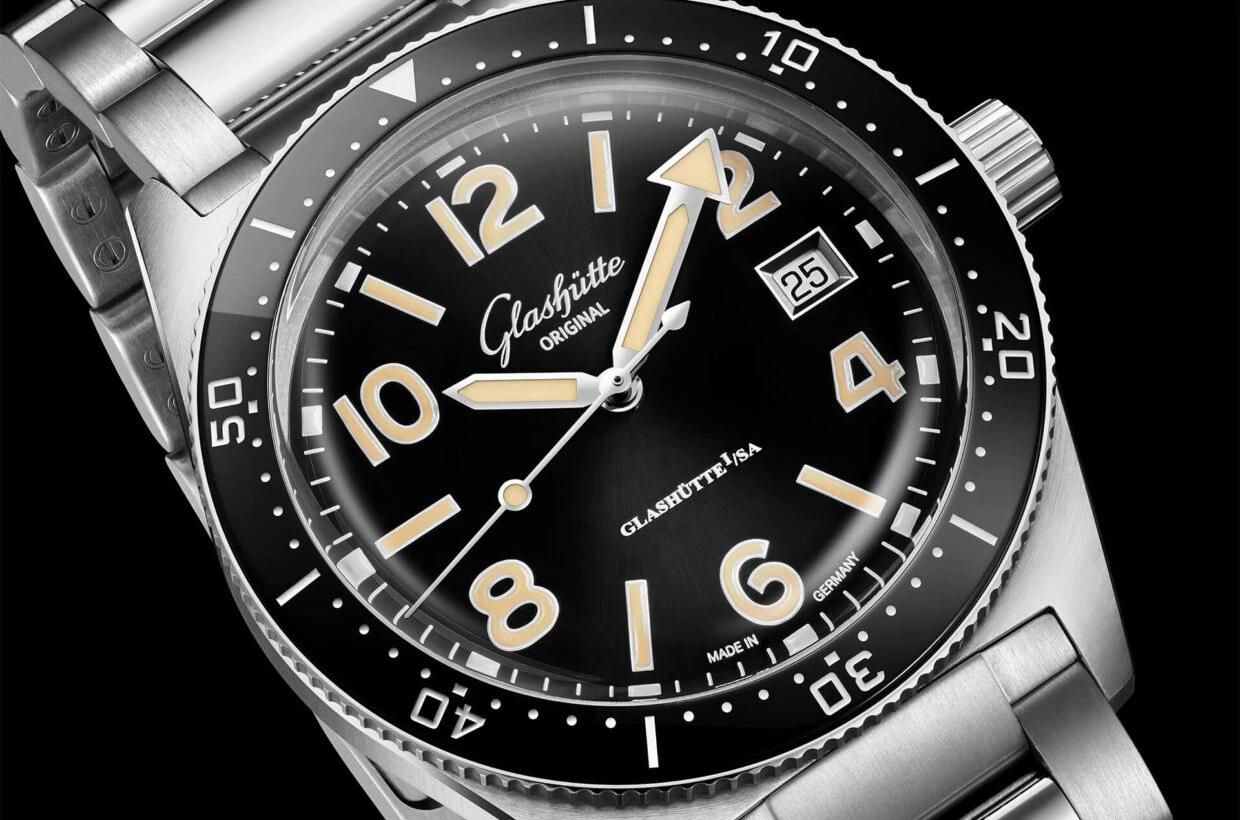 When it comes to German watchmaking, there are not many brands that can create excellent dress watches like Glashutte Original. With over a hundred years of watchmaking experience, Glashutte Original continuously creates timepieces that exhibit high quality and unparalleled craftsmanship. This brand is most commonly associated with the elegant, classic models from its Senator and Pano series.
While the models in those collections are all impressive in their own right, Glashutte Original also has a hand in making versatile dive watches. If you are searching for a stunning modern diver with vintage looks and a reliable movement, have a look at this nifty Spezialist watch – the Glashutte SeaQ. Join us on the ride as we check out the specifications of this remarkable German-made dive watch and everything it has to offer.
The Glashutte Original SeaQ (1-39-11-06-80-70)

Hailing from the brand's Spezialist collection, the Glashutte SeaQ is a luxury dive watch inspired by the first-ever Glashutte Original diver, the Spezimatic Type RP TS 200. As a contemporary reinterpretation of that 1969 timepiece, the Glashutte SeaQ features advanced, modern-day technology while still carrying the iconic vintage design of its predecessor. There are a few different versions of the Glashutte SeaQ that have been released, with varying dial colours and an optional big date window. For today, we will be focusing on one of the first Glashutte SeaQ models ever launched, the Glashutte Original SeaQ (1-39-11-06-80-70). 
Stainless Steel Case
Starting off with the watch's case dimensions, the Glashutte SeaQ measures 39.5mm in diameter and 12.5mm in height. It also has a lug-to-lug width of 47mm, making this wristwatch pretty compact. Its standard lug width of 20mm also ensures that wearers are able to find an aftermarket strap easily. On the whole, the proportions of this Glashutte SeaQ piece are very accommodating towards various wrist sizes, especially for watch enthusiasts who prefer the smaller dimensions of vintage timepieces. 
The case of the Glashutte SeaQ is crafted entirely from stainless steel and is given a sleek satin finish for a more classic appeal. It has an unguarded crown on the right side of the case, which is carefully engraved with Glashutte's double-G logo. The crown is well-sized, with deep grooves that allow wearers to grip and turn the crown more easily. 
Positioned on top of the front case is a unidirectional elapsed time bezel, which wearers can use as a reference to ensure they do not spend too much time underwater when diving with the Glashutte SeaQ. The bezel has a black 60-minute time scale insert, made from ceramic for optimal scratch resistance.
Protecting the rear of this luxury dive watch is a solid steel case back skilfully engraved with Glashutte Original's suave trident emblem. With its securely screwed-in case back and crown, the Glashutte SeaQ has a substantial depth rating of 200m, making it an exceptional timepiece to wear for all sorts of water activities, such as scuba diving.
Galvanised Black Dial

The dial of the Glashutte SeaQ goes perfectly with its gleaming black bezel. It shows off a galvanised black surface with a hint of a sunburst finish to add a bit of texture to the watch face. This dial consists of broad arrow-shaped hands and an alternating sequence of vintage design baton hour markers and large Arabic numerals. A date complication with a white background and black text can be found at 3 o'clock, outlined in white to give it a better contrast against the black backdrop.
The hands and indices of this Glashutte SeaQ piece are partially inlaid with Swiss Super-LumiNova coatings to provide excellent legibility, even at night. These Super-LumiNova coatings also come in a soft orange hue so that the hands and indices stand out brightly against the black dial, allowing for better readability.
Looking at this watch face in its entirety, it definitely has an uncanny resemblance to the 1969 Spezimatic. From its dark sunburst face to its curled, whimsical-looking 6 o'clock marker, the Glashutte SeaQ showcases a classic look that pays tribute to the brand's past. 
Arched Sapphire Glass
Covering the dial from the top of the case is a layer of luxurious sapphire glass. This crystal has an arched centre that somehow mimics the impression seen on vintage plexiglass. Considering the price point at which the watch retails, you should not expect anything less than sapphire crystal. Recognised by watchmakers as the ideal crystal for luxury timepieces, sapphire glass is sought after by all for its luxury and superior scratch resistance. Bragging a solid rating of "9" on the Mohs scale of hardness, sapphire crystals can only be scratched by minerals such as diamonds.
That said, although the scratch resistance of sapphire crystal is top-tier, one downside to it is that it is susceptible to hard impacts and breaking. As such, you should be careful not to go knocking your Glashutte SeaQ piece around. Additionally, sapphire crystal is highly reflective, which could result in inconvenient visual distortions when viewing the Glashutte SeaQ from certain angles.
Movement
Powering the Glashutte SeaQ is the in-house Glashutte Original Calibre 39-11. This masterfully crafted automatic movement possesses polished steel parts and finely bevelled edges, along with a Glashutte three-quarter plate, a swan-neck fine adjustment, and a heavy metal oscillation weight for optimal reliability and accuracy. Its rotor is completely skeletonised and bears the signature Glashutte double-G symbol as part of its structure.
This Glashutte Original calibre comes equipped with 25 jewels, a beat frequency of 28,800 vibrations per hour (4Hz), and a 40-hour power reserve. Apart from this model, the Calibre 39-11 can also be found in other Glashutte SeaQ models.
Stainless Steel Bracelet

Like the case, the bracelet of the Glashutte SeaQ is also made from stainless steel. It has polished hoods on its centre links, which are flanked by smoothly brushed outer links. To ensure that this bracelet can fit any wearer comfortably, each link on the strap is removable for easy and accurate sizing. Furthermore, as you can see from the illustration displayed above, the centre links have slight gaps between them, which gives the wrist a bit more ventilation on a hot day.
The bracelet uses a single-fold deployment clasp with a twin trigger release to guarantee a secure lock. This convenient feature is ideal for a dive watch that accompanies its owner through an active and sporty lifestyle. The clasp also has a hidden adjustment mechanism for more precise sizing, which you can use when wearing a diving suit.
Price
Glashutte Originals sells their SeaQ for approximately $10,965 USD, which is around the price point of a high-end Omega Planet Ocean model from its Seamaster collection. If that is too expensive for you, we are selling this exact model, brand-new, for just $8,510 USD.
You could also get a pre-worn Glashutte SeaQ from the second-hand market. With its original box and papers, a second-hand Glashutte SeaQ piece can fetch a price ranging between $8,650 USD to $9,800 USD, depending on its condition and the seller.  
Alternatives to the Glashutte SeaQ
While many reasons make this watch an outstanding piece, the Glashutte SeaQ is not immune to deal-breakers either. Design-wise, not everyone might be a fan of its vintage aesthetic. And with its hefty price, this model definitely exceeds the budgets of many. However, that does not mean you can't get your hands on a superb dive watch. Stick around as we look at a few great alternative models to the Glashutte SeaQ.
1. Tudor Heritage Black Bay (79230N-0009)

There is no denying that the Tudor Heritage Black Bay collection is home to many first-rate luxury dive watches. Although there are several models for you to choose from, one timepiece that bears the closest resemblance to the Glashutte SeaQ is the Tudor Heritage Black Bay (79230N-0009).
Measuring 41mm in diameter, this Tudor timepiece comes in a stainless steel case featuring polished and satin-finished sides. Its front is topped by a unidirectional bezel, with a matte black elapsed time scale disc made from anodised aluminium. The bezel has a luminescent pearl perched on top of the inverted triangle marker at 12 o'clock, providing an additional source of light. With its thick, rose-engraved screw-down crown and solid steel rear case, this Tudor piece has a depth rating of 200m. A steel bracelet finishes off this watch's handsome look, with rivets on its flanks that mimic the design of watch straps seen on several vintage Tudor models. 
Sheltered by a domed sapphire crystal, the dial of this Heritage Black Bay piece boasts a matte black finish that perfectly matches its bezel. The dial is also decorated with exquisite rose gold hour markers in various geometric shapes and Tudor's signature snowflake hands. The hands and hour markers are generously coated with lume to provide better visibility under low light conditions. By carrying the classic Tudor shield logo and incorporating some design cues from vintage Tudor Submariner models, this timepiece pays tribute to the different generations of watches that make up Tudor's heritage. 
Ticking underneath this watch's face is the Tudor Manufacture Calibre MT5602. This self-winding mechanical movement comes equipped with a bidirectional rotor system and an extended power supply that can run for approximately 70 hours. It is COSC-certified, guaranteeing an excellent accuracy rate of -4/+6 seconds per day. Assuredly, you simply cannot go wrong with a Black Bay piece. Unless you are not a fan of its 41mm size, the Tudor Heritage Black Bay (79230N-0009) is a brilliant timepiece with only a few surrogates.
You can purchase this luxury dive watch on our website for around $3,750 USD.
2. Omega Seamaster 300 Master Co-Axial Chronometer (233.30.41.21.01.001)

If you want a dashing, modern luxury diver that can go even deeper than the Glashutte SeaQ, look no further than the Omega Seamaster 300 (233.30.41.21.01.001). Inspired by the brand's original Seamaster 300 which was released in 1957, this new Omega Seamaster uses a 41mm stainless steel case with brushed and polished edges. On top of the case, you can find a unidirectional rotating stainless steel bezel fitted with a black ceramic ring for its elapsed time scale. The dial is also protected by a domed, scratch-resistant sapphire crystal that has been treated with anti-reflective coatings to prevent wearers from experiencing visual distortions. 
On the underside of the watch, the rear of this Omega watch is sealed by an exhibition-style case back that gives wearers a clear view of the movement at work. Paired with a secure screw-down crown, the Seamaster 300 has an impressive depth rating of 300m, which is more than enough for activities such as scuba diving and the like. Omega pairs this edition of the Seamaster with a three-link stainless steel bracelet. 
Featured on the watch face of this Omega timepiece is a black sandblasted finish, topped with pointed triangular indices, Arabic numeral markers in a neat typeface, and arrowhead hands. Both the hour markers and hands have been inlaid with luminescent material in a soft orange hue, setting up a lovely contrast against the dial's black backdrop and giving the watch an unmistakably vintage aesthetic.
Driving the timepiece is a self-winding Omega Calibre 8400. Apart from its lengthy 60-hour power supply, this movement has a few highlights, such as a Co-Axial escapement, a free-sprung balance with a silicon balance spring, and magnetic resistance of up to 15,000 gausses. With numerous perks and a more accessible price than the Glashutte SeaQ, the Omega Seamaster 300 (233.30.41.21.01.001) is definitely a worthy alternative to consider. 
This watch retails at approximately $6,630 USD.
3. Oris Divers Sixty-Five (01 733 7720 4054-07 5 21 45)

Another watch brand known for making excellent dive watches is Oris. With Oris's Divers, ProDiver, and Aquis series, it has no shortage of diverse dive watches that wearers can select from. For those trying to find an excellent alternative to the Glashutte SeaQ, the Oris Diver Sixty-Five (01 733 7720 4054-07 5 21 45) is a robust and relatively affordable timepiece that just might surpass your expectations.
Housed in a 42mm stainless steel case, this Oris Divers Sixty-Five watch comes paired with a dark brown leather strap and a stainless steel bezel with a black elapsed time scale insert. It also uses a domed sapphire crystal treated with anti-reflective coatings on its inner surface to protect its dial. With its screw-down crown and solid steel case back, this watch is water-resistant up to depths of 100m. Although this Oris watch is not quite built to withstand the pressures of deep diving, you can still easily bring it out for a swim. 
Like the previous models we have gone through, this Oris Divers Sixty-Five timepiece draws inspiration from its vintage predecessor — the 1965 Oris Dive watch. As such, this watch shows off a matte black dial furnished with retro-style applique markers and pencil-shaped watch hands. The 3 o'clock marker has also been slightly reduced to make space for a compact date aperture.
This timepiece is run by a Sellita SW200-based Oris 733 Calibre. Held by 26 jewels, this automatic Oris movement has a beat frequency of 28,800 vibrations per hour (4Hz) and a power reserve that can last approximately 38 hours. For those seeking a luxury diver that falls on the more affordable side of the spectrum, the Oris Diver Sixty-Five (01 733 7720 4054-07 5 21 45) is definitely a worthwhile option.
This particular Oris fetches a price of around $1,645 USD. 
Final Thoughts

With over a hundred years of industry experience, it comes as no surprise that Glashutte Original can execute any timepiece with first-rate reliability, ingenuity, and skill. Although it is not like most of the watches Glashutte Original usually makes, the Glashutte SeaQ is a match for any other timepiece from the brand, in the sense that it is created with superior quality and design.
Of course, as a dive watch, the Glashutte SeaQ also comes with more perks, such as a ceramic elapsed time scale bezel and 200m of water resistance. Whether it is for swimming, diving, a fancy night, or a casual stroll in the park, the Glashutte SeaQ is a robust and versatile dive watch that you can pair with just about any ensemble. 
Featured Image By: Glashuette-Original
Need a more elegant timepiece for a fancy night out? Check the Grand Seiko SBGH271 and see if this might be just the dress watch you're looking for.