New & Feature
Megir Watches: The Super Affordable Quartz Timepieces
Jun 22, 2022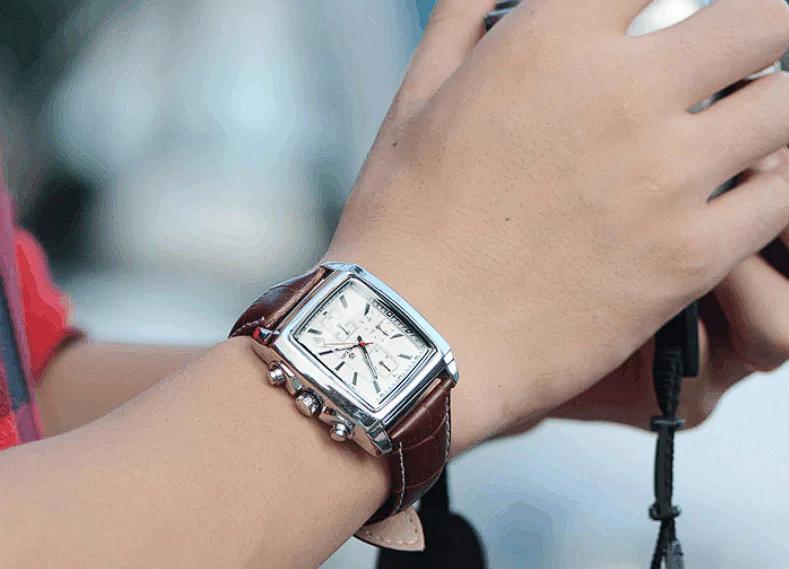 One of the most overlooked watch companies in the industry that you might never have heard of before is the brand Megir. It is known for offering fashionable watches equipped with impressive quartz movements. Despite being relatively low-key, however, you might be surprised to know that Megir is actually fairly well-established in Asia, thanks to its extensive and affordable catalogue. Indeed, even though it has something of an underdog status in the West, Megir is one brand that deserves to be highlighted more, especially because of its diverse offerings and reliable watches.
Without further ado, let us take a closer look at Megir watches and everything they have to offer.
Megir Watch Collections
First released in 1997, Megir has a total of three watch collections under its belt today. These watch collections are primarily categorised according to the complications offered and materials used. As a result, each lineup is incredibly diverse, and you can find all sorts of different designs and styles in each. 
Here are the three known Megir watch collections available in the market.
Chronograph Watches
As its name suggests the Megir Chronograph series consists of watches that offer basic chronograph functions. That said, all of the Megir Chronograph watches are incredibly reliable and offer a surprising variety in terms of designs.

The dial of each Megir Chronograph timepiece shows off two to three chronograph sub-dials which are placed either vertically or horizontally, depending on the watch's specific design choice. The crown and pushers, which are used to control the watch's chronograph functions, are typically placed on the right side of the case. That said, some Megir Chronograph watches also showcase unique bullhead designs, with the crown and pushers placed at the top of the case for a more distinct look and improved comfort.
All of the Megir watches in this collection are also made of durable stainless steel. This is a great choice since chronograph watches tend to be quite popular for outdoor activities.
The price range for the Megir Chronograph collection is amongst the cheapest for chronograph watches you can find on the market. With prices that range from $35 USD to $70 USD, there is no doubt that Megir Chronograph timepieces are exceptional choices if you prefer something that is affordable yet reliable.
Leather Watches
The Megir Leather series is quite a simple collection. It is essentially a revamp of the aforementioned Megir Chronograph series, except with a leather strap and more elegant, complex looks. In this lineup, you will be greeted by Megir watches that show off luxurious cases made of materials such as polished steel or rose gold. These cases are paired with handsome leather straps made of high-quality materials such as nubuck and bicast leather.
Megir Leather watch cases also tend to have unusual, exotic builds and designs that are more frequently seen in popular watch brands like Panerai and Cartier, to name a few. For instance, watches in the Megir Leather series tend to boast cushion-shaped watch cases and sophisticated open-heart dials. 

The designs found in the Megir Leather collection are all quite classy and powerful, while also offering you a fairly wide variety. If you are looking to own a Panerai Submersible but lack the budget to buy one, for example, Megir has your back with its Low-Fly Chrono Army Watch, which showcases a similar, chunky cushion-shaped case. On the other hand, if you are on the lookout for the square-cased watches commonly found in Cartier's arsenal, the Megir ML2028 will surely satisfy your needs.

With so many styles to choose from, you can easily find the right Megir Leather watch for you. The price range of the Megir Leather series is roughly the same as that of the Megir Chronograph lineup. Starting from $39 USD up to $79 USD, you can own a classy Megir Leather watch for only a small fraction of an average luxury watch's price.
Stainless Steel Watches
Finally, we have the Megir Stainless Steel collection. As you might expect, the watches in this series are made using metallic alloy cases and scratch-resistant stainless steel bracelets. That said, they can come coated in a variety of colours, including black, gold, or even bronze.

The case designs of the Megir watches in this range are also quite similar to the aforementioned collections. The primary difference, between the Megir Stainless Steel watches, is in their dials. Having a polished or sunburst dial is almost always appropriate for an all-metal watch. As such, Megir did a wonderful job in incorporating this type of dial into the Megir Stainless Steel lineup, giving all of these watches a very stylish, sleek look.
Compared to the Leather and Chronograph collections, the Megir Stainless Steel series only consists of a few models. As a result, the Megir Stainless Steel watches tend to be more exclusive and highly regarded amongst fans of the brand. If you are on the hunt for a watch with a bit more sparkle to it, then you should definitely have a look at the Megir Stainless Steel.
From $39 USD up to $60 USD, the Megir Stainless Steel Collection offers affordable and durable timepieces that ensure class and professionalism in every nook and cranny. The price point of this collection does not deviate much from the price range of other Megir collections. This goes to show how accessible the brand is in general.
Best Megir Watches You Should Check Out 
1. Megir Chrono 2068

The Megir Chrono 2068 is easily one of the most popular Megir watches from the Stainless Steel collection. Its fancy, all-gold exterior makes it a great choice for those who want an extravagant timepiece without having to shell out thousands of dollars. Of course, while it cannot quite compare to watches made from actual 18K gold from luxury brands like Patek Philippe or Rolex, the Megir Chrono 2068 is a solid, reliable watch that excels in the basic timekeeping functions. 
This Megir watch comes in a 46mm IPS electroplated metal alloy that comes in rich gold colour. This is complemented by a matching gold-tone bracelet also made of stainless steel, ensuring that the watch has a consistent look throughout.
The dial, on the other hand, stands out with its textured blue finish, which meshes perfectly with the case and bracelet. It is adorned with luminous applique hour indices, gold-tone sword hands, a massive Arabic numeral at 12 o'clock, and a chronograph layout with three horizontally-placed sub-dials. These serve as the 60-second, 60-minute and 24-hour counters and can be controlled using the two pushers on the right side of the case.
Affixed to the top of the case is a handy count-up bezel which also comes in a rich blue hue. Driving this watch is a powerful Japanese quartz movement, so you do not have to worry about having to wind the Megir Chrono 2068 frequently. Finally, this watch comes with a 30-metre depth rating. While it is not impressive, it does allow the watch to survive any accidental splashes or showers.
The Megir Chrono 2068 sells at a price of just $59 USD. It is a great versatile option that you can pop on to any occasion, be it a formal event or a fun dinner party.
2. Megir Flyover Canvas

The Megir Flyover Canvas, which hails from the Chronograph collection, is another impressive watch under Megir's belt. This is a robust yet affordable field watch that can tackle almost any challenge you throw at it. 
This Megir watch is presented in a 45mm black-tone stainless steel case, coupled with a deep green canvas strap. The dial of this watch showcases a dark, olive green texture that is reminiscent of a bottle cork. This dial is adorned with Arabic numeral markers in a neat typeface, silver diamond hands, and an elongated date display at 3 o'clock. It has a chronograph layout with two sub-dials for the 60-second and 10-hour counters that are placed vertically, at 6 and 12 o'clock. Like the Megir Chrono 2068, this watch runs on a Japanese quartz movement and has a standard 30-metre water resistance rating.
The Megir Flyover Canvas retails at $59 USD, making it a great, affordable field watch piece. However, if you want a more luxurious field watch option and have the cash to spare, you could also have a look at the Hamilton Khaki Field Ref. CC9076-50E. It might be just what you are looking for. 
3. Megir Nautic 2-Tone

The last watch on this list is the Megir Nautic 2-Tone. You might be surprised to find that, despite its name, this watch is not actually classified as a dive watch. In fact, it only has a 30-metre water resistance capacity, which means it is not suitable for any sort of watersports activities. This Megir watch, however, endorses style unlike any other in the Megir Chronograph collection. 
The Megir Nautic 2-Tone is housed in a 48mm stainless steel case, with brushed and polished rose gold surfaces. This is paired with a black rubber strap and a chunky black bezel with a well-brushed finish, which balances out the case's softer rose gold hues. The dial, likewise, shows off a combination of rose gold and black. It flaunts a black backdrop with a pyramid design and gleaming rose gold hour indices. Aside from that, a compact date complication can also be found between the 4 and 5 o'clock markers, along with three chronograph sub-dials for the 60-second, 60-minute, and 24-hour counters.
Like the previous Megir watches, this timepiece costs around $59 USD. That said, if you have the budget for it, a great alternative to this watch is the Citizen Attesa Ref. CC9076-50E is another exquisite and robust watch that offers a seamless timekeeping experience. 
Final Thoughts
Megir watches may not have a great standing in the international watch market, but it cannot be denied that it still has a massive following across Asia. Its affordable pricing and wide variety of gorgeous designs offered are both major strengths which make this brand exceptionally appealing. 
However, you should keep in mind that Megir watches do fall under the fashion category. As such, even though these watches are great companions for your next dinner party, they might not be the best choice in terms of pure utility. So before purchasing a Megir watch, make sure you consider your main purpose first. After all, buying a watch that is just right for you will always be a challenge no matter its price.
All images courtesy of Megir.Featured image courtesy of Megir.
If you are still on the hunt for a stylish fashion watch, check out our review on the Timex Fairfield—it might be just the one you are looking for!