New & Feature
Omega X-33: A Complete Guide and Review of a Space Icon
Aug 19, 2021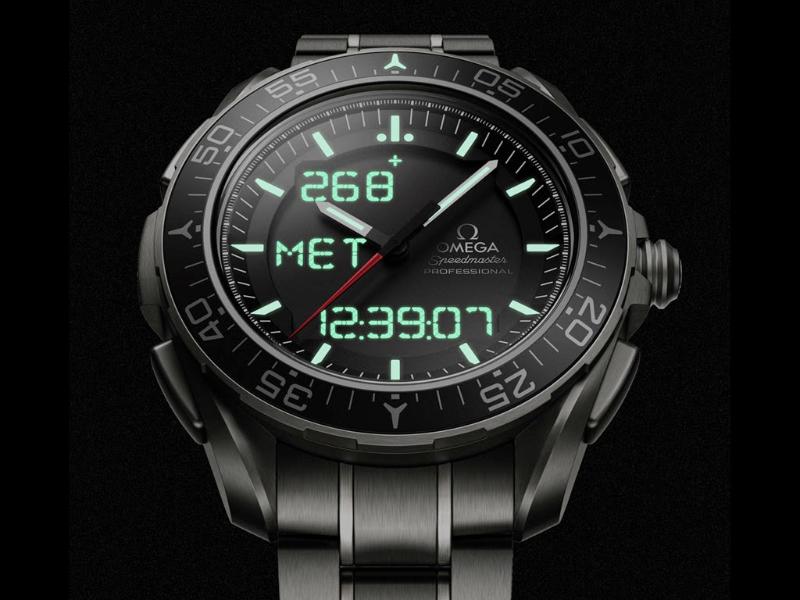 We have all heard of Omega's affiliation with space — that is, outer space. To specify, Omega is known for producing the first timepiece to ever reach the moon, alongside Neil Armstrong and Buzz Aldrin. This means that the relationship between Omega and NASA goes as far back as the 1960s, during the beginnings and first milestones of the space race and exploration. In an attempt to bring that relationship to a whole new level, Omega stripped away everything they thought they knew about watches to focus solely on the needs of astronauts and pilots. This gave birth to what is, to this day, known as a true icon in space: the Omega X-33. Today, let us get to know this timepiece better — its beginnings, the models offered, and its ultimate discontinuation.
Best Omega X-33 Watches
As we will discuss in greater detail later in this guide, Omega's marketing department faced a massive problem with the release of the Omega X-33 when NASA's X-33 program, which the watch was attached to, was shut down. After much consideration, Omega decided to debut the Omega X-33 under the name Speedmaster Professional on the 28th of March, 1998. This timepiece was unveiled at NASA's Johnson Space Center, right in Houston, Texas. The reveal of this iconic timekeeper was history in itself. Pre-released prototypes of the Omega X-33 had already been sent to the Russian MIR space station. During the launch, everyone was treated with a live feed of how the timepiece functioned in space.
As one of their most famous collections, Omega has put a lot of effort into constantly improving on and updating the Omega X-33, making sure that it can always keep up with the newest innovations in space exploration. Here are some of the most iconic models they have released over the years.
Omega Speedmaster Professional X-33

The Omega Speedmaster Professional X-33 is, notably, made entirely from titanium. This gives the watch unparalleled strength and corrosion resistance, all while keeping it at a low density. Weight matters a lot on space missions, so the lightweight properties of titanium, which is 45% lighter than steel, was probably a major factor in Omega's choice to use it. Likewise, strength was another reason for the choice of titanium. Omega had also considered using aluminium, but given that titanium is twice as strong as aluminium, it became the obvious material of choice for the Omega Speedmaster Professional X-33. Aside from its low density and strength, titanium also exhibits immunity to corrosion by mineral acids and chlorides. Furthermore, it is a non-toxic metal and is mostly compatible with human tissues and bones. Given all these strengths, it is indeed clear that Omega chose to use titanium so that they could produce the highest quality timekeeper possible. All that being said, the downside to titanium is that it is quite difficult to produce. That, along with the fact that titanium is both harder and lighter than stainless steel, definitely adds to the price that you have to pay for this watch.
This Omega X-33 also displayed incredible performance as tested by NASA. Firstly, it has a water resistance capacity of up to 3 bar or 30 metres. It is also shock-resistant up to 3,500 Gs. This watch also has anti-magnetic features that meet the ISO standard 764.
In terms of its movement, the Omega Speedmaster Professional X-33 is a quartz-powered watch and runs on the quartz Calibre 1666. This gives the timepiece an accuracy that runs between -0.3 to +0.5 seconds per day, all while functioning with effortless precision at temperatures between -20 degrees Celcius to +70 degrees Celcius. Among the features of this quartz movement is its ability to display Mission Time. This is a long chronograph function that shows days, hours, minutes, and seconds. Such a function works wonders when it comes to timing the whole duration of the whole mission or flight. Moreover, this watch can also display UTC time, which is indicated as days of the week, hours, minutes, and seconds. Much like the GMT function, UTC time allows the wearer to avoid any confusion due to time zone changes.
Furthermore, this watch features an 80 dB alarm function. It also has a chronograph that measures 1/100 of a second and works alongside a unidirectional turning bezel. Finally, it comes with a light that can easily be turned on with the push of a button, so that all displays are easily visible in the dark.
As of the summer of 2006, the Omega Speedmaster Professional X-33 has been discontinued. This means that it will no longer be available for sale to the public. However, Omega claims that this watch remains in service for space missions conducted by NASA. There are various alternatives to this watch, such as the Speedmaster Z-33, and other timepieces that we'll talk about further down in our list. Of course, if you have your heart set on the Omega Speedmaster Professional X-33, you can try your luck looking for a piece on the vintage market. In fact, the Omega X-33 has received quite a bit of buzz recently, given the many space explorations that NASA and other privately-owned organisations have been carrying out.
The price for the first-generation Speedmaster X-33 was around $3,500 USD. Models in mint condition still sell around that price range, especially with the model's growing popularity in the past years.
Omega Speedmaster Skywalker X-33

The Speedmaster Skywalker X-33 is an upgrade to the original Professional X-33. It is still powered by a quartz calibre movement. However, various improvements have been made, not just cosmetically but also in terms of function.
This timepiece still has a grade 2 titanium case with a brushed finish that measures 45mm in diameter. The crown and pushers also come with a brushed finish. Meanwhile, its link bracelet is made from both grade 2 and grade 5 titanium. The links come in grade 5 titanium on a brushed fold-over clasp. Aside from this, the cover and opening pushers are also made from grade 5 titanium. Meanwhile, the inner folding clasps are made from grade 2 titanium. You can also find the words "Omega Speedmaster Professional" carefully engraved on the clasp cover.
The Speedmaster Skywalker X-33 boasts a sharp black dial with contrasting white indices and hour markers. The handset of this watch includes skeletonised black and white hour and minute hands, both of which have a layer of Super-LumiNova coating that glows green in the dark. It also has a red central hand, which adds a pop of colour to the otherwise monochrome timepiece. You can easily disengage the hands so that you can get a clearer reading of the digital display.
In terms of the digital display itself, the central opening of the watch allows the wearer to read its digital elements with ease. Its functions include three different time zones, three alarms, a chronograph, and of course, a countdown function. Moreover, you also get a perpetual calendar feature. On top of the analog and digital displays available on this watch, you can also use it to track mission elapsed time as well as phase elapsed time. Many of these features can also be found on the original Professional X-33, but they have been improved upon and function far more efficiently on the Skywalker X-33.
The bezel of this timepiece now comes in ceramic, with a chromium nitride scale. On the 60-minute indicator, you can find green light-emitting Super-LumiNova which makes it easier to track movement on the scale and know exactly what point it is at. In terms of the Skywalker X-33's LCD screen, you can easily access the display due to its electroluminescent backlight feature. It also has grey segments on a black background for improved optics.
Finally, the powering this Omega X-33 watch is the multi-functional quartz chronograph movement, the OMEGA Calibre 5619. It features a thermo-compensated integrated circuit and was created in collaboration with the European Space Agency (ESA). This movement was first conceptualised by ESA astronaut Jean-François Clervoy. For $5,900 USD, you can cop a brand new model but a quick browse through pre-owned markets can save you a few hundred bucks.
Solar Impulse Limited Edition

Under the Speedmaster Skywalker X-33 is a limited-edition watch called the Solar Impulse. A lot of the features it offers are the same as those of the Skywalker X-33, but aesthetically, the Solar Impulse is very different. This is a titanium watch on a NATO strap in bold blue and green colours. This watch serves as the commemoration of a project that once aimed to go around the globe in a purely solar-powered airplane.
This timepiece features a blue and green dial as well as a matching polyamide NATO strap. It runs on the same movement as the Skywalker X-33. On the caseback of the watch, you can find a Solar Impulse "Around the World" patch stamped on it. The name of the timepiece is also delicately engraved on the case back, along with the words "TESTED AND QUALIFIED BY ESA".
There are only 1,924 models available for this watch. It also retails for $5,900 USD. However, you can find second-hand models that will save you $1,000 USD or more.
Omega Speedmaster X‑33 Regatta

The Speedmaster X‑33 Regatta Chronograph is a Regatta watch made specifically by Omega for Emirates Team New Zealand (ENTZ). It is a limited edition timepiece, with only 2,017 pieces available. This Omega X-33 watch features a regatta function, allowing the wearer to keep track of the five-minute count-down and race time during a race.
This watch comes in a grade 2 titanium case and has a black dial with blue rings on its rim. The white transferred markings, as well as cutouts for digital readings, make it easier to read. The bezel of this watch is made from a combination of ceramic and titanium mix. The minute track scale on the bezel is formed by moulding Liquidmetal™ into a black ceramic ring.
You can find the logo of the ENTZ stamped on the caseback of the watch alongside the words "CHALLENGER FOR THE 35TH AMERICA'S CUP" and "X-33 REGATTA". Along with these little details, you can also find the reference number of the watch carefully engraved into the case back. Wear this watch with a black-coated nylon fabric strap that comes with subtle blue rubber lining and blue stitching.
Powering this watch is the Omega Calibre 5620, a highly precise thermo‑compensated quartz movement that comes with a variety of handy functions. These include the typical analog and digital functions. In addition to that, it features a Professional Regatta Function that offers CTD (countdown) and RAC (Race) features for racing. You can also record two races with 10 buoy recordings each through the LGB (logbook) feature.
You can bring this home for $5,900 USD. Mint condition, the price doesn't vary much. However, you can save a bit more for other pre-loved editions that only cost around $4,500 USD to $5,000 USD.
History of the Omega X-33
Conceiving the Omega X-33

The development of this watch came almost naturally to the company. Its creation was initially conceived by General Tom Stafford. General Stafford was a NASA Apollo X astronaut. At the time, he was also on the corporate board of Omega. His very own Speedmaster Professional from the Apollo X mission is still on display at the National Air and Space Museum in Washington DC today. General Stafford thought of creating a watch that was made specifically for aeronautics and space missions. It was meant to improve upon and supplement the original Speedmaster Professional that NASA used during the Gemini program. This was actually quite a time of change in the watchmaking world because during that time, quartz movements had begun to emerge in the industry and digital technologies were also starting to share the spotlight in horology.
The original Speedmaster Professional was an impressive enough watch. However, as time passed, NASA's missions became increasingly complicated and the Speedmaster Professional simply was not the right watch for some of them. So, the company decided that it was best to craft a new timepiece to fill the gaps. However, it should be noted that the Omega X-33 was not made to replace the Speedmaster Professional. There are some tasks that only the Speedmaster Professional is equipped to handle, such as spacewalks. The Speedmaster Professional is also a lot more shock-resistant than the Omega X-33. It can handle around 5,000 Gs while the X-33 can only take about 3,500 Gs. Moreover, the batteries in the Omega X-33 are made for Earth, and therefore they can leak in a vacuum, which is essentially what space is. Finally, the LCD displays that are present in Omega X-33 watches may also be damaged by the environment of space, which would, in turn, affect the quartz oscillator used in the X-33's movement. In contrast, the Speedmaster Professional does not possess the same LCD displays or batteries, as it is powered by mechanical movement. As such, the Speedmaster Professional is still more appropriate for usage in space.
Instead, X-33 was meant to be a whole new watch that would aid astronauts in their missions. Significantly, the Omega X-33 is a multifunction watch. Now, multifunction designs are nothing new to the brand, and Omega had been playing around with them for a while before the conception of the X-33. The difference, however, is that the first prototypes of multifunction watches that Omega had been working on had much simpler interfaces and did not have sophisticated, mission-specific functions. The Omega X-33, however, might have a simple design, but it is definitely made for space, and every component and function of the watch is geared towards that goal.
Omega and the NASA X-33 Program

Initially, a code name that was used internally for the longest time; Omega later officially adopted the name X-33 during the production of the watch. This name came from the NASA X-33 program. Unlike the timepiece itself, the NASA X-33 project was unfortunately quite poorly conceived, right from the outset. There have been many accounts stating that the project was mostly based on wishful thinking and involved a lot of poor engineering. The NASA X-33 program aimed to demonstrate how an unmanned plane can take off vertically like a rocket but land horizontally like an airplane. Such an innovation would make space launches cheaper and therefore more accessible to commercial clients. However, the problem was that this program was never meant for interplanetary flight, and consequently, was simply not possible to carry out.
In 2001, NASA officially announced that it would no longer renew funding for the X-33 program despite having already spent $912M on it. This was quite a problem for Omega, whose marketing for the watch had depended heavily upon Mars missions via the NASA X-33 program. Quite simply, the company had its eyes set on making the Omega X-33 — the Mars Watch.
Flightmaster: The First Omega X-33 Prototype

From the 1960s to the '70s, Omega developed the X-33 watch. They launched various early prototypes under the name Flightmaster. This timepiece was designed by pilots for pilots, which makes sense given its name and purpose. Early designs of the Flightmaster feature feathered hands so that it would be easier to see the digital LCD face. It also has a Bond-style bracelet and a case and pushers that looked very similar to those of the Seamaster Professional Chronograph.
The original Flightmaster also features a small detail that requires some close inspection but is a very significant part of the watch. At the bottom of the dial, you can find the inscription "T SWISS MADE T". This means that the luminous material used in the watch is tritium. The use of tritium was quite rare, especially during that period. During that time, most of the industry had been slowly transitioning to using LumiNova, a strontium-based non-radioisotope luminous material.
To this day, tritium is still used, especially for industrial and military instruments. This is not surprising as it is self-charging and works even in extended periods of darkness. This means that tritium luminous materials do not require any external light sources to charge, which makes them very convenient. That said, tritium is not commonly used in watches today, because of its slightly radioactive properties. Indeed, the final version of the Flightmaster X-33 prototype features Super-LumiNova instead of tritium. A lot of watch enthusiasts speculate that Omega chose to use Super-LumiNova precisely because it is non-radioactive. As such, in the event that the sapphire crystal of the watch shatters or if the integrity of the case becomes compromised, Super-LumiNova, unlike tritium, will not be a risk, especially in closed environments like space shuttles.
This watch was sold in retail for $5,270 USD. However, these days, you can cop it for half the price or even less.
Omega X-33: Taking Quartz to Space
Carrying with it the impeccable Omega reputation, the X-33 was created with professionals in mind. It has extremely accurate and specialised timing functions and is extremely legible for pilots and astronauts to use. This timekeeper may run on a quartz movement, but make no mistake — it is no ordinary quartz watch. The Omega X-33 is a striking combination of the digital and the analog, comfortable enough to be worn anywhere, even in space, for extended periods of time.
---
Get to know more Omega watches starting with the Omega Speedmaster Apollo 11 50th Anniversary Watch.
All photos courtesy of Omega.