New & Feature
Top 25 Eco-Friendly Watches for the Green Consumer
Aug 06, 2021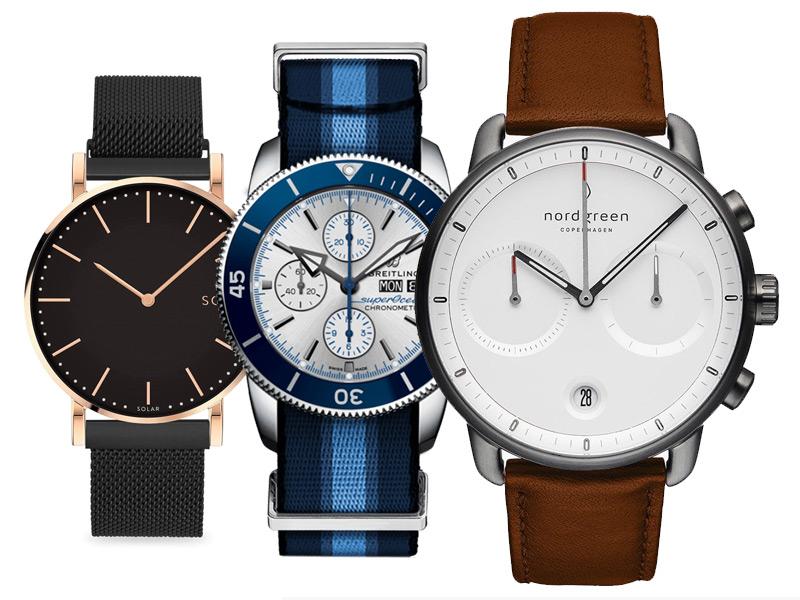 A lot of businesses have made conscious efforts toward sustainability. The watch industry has been doing exactly the same thing, implementing more and more environmentally-conscious practices. Today, eco-friendly watches have been all the rage. There are various reasons for this, such as a noticeable rise in ecological efforts by consumers and slow movements. From the materials used on these watches to the ultimate beneficiaries of their sales, various watch manufacturers have taken steps to make the horology industry more sustainable. In this article, we have gathered 25 of the most eco-friendly watches that will help you in your journey towards greater sustainability. From luxury watch brands to new generation micro-brands, these watches embrace slow manufactures, recycled or sustainably sourced materials, and transparency.
25 Most Eco-Friendly Watches
1. Citizen Eco-Drive Promaster Nighthawk

Citizen is one of the industry's pioneers in making eco-friendly watches, thanks to their Eco-Drive movement. This is the company's solar-powered movement. The Promaster Nighthawk is one of the most prominent models from the Eco-Drive collection. This watch comes in a sturdy  42mm stainless steel case. Its design is inspired by the sleek lines of military stealth helicopters. There are various iterations of this model alone but the classic stainless steel is our favorite. Aside from the Eco-Drive technology, it also features a handy dual time zone function.
2. Solios Watches

Founded in 2019, Solios is a Canadian B Corporation that exclusively manufactured solar-powered watches. Solios has a whole range of watches and with every purchase of the watch, you're supporting reforestation efforts. In fact, Solios has pledged to reforest one acre for every watch they sell. Furthermore, all Solios watches are made from sustainable materials. Despite all this, they are skin-friendly, ink and dust resistant, flame resistant, and incredibly waterproof. Indeed, Solios watches are the epitome of high-quality eco-friendly watches.
3. IWC Schaffhausen Aquatimer Chronograph Edition Expedition Jacques-Yves Cousteau 

IWC Schaffhausen has a lot of ecological efforts dedicated to supporting the environment. Sure, the company is known for its aviation watches, but there's nothing that separates the brand from the oceans. Cousteau Divers is a non-profit organisation established by marine researcher Jacques-Yves Cousteau. He dedicated his whole life to protecting endangered species in the ocean. In honour of this icon, IWC launched the Aquatimer Chronograph Edition Expedition Jacques-Yves Cousteau. This collaboration aims to help establish ocean conservation and marine protection. This timepiece is true to its purpose with a sea-blue dial and a coral-red seconds hand.
4. TIVC Watches

TIVC is a fairly new watch company. They produce vegan eco-friendly watches that are — that is to say, are made from natural materials that are not taken from animals. The company is mostly known for its combination of recycled synthetic Eco-Suede and Pinatex — a plant-based leather made using pineapple leaves. What makes their watches more impressive are the anti-scratch sapphire crystal and 3 ATM water resistance. To boost the brand's ecological reputation, watches from TIVC also have Substances of Very High Concern (SVHC). This means that timepieces from TIVC don't contain substances listed by the European Chemicals Agency under REACH, such as carcinogens, mutagens, or reproductive toxins. Moreover, the company only makes packaging that is 95% compostable, recycled, or recyclable. Finally, it donates 10% of its annual profits to animal welfare and environmental organisations.
5. Fossil Men's The Minimalist Solar-Powered Watch

Fossil set a responsible goal that by 2025 — they will be reducing water consumption for leather tanning by 45%. By 2030, the company also aims to reduce greenhouse gas emissions by 30% and even eliminate virgin plastics from the company's supply chain. Many companies are doing this as well, and Fossil has taken the first step towards its goal by launching this line of solar-powered watches. Aside from being powered by solar energy, Fossil also promises to plant a tree with every watch they sell. Moreover, the company also aims to only have fully recyclable or reusable packaging by 2025. Straps of the watches are also made from recycled materials, specifically PET bottles. Finally, as part of its social promises, Fossil has pledged to give 1% of its pre-tax sales to help and empower underserved youth worldwide.
6. Oris Aquis Clean Ocean

It only makes sense that a limited edition watch makes our list. After all, the lack of mass production plays a huge role in a watch's sustainability. Oris launched a collection of limited-edition timepieces under the Aquis collection called Clean Ocean. These eco-friendly watches are made to support the Pacific Garbage Screening. This is an organisation that works on a prototype floating platform meant to clean up plastic from the world's oceans. Watches from this collection feature gradient blue dials that best reflect the beauty of a pollution-free ocean. As an added bonus, this watch has a token on the caseback that is made from recycled PET bottles. Finally, it comes in a box made from algae with plastic inlays.
7. TRIWA Ocean Plastic SUB

TRIWA stands for Transforming the Industry of Watches, and that is exactly what this company has been doing since 2007. TRIWA watches are on the sportier side when it comes to aesthetics as seen on its Ocean Plastic SUB. These divers boast materials that come from recycled ocean plastic. This collection of eco-friendly watches specifically honours early underwater explorers. It features a rotating bezel and, like any good dive watch, it has a solid 10 ATM or 100 metres water resistance. It comes in a stunning range of colours — orange, black, and blue.
8. Blancpain Fifty Fathoms Ocean Commitment III

We all know how Blancpain has been a pioneer in the dive watch market. In 1953, they launched the Fifty Fathoms watch. In more modern times, the company launched a series of limited-edition eco-friendly watches made in support of ocean conservation — the Ocean Commitment collection. The Fifty Fathoms Ocean Commitment III is one of the watches from that collection. With every sale of the company's Ocean Commitment watch, Blancpain has pledged to donate 1,000 Euros toward ocean conservation. And with 250 models available for sale with each watch, that's 250,000 Euros as a donation.
9. Nordgreen Pioneer

Nordgreen is one of the most prominent names in the sustainable watchmaking industry. This Scandinavian brand uses conflict-free minerals in all its watches. Nordgreen also forgoes the use of any toxic materials in its timepieces. In fact, the NATO straps of Nordgreen watches are Global Recycling Standard-certified (GRS). They also use vegan leathers, which do not contain organic pollutants and do not have any toxic by-products. There is so much more to know about the company's green initiatives, such as their recycled packaging and plastic offset programs. Read more about Nordgreen's efforts in our special Nordgreen feature.
10. Breguet Marine Dame

Like many luxury watchmakers, Breguet has been at the service of marine life for a long time. The company has a partnership with the Race for Water Foundation as one of its steps in proving this. A great deal of these efforts is due to the maritime timekeeping history of the company's founder, Abraham-Louis Breguet, who was the official horologer to the French Navy as appointed by Louis XVIII in 1815. To promote the partnership with the Race for Water Foundation, the company launched the Marine Dame collection with wavy dial designs reminiscent of the ocean.
11. Ulysse Nardin Skeleton X

There's no stopping luxury watch brands from producing incredibly beautiful watches with ecological features. Ulysse Nardin's Skeleton X watch displays exactly this with the use of Carbonium Gold, a fusion of carbon and gold. Ulysse Nardin supplies all of its gold sustainably, which is quite rare for any industry at all. The company follows the Kering Responsible Gold Framework (KRGF) in procuring its gold.
12. Swatch Sistem 51

Swatch is a watchmaking giant. This makes a lot of collectors a little skeptical about their sustainability efforts. To prove their dedication to the environmental cause, Swatch reimagined the classic Sistem 51 by utilising bio-sourced materials. This watch features a high-strength polymer blend based on extracted seeds from castor plants. In addition, Swatch also packages these timepieces in paper foam made from fully biodegradable potato and tapioca starch.
13. Skagen Henricksen

Skagen has a whole line of solar watches known as the Henricksen. They are a part of the company's efforts to reduce the use of virgin plastics in its supply chain. Furthermore, Skagen aims to start sourcing leather from environmentally preferable tanneries. It also wants to reduce water consumption for leather tanning by 45%. Skagen aims to achieve all these goals by 2030, transforming them into genuinely eco-conscious watch manufacturer.
14. Breitling Superocean Heritage

Breitling has long been one of the foremost pioneers in the dive watch marker. The Superocean dive watch cemented the company's legacy in that department. To give back to the ocean, the company has taken it into its hands to donate to pandemic-focused charities and ocean conservation. They did exactly this with the launch of the limited edition Superocean Heritage Chronograph and the Superocean Heritage '57 Outerknown. The former has proceeds that go towards ocean clean-up, while the latter features eco-friendly NATO straps made from Outerknown "ECONYL yarn."
15. Casio Frogman GWF-A1000-1A

There are a lot of Casio watches that run on the Tough Solar technology. This is the company's proprietary solar power mechanism that powers most of the outdoor watches under its G-Shock brand. The Frogman GWF-A1000-1A is just one of these watches and with such innovative technology, it is going to be hard to look at any other outdoor-friendly watch.
16. Chopard L.U.C Flying T Twin

Just like Ulysse Nardin, Chopard is a manufacturer that mines gold sustainably. This Fairmined gold is showcased wonderfully in their L.U.C Flying T Twin. Fairmined gold means that this precious metal is sourced sustainably, following safe environmental regulations. Moreover, since Chopard is a luxury watch company, it does not mass-produce its timepieces, choosing instead to employ more environmentally-friendly slow production.
17. Omega Aqua Terra GoodPlanet Seamaster

As a watchmaking legend, Omega has been using its reputation and resources to fund a lot of efforts that are for greater environmental benefit. Through the sale of the Aqua Terra GoodPlanet Seamaster, Omega is able to donate a certain portion of profits to the GoodPlanet Foundation. This is a non-governmental organisation founded by Yann Arthus-Bertrand. Fun fact: the Aqua Terra GoodPlanet Seamaster isn't the first collaboration between Omega and Arthus-Bertrand. Their collaboration has also given birth to two documentaries and various school programs.
18. Dan & Mez Automatic Season

Dan & Mez is a company founded with great pursuits toward increased ecological consciousness. The company produces vegan watches that are approved by PETA. Dan & Mez aims to change the watchmaking industry one leather strap at a time. Each of their watches is handmade, taking the mass-production aspect out of their supply chain. Not to mention, the company also ships its watches in recycled packaging.
19. Mondaine Swiss Railways Essence

Mondaine is a pretty popular name in the industry. This Swiss manufacturer launched a line of eco-friendly watches under the name Essence. The watches from this collection mirror the iconic design of the Mondaine Swiss Railways watches. Mondaine uses only renewable raw materials such as castor oil, wool, and cork on these Essence watches. They are stylish and true classics.
20. Panerai Submersible Mike Horn Special Edition

Mike Horn has been Panerai's ambassador for 15 long years. In honor of the South African-born Swiss professional explorer and adventurer, Panerai launched the special edition Submersible under his name. This watch uses EcoTitanium™, Panerai's proprietary titanium that is sustainably sourced and recycled.  Moreover, the strap of this watch is made from recycled PET bottles. There are only 19 editions of this rare watch available.
21. Tom Ford 002 Ocean Plastic Watch

Tom Ford is a fashion brand that is just as concerned with environmental consciousness as the other names on this list. As part of its green efforts, the company launched the Tom Ford 002, a watch made from 100% ocean plastic. This is a stainless steel watch with black DLC and ocean plastic inlay. The straps of the watch are also delicately hand-braided out of ocean plastic. Finally, it ships in a recycled paper box and interior.
22. Junghans Max Bill Mega Solar

Junghans, which hails from Germany, has long been a legend in the watchmaking industry. This company pioneers Bauhaus-inspired designs, thanks to the creative mind of Max Bill — a prolific designer known for implementing his learnings from the Bauhaus school of design. For the Max Bill Mega Solar, the company also developed solar-powered, radio-controlled movements for the watch to run on. This timepiece was so iconic it even earned a Red Dot Award.
23. Solgaard The Modernist

Solgaard is known for carrying the tagline: "sustainable travel gear for global citizens." True to its word, the company has a line of travel gear that is made for the world.  It is Solgaard's goal to help cut ocean plastic in half by 2025. For every item sold, the company removes around 229 ocean-bound plastic bottles. In fact, Solgaard has helped remove 12,000,000 bottles from the oceans so far. The Modernist is just one of the most beautiful eco-friendly watches from the brand, among many others!
24. Alpina Seastrong Diver Gyre

Alpina crafts some of the best tools watches in the horology industry. The Seastrong Diver Gyre is a watch crafted in honour of World Ocean Day. Alpina developed this watch in collaboration with Surfrider Foundation Europe. The sales of these watches go toward the protection of the world's marine habitats. With regards to the Seastrong Diver Gyre itself, its case is made from 70% recycled plastic debris such as fishing nets from the Indian Ocean, and 30% fibreglass. Moreover, the NATO strap of the timepiece is also made from recycled plastic bottles. This watch presents in a protective pouch that also uses recycled plastic bottles.
25. Seiko Save The Ocean Watches

Following the legacy of the Cousteaus, Seiko has developed a line of eco-friendly watches, the Save the Ocean series made for the conservation of the ocean and its population. These watches were made in collaboration with Fabien Cousteau, grandson of Jacques-Yves, who founded the Fabien Cousteau Ocean Learning Centre. The organisation helps promote and create a positive impact on the world of marine life. To support the organisation, Seiko released the Save the Ocean watches under the Prospex collection.
How to Identify Eco-Friendly Watches
Eco-friendly watches don't just stop at the timepieces themselves. There are various things that you should keep in mind before making a purchase. So, we listed a few ways to identify truly sustainable watches. Spoiler alert: it's not only about the materials used!
1. Eco-conscious materials
Materials are the first thing we look at when identifying just about anything sustainable. Various materials make a watch truly green. For instance, you can find watches made from recycled materials. Other options could be vegan materials like leather. You should also look at whether or not the precious materials used in the watches are sustainably sourced. For example, if you're looking at gold, certain standards need to be followed for sustainable sourcing. Some companies such as Rolex now grow their own sapphire in laboratories as well. Packaging also plays a big role in this. As an example, Nordgreen uses recycled materials for its packaging.
2. Social responsibility
You also have to look at the social responsibility of a brand. Firstly, this includes the way they operate. Does the company follow ethical labor practices? The brand should not only use sustainable materials but also uphold its employees' rights to appropriate wages and safe working environments. Aside from this, the brands might also contribute to certain beneficiaries. For instance, Seiko has an ongoing partnership with Save the Ocean where a part of its profits goes towards ocean conservation efforts.
3. Slow production
For the past few years, the slow production movement has been all the rage. This applies to manufacturing companies such as watchmakers as well. Slow production means the lack of mass production. This allows the carbon footprint of the brands to drop. Luxury watch brands like Omega follow this practice, which makes their watches more expensive. After all, it is true what they say, sustainability does come with a price.
4. Quality
Slow production comes hand in hand with quality. As manufacturers take their time developing and crafting their watches, the quality also improves. Just because a watch is made of recycled materials doesn't mean they have to be substandard. A truly sustainable watch is more durable and lasts longer, reducing the need to buy more and more watches in the future.
5. Transparency
All of the above factors rely on transparency. Of course, a brand is nothing without its sustainability reports. What are its ecological goals? Does the brand tell you where their materials come from? Watch manufacturers typically display this information in their yearly reports — from production processes to distribution strategies.
Eco-Friendly Watches in Form and Function
Finding the right sustainable watch for you shouldn't be that hard. There are a lot of options from various brands of different price ranges. The key to finding them rests on your personal idea of what sustainability is. From recycled materials to beneficiaries of sales, a truly sustainable watch should always reflect the idea of a carbon-neutral, if not negative, future.
---
Modern times call for modern watches. Check out our list of the 30 Best Minimalist Watches For Fashionable Men.