New & Feature
Living the Classy Timex Waterbury Lifestyle
Feb 23, 2022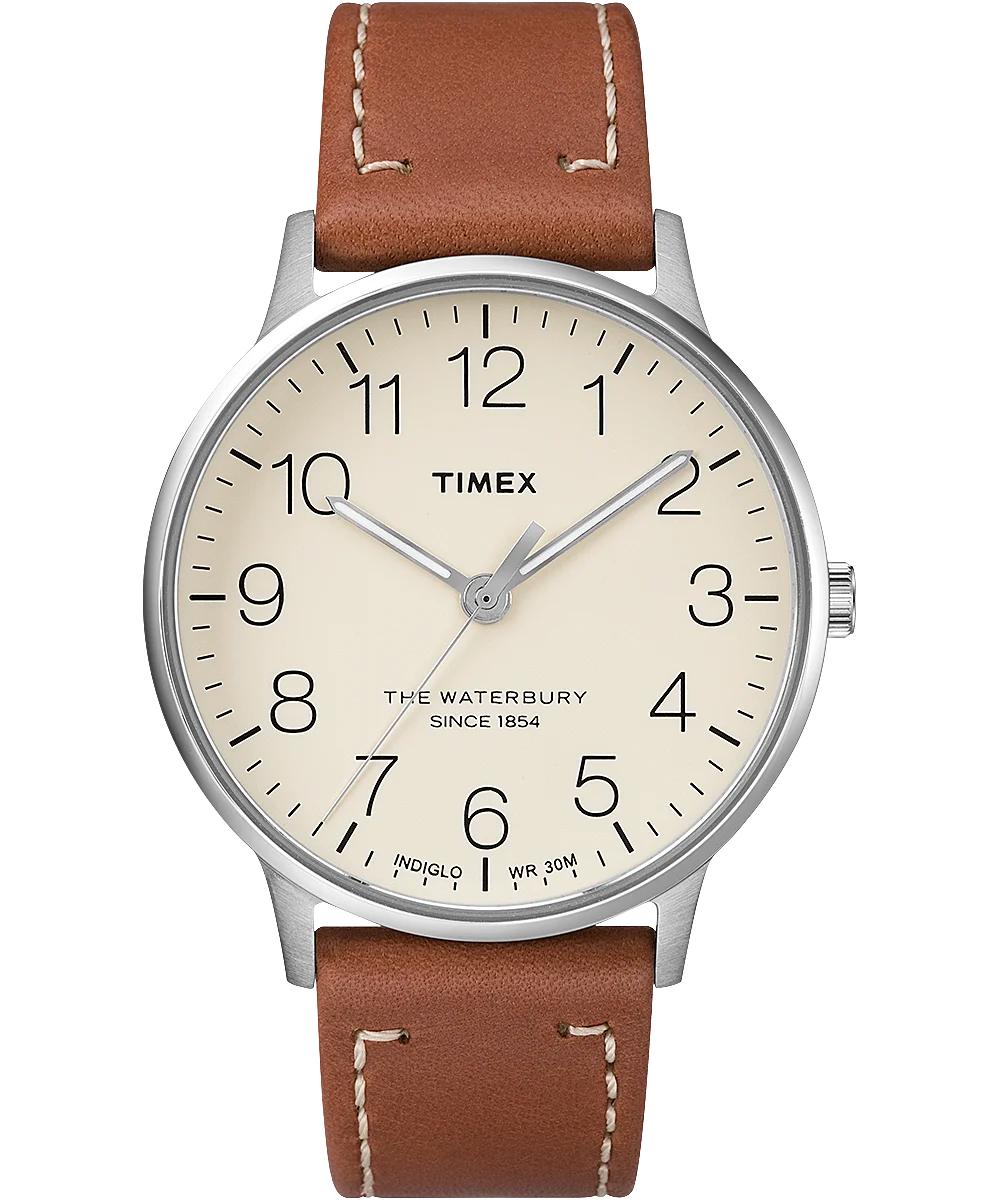 Even as the watchmaking industry has evolved over the last couple of decades, Timex has never stopped producing classic watches meant to last a lifetime. From the Timex Fairfield to the Q Timex, the brand has a veritable arsenal of quintessential watches loved by many in the watch community.
Today, however, we are looking at a different Timex model: the Timex Waterbury. Elegant, sleek, and extremely affordable, the Timex Waterbury became one of the brand's most remarkable collections — thanks to its heritage and simple, versatile style. Without further ado, let us go into a comprehensive guide to Timex Waterbury, what it has to offer, and how it pays homage to the long history of Timex.
A Background on the Timex Waterbury
The Timex Waterbury is a vintage-inspired collection of watches that serves as a tribute to Timex's origins. Its nostalgic roots can be clearly seen even from its name, which comes from Waterbury, Connecticut, the city in which the company was first set up. In fact, back when Timex was founded, the brand was actually known as the Waterbury Clock Company. 
The Waterbury collection was released as a celebration of Timex's 160th anniversary in the watch industry. This series features various watches with timeless designs, meant to epitomise the brand's journey and history of craftsmanship since its creation in 1854. You can find three different types of watches in the Waterbury collection: chronograph models, day-date variants, and sub-second timepieces. Every Waterbury piece perfectly balances the traditional with the contemporary, showing off advanced modern movements with old-school designs.
Officially, Timex classifies the Waterbury watches into two different categories: the Waterbury Traditional and the Waterbury Classic. The Timex Waterbury Traditional sub-collection was released in 2019, offering watches that come with either quartz or mechanical movements. According to Timex, these timepieces have sportier vibes and slightly more complex dials. On the other hand, the Waterbury Classic shows off more minimalistic, sophisticated timepieces. Either way, both the Waterbury Traditional and Classic provide great models that are a testament to Timex's dedication and expertise in creating watches.
Anatomy of the Timex Waterbury
Date window
Water resistance up to 50 metres or 165 feet
Automatic movement
Quick-release straps
38 to 42 mm case size
Brushed/Polished case
Case, Bezel, Caseback, and Crown

The Timex Waterbury comes in a stainless steel case with alternately brushed and polished sides, giving it a gleaming, lustrous look. The curves of the Waterbury are all smooth, with slim lugs that do not look too bulky on your wrist. These lugs curve downwards at a descending angle, conforming nicely to the slopes of your wrist for a better fit.
As a collection that caters to both men and women, the Waterbury timepieces are offered in varying sizes for each audience. For instance, the Waterbury watches for women come in cases that measure 34mm to 41mm. The Waterbury watches for men, however, have slightly larger case diameters, ranging from 38mm to 43mm. This variety means that no matter how large or small your wrist is, you will almost certainly be able to find a Waterbury watch that fits you perfectly.
Most Waterbury timepieces also come with a fixed bezel. Crafted from brass, this ion-plated bezel comes in a shade that matches the watch case itself, be it silver, gold, or black. Some models of the Waterbury offer plain bezels that are finely polished, while others come with sophisticated-looking fluted bezels that add to the elegant aesthetic of the watch. The collection also contains some Waterbury GMT watches. These timepieces have rotating, two-tone GMT bezels. These gear-edged bezels, which are painted in hues of red and blue, are highly reminiscent of the famous Rolex Pepsi.
The caseback of the Timex Waterbury also varies depending on what model you are looking at. Most Waterbury timepieces have solid stainless steel caseback, engraved with essential information such as the model number, the type of movement it uses, the depth rating, and more. For quartz-powered Waterbury watches, you can also find a push-reset button, which allows you to replace the watch's battery more easily. Some models of the Timex Waterbury also possess clear, sapphire crystal casebacks, which give wearers a clear view of the movement inside.
Every Waterbury timepiece has a single, unguarded crown at 3 o'clock, which adds to the quintessential design of the watch. It comes with deep grooves, giving you a better grip when you are trying to turn and wind the crown. Even better, this crown is equipped with an Indiglo illumination feature, so you can light up the watch face just by pressing it. Timex Waterbury chronograph models also come with two pushers on either side of the crown, which you can use to navigate the watch's chronograph functions and calendar.
Dial and Bezel

As an extensive and diverse collection, the Timex Waterbury shows off a variety of different dial colours. These include the standard white, black, and dark blue hues, along with military green, silver, and more. The Timex Waterbury Legacy models even offer dials in shades of sky blue or vibrant orange. Regardless, one thing all of these dials have in common is that they showcase crisp, clean dials. These watches do not have the typical busy dial you can see in many modern watches today, preferring instead to maintain the old-school, minimalistic style of the vintage Timex wristwatches.
The dials of the Timex Waterbury all flaunt neat, vertically-brushed finishes that give the watch face a lovely texture. There is also a lot of variety in terms of the components that can be found on the dial. For instance, some Waterbury watches come with painted Arabic numerals in a tidy typeface, paired with luminous sword-shaped hands in shades of silver, black, or gold. Other models possess rectangular applique hour indices and slender blunt hands covered in lume.
The Waterbury GMT timepieces, on the other hand, have dials that comprise hour markers in various geometric shapes, along with long sword-shaped hands, and a quirky, trapezoidal date aperture at 3 o'clock. The most unique models, however, are probably the Waterbury Traditional Automatic. These timepieces boast open-heart dials, with apertures at 7 o'clock that allow you to admire the balance bridge of the movement inside. Some Timex Waterbury watches also come with additional complications chronograph sub-counters, day-date windows, or simple date displays, depending on the specific model you are looking at.
As was previously mentioned, all Timex Waterbury watches are equipped with an Indiglo illumination feature, which you can control using the crown. Turning on the Indiglo function will cause the Waterbury's watch face to light up in a bright blue hue, providing better visibility in poor lighting conditions.
Strap

The Timex Waterbury is offered with two kinds of straps. You can get either a soft leather strap or a professional-looking three-link stainless steel bracelet. Both come with easy-to-adjust pin buckles that ensure the watch stays securely on your wrist. 
The stainless steel bracelet, which is more durable and better suited for everyday use, can usually be found on the Waterbury Traditional. This is a better choice if you live in a humid climate since it is more resistant to water and sweat. On the other hand, Waterbury Classic watches tend to come with leather straps. This material is lighter and more comfortable, and looks best when paired with a nice suit and tie for a formal night out.
Movement
Mid-range level watches like Casio and Tissot are known for using quartz movements quite frequently as it is more affordable, and Timex is no different. The Timex Waterbury chronograph watches are all driven by quartz movements, with extensive power reserves of at least five years. These movements are also easy to maintain since they do not need to be wound.
If you want a more complex automatic winding watch, then check out the Timex Waterbury Traditional Automatic. This watch runs on a Miyota mechanical calibre, which is held together by 21 jewels and has a solid power reserve of 40 hours. You can admire this self-winding movement through the Timex Waterbury Traditional Automatic's transparent caseback.
Price
All Timex watches are marketed as being extremely affordable, while also being made from high-quality materials with expert craftsmanship. This, of course, goes for the Timex Waterbury too. The price of a brand-new Waterbury timepiece ranges from between $139 USD to just $279 USD, depending on which model you are looking at. Pre-owned pieces can cost as little as half of that price range. The Waterbury's affordability has been a huge factor in the collection's marketability over the years.
Alternatives to Timex Waterbury
If you are interested in some other alternative watches that come with similar styles and quality as the Timex Waterbury, then we have got you covered. Check out three of the best alternatives to the Timex Waterbury you can choose from. 
1. Fossil Goodwin Chronograph Ref. FS5529

First on the list is the Fossil Goodwin Chronograph Ref. FS5529. This men's watch is presented in a 44m case made of black ion-plated stainless steel, which makes it a great choice for those who have bigger wrists or who love wearing oversized watches. Paired with a fixed black bezel, slim angular lugs, and a supple brown leather strap, this is a versatile timepiece that can be worn on virtually any occasion. 
The dial of this Fossil watch comes in jet-black, with muted orange hour indices, sword-shaped orange hands, a compact date window with large text between the 4 and 5 o'clock markers, and three chronograph sub-dials. In addition, on the rim of the dial, you can find a tachymeter scale, which helps you measure the speed and time elapsed. This watch runs on an SR920SW quartz movement, which offers a battery life of up to four to six years. 
You can get this Fossil Goodwin watch for around $149 USD. Affordable and highly functional, it is a great alternative to the Timex Waterbury.
2. Bulova Classic Chronograph Ref. 96B288

Next up is the Bulova Classic Chronograph Ref. 96B288. This watch is housed in a large 46.5mm stainless steel case, coupled with a matching three-link stainless steel bezel. The black dial of this watch is segmented into two sections, with the outer ring bearing a smooth finish and pronounced applique Roman numeral markers. The inner section of the dial flaunts a gorgeous Tapisserie design and contains silver dauphine hands, a small date display, and three chronograph counters. Like the Fossil Goodwin, this watch bears a handy tachymeter scale on the rim of its dial.  
This Bulova Classic watch is also equipped with a quartz 6S20 movement, which affords it a 30-metre depth rating and an incredible accuracy rate of +/-15 seconds a month. You can purchase this sleek Bulova timepiece for approximately $253 USD.
3. Tissot T-Sport Chrono XL Giro D'Italia Ref. T116.617.37.051.01

The last watch on this list is the Tissot T-Sport Chrono XL Giro D'Italia Ref. T116.617.37.051.01, which is a sportier alternative to the Timex Waterbury. The masculine combination of red, black, and silver tones makes this watch ideal for those who want an understated yet rugged timepiece on their wrist.
This Tissot T-Sport watch comes in a black ion-plated stainless steel case measuring 45mm in diameter and a black textile strap with red stitching. This is complemented by a black dial, containing slim hour indices, applique sword-shaped hands, three small chronograph sub-dials, and a date complication at 4 o'clock. It is powered by a quartz Renata 394 movement, which can last for up to three years before replacement if used with care.
This Tissot watch retails at $396 USD, making it the most expensive watch on this list.
Final Thoughts
Timex's long history and proven skills in watchmaking make the quality of its watches beyond question. For over 167 years, Timex has remained one of the top choices of everyday timepieces for watch enthusiasts. The Timex Waterbury only carries on that legacy, with its simple and versatile design, functional build, and budget-friendly pricing. Whether you are decked out in shirts and shorts, or wearing a suit and tie for the office, the Timex Waterbury can elevate your look effortlessly. 
All images are from Timex's official website unless stated.
Are you looking for more affordable watches? Check out the 10 best-selling affordable Mondaine watches for men and women.