New & Feature
10 Most Iconic Rolex Movements You Need in Your Collection
Feb 09, 2022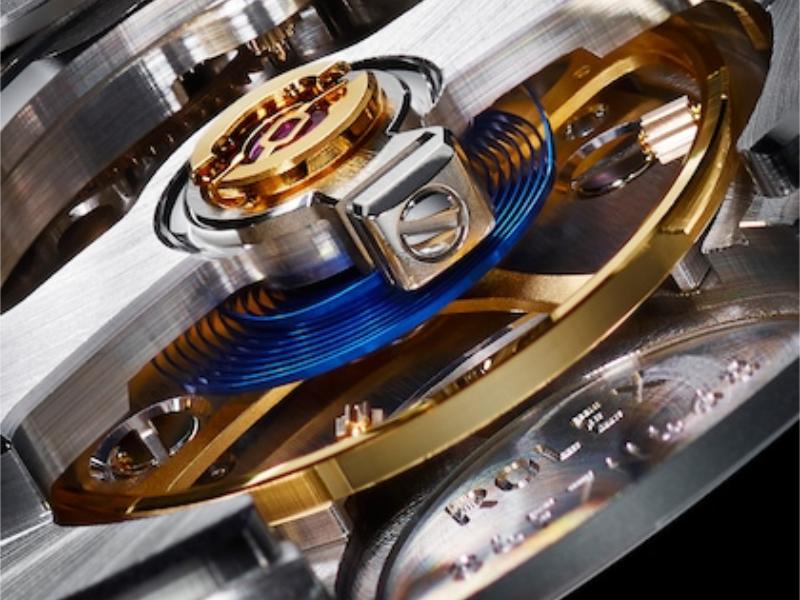 Rolex is one of the most revered brands in the industry, known for its many horological accomplishments over the years. For instance, the company is known for hand-making all of its iconic timepieces from the finest of metals. In addition, Rolex also takes on the challenge of providing high-quality, precise calibres which are also made in-house. Indeed, there is nothing more robust or precise than a Rolex movement. Today, we'll get to know 10 of the most iconic Rolex movements that keep the brand at the top of its game.
10 Most Iconic Rolex Movements
1. Rolex Calibre 3186

It is almost like a tradition for watch brands to release timepieces that have GMT complications. This complication allows the wearer to monitor two different timezones at once. It is especially useful for those who are frequent fliers and constantly on the go. One outstanding GMT movement that Rolex offers is the Calibre 3186.
As a successor to previous Rolex GMT Calibres 3085 and 3185, the Calibre 3186 was released in 2005. It is a COSC-certified movement, especially notable for being used in the Rolex GMT-Master II 116718LN GN and Rolex GMT Master-II 116718LN BK. Both of these watches were launched in celebration of the GMT-Master collection's 50th anniversary.
The Calibre 3186 is actually based on Rolex's Calibre 3135. A clear difference between these two Rolex movements is the presence of the GMT complication. The Calibre 3186 is about half a millimetre larger, which allows it to carry the 24-hour full dial rotation necessary for a GMT watch. While this might not seem like much to the naked eye, it definitely adds a bit of weight to a watch's overall design. Watches with this movement come with an additional GMT hand that helps indicate the second time zone and can also be independently controlled by the watch's crown.
One interesting tick about this Rolex Calibre is that the hour hand glides smoothly around the dial, instead of moving with clean clicks. It comes with a 48-hour power supply and has an excellent accuracy rate of +/- 2 seconds per day.
Rolex GMT-Master II 116710 BLNR
A great watch that is equipped with the Rolex Calibre 3186 is the Rolex GMT-Master II 116710 BLNR. It is famously nicknamed the Rolex Batman, thanks to its distinctive two-tone Cerachrom bezel, which comes in the signature black and blue hues of Gotham's protector.
Housed in a 40mm Oystersteel case, this GMT-Master II timepiece has a matching Oystersteel bracelet and a depth rating of 100m. Aside from the sleek, blued steel GMT hand, the dial of this watch is also decorated with large geometric hour markers, luminous Mercedes hands, and a magnified date window at 3 o'clock.
You can purchase this watch for approximately $26,399 USD.
2. Rolex Caliber 3130

As a distinguished member of the Rolex Calibre 300 family, the Calibre 3130 is a fourth-generation movement. Like the Calibre 3186, the 3130 is also derived from the Calibre 3135. This is an extremely simple Rolex movement that comes without a date function. Aside from this small difference, the Rolex movements 3130 and 3135 are essentially identical.
The Calibre 3130 was launched in 2001 and has been a staple in most of Rolex's base models. As mentioned, this is a very straightforward movement that comes with just the standard hours, minutes, and seconds time-telling capabilities. However, it is also an especially sturdy movement. COSC-certified with an accuracy rate of +/-2 seconds a day, the Calibre 3130 contains Kif shock absorbers that keep the watch protected from shocks and impacts. The free-sprung balance wheel is also crafted from a combination of beryllium and copper, which allows it to withstand extreme temperature changes with ease.
Rolex Submariner 114060
The Rolex Submariner 114060 is a subtle and underrated timepiece that deserves a lot more attention. Popularly known as the Rolex No-Date for its lack of a date complication, this watch shows off a quintessential black-and-silver profile.
As a dive watch, this timepiece has a unidirectional rotating black bezel made of Cerachrom and an impressive water resistance capacity of 300 metres. It is presented in a 40mm Oystersteel case and a matching bracelet that has both an Oysterlock safety clasp and a Rolex Glidelock extension system, which ensures the watch will fit nicely on your wrist, even when you are wearing a diving suit. This watch also has a 48-hour power reserve.
The Rolex Submariner 114060 retails at approximately $13,699 USD.
3. Rolex Caliber 4130

Launched in 2000, the Rolex Caliber 4130 debuted as the replacement of a third-party movement that was once used to power Rolex watches. The release of the Calibre 4130 completed the band's overall transition to the in-house manufacture agenda. Prior to the use of this movement, Rolex tapped Zenith to provide them with movements. For instance, the Rolex Calibre 4130 was used to replace Zenith's iconic El Primero movement.
The Rolex Calibre 4130 is a chronograph movement that is two millimetres bigger than the Calibre 3135. That said, it is still remarkable for having fewer components than the standard chronograph movement. This makes the Calibre 4130 thinner than chronograph movements like the Valjoux 7750.
Equipped with a larger tension spring, this movement has an extended power reserve of 72 hours and beats at 28,800 vibrations per second. In addition, the Calibre 4130 was also the first time Rolex introduced their patented Parachrom hairspring. This Parachrom hairspring is made from niobium and zirconium alloy, providing up to ten times more shock resistance than a regular hairspring.
Rolex Oyster Perpetual Cosmograph Daytona Ref. 116508/Green
The Rolex Oyster Perpetual Cosmograph Daytona Ref. 116508/Green is every automotive fan's must-have. The Rolex Cosmograph Daytona collection is, in general, the watch of choice for many celebrities, such as Paul Newman and Steve McQueen. It has a long history with the Calibre 4130, which was the first-ever in-house movement to be used with the Cosmograph Daytona. Since then, many generations of the Cosmograph Daytona have utilised the Calibre 4130, including the Ref. 116508/Green.
This watch is housed in a 40mm case made of luxurious 18K yellow gold. This is paired with a rich green sunray dial, which is furnished with luminous bullet-shaped and square-shaped indices, thin blunt hands, and three chronograph sub-dials. Fitted on top of the case is a gleaming, yellow gold bezel with a handy tachymetric scale.
You can get your hands on this Cosmograph Daytona piece for roughly $171,999 USD.
4. Rolex Caliber 3132

Based on the Calibre 3130, the Rolex Calibre 3132 has been remodelled with modern innovations that improve its durability. It utilises a blue Parachrom hairspring and Rolex's signature Paraflex shock absorbers, which renders the movement much more resistant to shocks, impacts, and strong magnetic fields. As a COSC-certified chronometer, this is a self-winding mechanical movement with a hacking seconds feature and a 48-hour power supply.
Rolex uses the Calibre 3132 in watches that measure anywhere below 40mm. It is particularly prevalent in the Rolex Explorer and Cellini collections. Despite not having a date complication, the 3132 is one of the sturdiest, most robust Rolex movements that every watch collector loves.
Rolex Cellini Time Ref. 50509/2
One watch which the Calibre 3132 can be found in is the Rolex Cellini Time Ref. 50509/2. Versatile and understated, Cellini Time Ref. 50509/2 stands out with a dial design that largely deviates from the usual Rolex style.
Instead of the usual geometric hour markers and indices that can be found on other famous Rolex watches like the Submariner, the Rolex Cellini Time Ref. 50509/2 opts for a mixture of slim silver indices and elongated Roman numerals. This watch comes in a slender 39mm case made of 18K white gold, paired with a rugged black alligator leather strap and a fixed bezel with coin-like grooves on its sides for a better grip.
This $12,899 USD Rolex Cellini watch is the perfect companion to your next dinner party.
5. Rolex Caliber 3135

We have referenced it a number of times in the previous entries, and here we have the iconic Rolex Calibre 3135 itself. You simply cannot have a complete list of the best Rolex movements without this calibre. The Calibre 3135 is a workhouse movement created in-house by Rolex, meant to last wearers generations. This straightforward and reliable movement is also easily modifiable, which is why it is so often used as a base for other Rolex movements. The most distinct part of this movement is its signature date display, which is typically placed at 3 o'clock and can be controlled using the quickset feature.
Rolex Deepsea Sea-Dweller Ref. 116660 DB
The Rolex Calibre 3135 is perhaps one of the most ubiquitous Rolex movements and has been used in a wide variety of models and collections. If you are intrigued by this calibre, the Rolex Deepsea Sea-Dweller Ref. 116660 DB is easily one of the best watch options you should check out. This powerhouse timepiece is equipped with a modified Calibre 3135, which provides it with a 50-hour power supply and an unrivalled 3,900m depth rating. Indeed, if you are looking for a watch that can challenge the deep seas, then nothing can beat this Sea-Dweller timepiece.  
This watch comes in a robust 44m Oystersteel and titanium case and a three-link bracelet made of the same materials. Inspired by the hues of the ocean, the watch's gradient blue dial is adorned with geometric hour markers, Mercedes hands, and a compact date window at 3 o'clock. Fitted on top of the case is a jet-black elapsed time scale bezel made out of Cerachrom.
The Rolex Deepsea Sea-Dweller Ref. 116660 DB has an estimated price tag of $25,199 USD. 
6. Rolex Caliber 2235

The Rolex Calibre 2235 was launched in 1999 and is just as tough and iconic as the 3135. However, there is a huge difference in the sizes of the two Rolex movements. Specifically, the Calibre 2235 is a smaller version of the Calibre 3135, while also carrying all the same important features. This includes its ruby-bearing oscillating weight, shock-resistant Parachrom hairspring, and useful date complication.
Measuring just 20mm in diameter, the Calibre 2235 is most commonly used in more delicate, slender watches such as the Lady Datejust and the Lady Yacht-Master.
Rolex Lady Datejust Ref. 179171/5 
An exquisite watch powered by the Rolex Calibre 2235 is the Rolex Lady Datejust Ref. 179171/5. This graceful and feminine timepiece is presented in a slim 26mm Oystersteel case and a Jubilee bracelet with centre links made from 18K Everose gold and Oystersteel outer links. This softer exterior is tastefully contrasted against a jet-black dial, which consists of bold rose gold Roman numeral markers, thick blunt hands, and a magnified date window at 3 o'clock. Adding to this elegant look is a fluted fixed bezel, also made of Everose gold.
Thanks to the Calibre 2235, this watch has a 48-hour power reserve and a 100-metre water resistance capacity. You can get this watch for around $9,199 USD, making it one of the most affordable timepieces in this article.
7. Rolex Caliber 3136

Moving on to a larger movement, the Calibre 3136 is larger than the Calibre 3135 by two and a half millimetres. As yet another movement based on the Calibre 3135, the 3136 is best remembered as the main watch movement of the Datejust II collection, from 2009 to 2017. While most brands might opt to give watches of different sizes the same movement, Rolex kept to its strict quality standards by catering to watches of different sizes with differently-sized movements. Thus, the Calibre 3136 was launched for bigger Datejust II models.
Like the 3135, the Calibre 3136 has a Parachrom hairspring and Paraflex shock absorbers that enhance its ability to withstand impacts, shocks, temperature changes, and other extreme conditions. This makes the Calibre 3136 incredibly reliable, long-lasting, and capable of taking all sorts of abuse.
Rolex Datejust II Ref. 116300-0004
The Rolex Datejust II Ref. 116300-0004 is a classic 41mm watch that carries a similar design as the base Datejust models. It comes in a 41mm Oystersteel case with a three-link bracelet and smooth fixed bezel, both made from the same material. This is contrasted against the watch's crisp blue sunray dial, which is furnished with thick Roman numeral markers and large blunt hands, both in silver. At 3 o'clock, you can also find a magnified date aperture.
This Datejust II watch has a retail price of approximately $7,799 USD.
8. Rolex Caliber 3155

As a successor to the Calibre 3055, the Rolex Calibre 3155 is known for powering the famous Rolex Day-Date for over three decades. The Rolex Day-Date itself was a trailblazer, as its release in 1956 marked the first time a wristwatch was able to show both the day and date at the same time. Launched in 1988, the Calibre 3155 is one of the few Rolex movements that has been housed by the Day-Date collection. This calibre comes with an anti-magnetic Parachrom hairspring, day and date calendar discs, quickset day-date functions, and a power supply of 48 hours.
Rolex Day-Date Ref. 118139-0004
As mentioned, the Rolex Day-Date was released in 1956 and was powered by the Rolex Calibre 3155 for an incredibly long time — from 1988 to 2008. One classic watch that is driven by the Calibre 3155 is the Rolex Day-Date Ref. 118139-0004, with its handsome, sporty looks.
This timepiece is presented in a slender 36mm case made of 18K white gold, with a blue alligator leather strap and a fluted bezel also made of white gold. The masculine blue strap also complements the watch's royal blue sunray dial. On the dial, you can find rectangular hour indices, luminous blunt hands, and a minute track on the rim of the dial with small Roman numeral indicators that add a touch of elegance to the watch face. As a Day-Date model, this watch also has the signature magnified date complication at 3 o'clock and the day spelt out at 12 o'clock.
You can purchase this watch for an estimated price of $17,929 USD.
9. Rolex Caliber 3255

Launched in 2015, the Rolex 3255 is one of the brand's next-generation movements. Unlike many of Rolex's other movements, the Calibre 3255 is virtually a brand-new innovation, with around 90% of the movement being new. While the Calibre 3255 is COSC-certified, Rolex has claimed that this movement is actually twice as precise as the COSC requirement.
The Calibre 3255 comes with a series of significant upgrades, including rapid-set day-date functions and a Chronergy escapement which improves energy efficiency by 15%, giving the Calibre 3255 a whopping 70-hour power reserve. Its balance spring, lever, and escape wheel are also made of nickel-phosphorus, a material that provides the Calibre 3255 with much greater resistance against magnetic fields.
Rolex Day-Date 40 Ref. 228348RBR-0002G
Need a reliable, elegant timepiece that runs on the trusty Calibre 3255? Then the Rolex Day-Date Ref. 228348RBR-0002G is just the watch for you. This luxurious all-gold timepiece comes in a 40mm 18K yellow gold case, along with a fixed fluted bezel and a President bracelet made of the same material. Embedded in the bezel are lavish, sparkling diamonds that go perfectly with the baguette crystals used as the watch's hour markers. The dial of this watch shows off an alluring champagne hue. Aside from the crystal markers, it is decorated with blunt gold hands, a magnified date aperture, and an elongated day-of-the-week complication at 12 o'clock.
This Rolex Day-Date piece sells at around $78,999 USD.
10. Rolex Caliber 3195

The Rolex Calibre 3195 stands out for being one of the only Rolex movements with a moon phase complication. Introduced in 1988, this movement comes with a blue Parachrom hairspring that boosts the calibre's resistance to magnetic fields, a 48-hour power supply, and an accuracy rate of +/- 2 seconds a day. In addition, it is equipped with a moon phase function and is able to tell the date using a single centre hand.
Rolex Cellini Ref. 50535-0002
Rolex has played around with a few experimental models over the years, and the Rolex Cellini Ref. 50535-0002 is an excellent example of one such watch. This distinguished timepiece showcases a 39mm Everose gold case with a rustic-looking brown alligator leather strap. The soft white dial enhances the watch's vintage vibe, and is embellished with slim hour indices, rose gold dauphine hands, and a gorgeous blue moon phase complication at 6 o'clock. On the rim of the dial, you can find Arabic numerals for the date display. A blued steel central hand, with a distinct crescent shape at its end, indicates the correct date.
The Rolex Cellini Ref. 50535-0002 has a price tag of $25,149 USD.
What Makes Rolex Movements Great?
Rolex certainly does not hold back when it comes to the watches they come up with. And a big part of what puts this brand at the top of the game is its selection of powerful, innovative in-house calibres. Rolex movements are precise, reliable, and made to last for generations. In fact, Rolex movements have their own chronometer standards, which surpass even those of the COSC certification. As an added bonus, they are also extremely maintenance-friendly.
Rolex Movements: the Moment and the Future
Every brand has its own holy grail of watches to boast. Rolex, as one of the leading watch companies in the world, does not just limit itself to watches like the Submariner or the Day-Date. Instead, Rolex takes a more well-rounded approach to watches, placing equal focus on producing advanced, top-notch movements that are sure to stick in the minds of collectors. After all, these Rolex movements are at the heart of every Rolex watch ever made.
---
All photos from Rolex.
Need more guides into the luxury brand's collections? Get to know the Rolex Rolesor: Are Rolex Two-Tone Watches Worth Buying?