Watch Guide
How To Spot A Fake Rolex?
Jun 19, 2019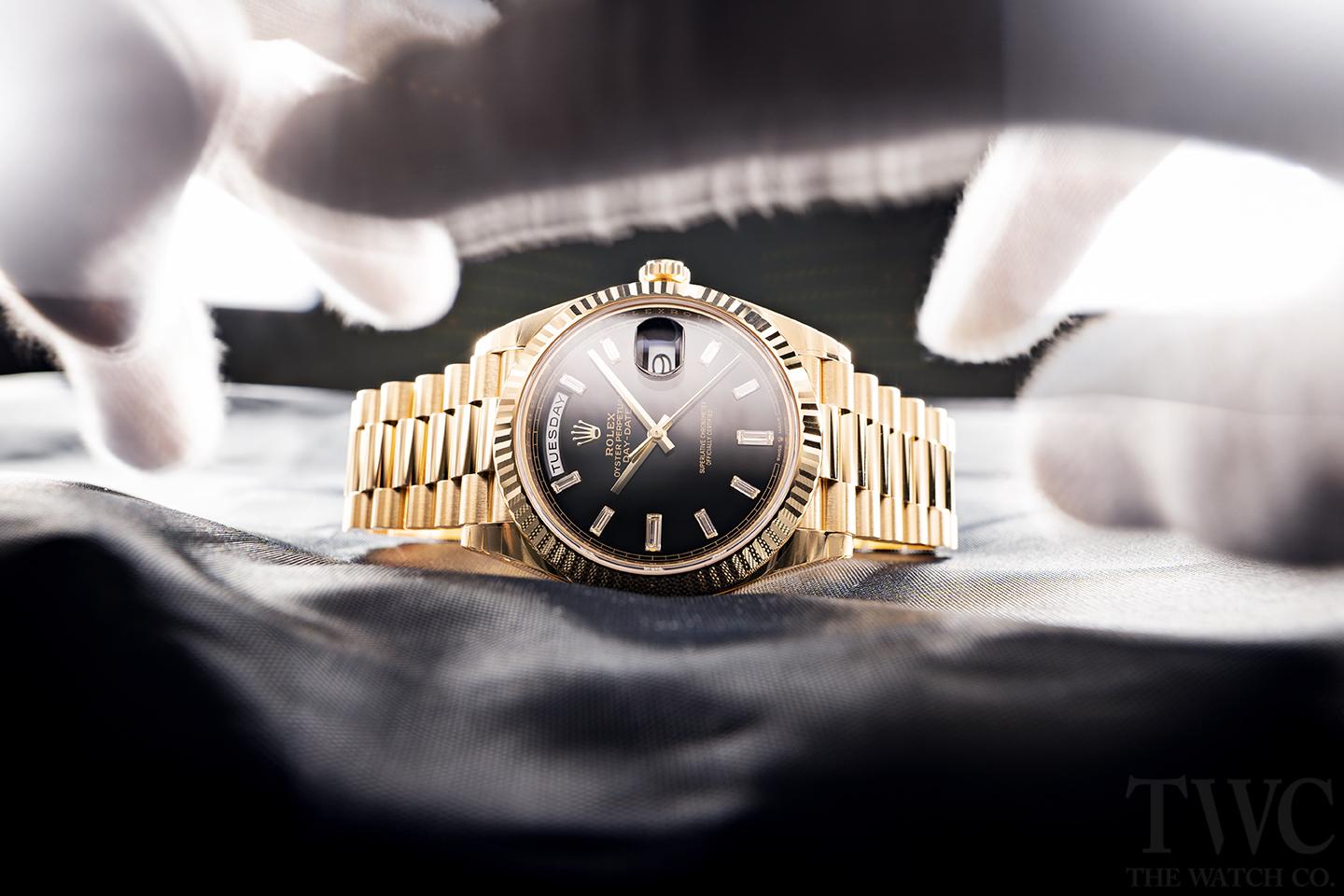 Rolex watches are by far the most treasured timepieces of any style — thanks to the precision, prestige, and sophistication these watches bring to the table. But as time passes by, it's becoming harder and harder to spot a fake Rolex watch.
The game of making a fake Rolex has changed drastically. Even experienced watch dealers can easily be fooled by a current Rolex replica. The big question now is: how to spot a fake Rolex? Well, recognizing fake Rolex is not as easy as it was a few years back.
What's more, a novice will need help when it comes to how to tell if a Rolex is real. Due to their high demand, Rolex watches have a lot of fake counterfeits in the market. Most of the fake Rolex watches are produced in China. However, lately, it seems that the production of these counterfeits has spread out through Asia.
But that doesn't mean that there are no Asian professional watch sellers. The continent is booming with legit franchises from every corner. You just need to know how to find the best dealer for you.
If you have decided that you want to invest in a Rolex watch, it is important for you to learn how to spot a fake Rolex. More importantly, it would be your worst nightmare if you end up spending a fortune on a knock-off. So, let's ensure you get that sophistication and style that you've been looking for.
How to Check Rolex Serial Number?

Aside from the other features listed below, one of the easiest ways to spot a fake Rolex is by checking the Rolex model numbers. So, what is the serial number meaning? Well, like most sold devices, the serial number in Rolex watches is a unique set of numbers and letters.  The serial numbers and letters are like fingerprints on your watch. You will easily use the serial numbers to identify the origin of the watch. On top of that, the Rolex model number is useful when it comes to insuring your watch.
The Rolex reference numbers happen to be the best way to identify a stolen Rolex watch. Meaning, with your Rolex certificate and serial number, you can easily file a report at the local authorities in case your watch gets lost. You will find the Rolex certificate in the Rolex box once you purchase the device.
So, where is the serial number? The serial number can be found at the 6 o'clock position. On the other hand, the Rolex reference numbers are at the 12 o'clock position. To ensure you have a genuine Rolex, first check the number location. It should be engraved in the lugs of the watch body.
Another important piece of information is that the numbers are random, at least for the 2010s models to date. More on that, Rolex started randomising their serial numbers for each watch so that it's impossible to assume the approximate age. Only older or vintage Rolex watches have more specific numbers.
So, if you want to know if the watch you have is vintage, simply do a model number lookup on the Rolex. You can also do a Rolex serial number lookup just to confirm that the watch is genuine.
Read more: Guide To Rolex Serial Numbers & Rolex Reference Numbers
Can I Use the Rolex Box to Tell if My Watch is Real?
Definitely yes! An original Rolex box is easy to spot from a mile away. However, there are sellers who decide to buy counterfeit boxes so that they can resell their watches at a higher rate. That's just being cruel.
Not having the original Rolex Box from a used watch is not a crime. In fact, you are likely to misplace the box due to moving around a lot. But buying a duplicate to resell your Rolex at a higher price is not a fair deal.
Anyway, if you want to spot a genuine Rolex box, check the gold engraving on the surface. You will instantly realize that there's a huge difference in its shade. So, don't fall for any brand new casing that you spot online. Take your time to identify a counterfeit from a range of different Rolex boxes.
How Much is a Rolex?

Also, another tip I can give you is that the price of the Rolex watch really matters. It will be evident proof that the device is real. However, you will have to be careful since some fake merchants might take advantage of this knowledge. That means you might end up with an overpriced knock-off if you don't have your eyes wide open. So, how much is a Rolex?
Typically, a genuine Rolex costs $8000 or even more. But there's no fixed price for Rolex watches. The quality, year, and style will generally determine the price. More importantly, Rolex watches have always been expensive since their first appearance. This makes the Rolex watches quite a good investment opportunity. On the other hand, fake Rolex watches generally cost between $20 and $200.
Fake Rolex vs. Real Rolex: 9 Spots You Need to Check
Over the past few years, there has been an advancement in counterfeiting methods. This means that if you don't look at the fake Rolex against the genuine one, you can barely tell the difference. For this reason, there is a high chance that so many people have and might still fall for the fake Rolex trap.
Therefore, as a prospective buyer, it is important that you understand all the intricacies of genuine Rolex. There are times when the fake Rolexes will mix and match parts from genuine Rolexes. You will get one with a genuine Rolex movement but has a fake casing which makes distinguishing the fakes even harder.
But there is no need to panic. In this section, we have compiled a list of 9 telltale spots that you need to check to help you distinguish the counterfeit from genuine. You will also learn how to wind a Rolex with ease.
Stampings

For a genuine Rolex watch, you will find that the stampings, serial, and model numbers are deeply and perfectly engraved into the metal. On the other hand, the fake models are only lightly etched with acid or just sandblasted into the metal. The real Rolex watch will have very fine lines that the watch will glow like a diamond cut edge.
Some of the Rolex scammers are careless enough that they will not even include the Rolex crown logo on the watch. This is a definite dead giveaway that what you are about to purchase is fakery.
Movement

The thing with Rolex watches is that they never compromise when it comes to precision and perfectionism. That is why the most essential test of a genuine Rolex is its movement. At the same time, it is one of the hardest aspects to determine in a Rolex. That's because most people lack the expertise needed in opening up the back of a Rolex watch.
However, if you are lucky enough to get a professional who can remove it safely, then the innards are the ultimate point where you get to distinguish a Rolex replica from the genuine one. The watch is simply defined by its movement as that's basically like its engine. This internal structure is what allows it to function the way it does.
The movement of Rolex watches is made to the ultimate detail and precision, hence making it hard to replicate. In addition to that, most of the Rolex watches have mechanical movements. This means if you see a quartz Rolex watch, this is a huge red flag and probably a dead giveaway that's it's a fake.
Dial

With genuine Rolex watches, you will never get anything less than perfect and extremely precise dials. That is why, if you what to know if the watch you are having is genuine, then you need to look for any imprecision, smudging, smearing, or even uneven fonts on the lettering of the dials.
Most of the counterfeits out there will get everything right but maybe fail to print them to the exact precision. That is because these Rolex parts are made in a very inferior creation process.
Aside from that, you need to check the Rolex crown logo. This is a distinctive logo that will appear at the very top part of the watch although the positioning may depend on the model you go for. Notice the following:
It can be above the word Rolex and slightly below the number 12 of the Rolex watch face.
Just above the word Rolex and slightly below the day of the week window in such a way that it doesn't overlap or touch the window.
In very few instances, the Rolex Crown could replace the number 12.
Cyclops

If what you are looking at is a genuine Rolex watch, then it must feature Cyclops or rather a magnifier just above the date window on the Rolex watch face. The Cyclops helps to amplify the numbers on the dial-up to 2.5 times in order to enhance readability.
This means that you need to be on the lookout for the magnifier before buying any Rolex watch. Fakes will either have a flat magnification lens and you'll notice that the date isn't magnified that much. With a real Cyclops of a Rolex watch, you shouldn't even squint when looking at the date window.
Waterproof

The Rolex wristwatches are built to be waterproof, meaning they are 100% watertight.  This is something that the forged versions of the same cannot withstand. Although it's only the Rolex Submariner that can sustain deep-sea diving, all the other models too are completely sealed and should not leak any water.
You can test this by dipping your Rolex watch in a cup of water and taking it out after a few seconds. If there is any leaking either on the Cyclops or on the dial, then the watch is definitely a fake one. However, you should not use this test in scenarios where you feel that the watch is a fake. The water test might ruin your watch, hence making it impossible to return it to the dealer.
Weight

The only time you will ever encounter a light Rolex watch is when you are dealing with a fake. So, if the Rolex you have feels light in your hands, then you are probably having a counterfeit.
The real Rolex watches are made of very high-quality materials, meaning they will have significant heft to them. This is exactly the trade-off you have to make to get some quality and a genuine watch worth your time and money.
Clear Caseback

If your jeweller says that they are selling a genuine Rolex to you, then you need to check the caseback of the Rolex watch. This is a detail that most scammers will miss. Besides some discontinued pieces of Rolex from the 1930s, a genuine Rolex should not have a clear caseback.
A genuine Rolex doesn't have a clear caseback that shows the movement of the watch. Rolex is very particular about their taste and they believe in a smooth metal case back for watches. If you have anything less than that, then that's a fake Rolex. A genuine one will have a smooth and stunning caseback.
Caseback Engravings
A genuine Rolex watch will never have any sorts of engravings on the caseback. For that reason, if you have any sorts of writings, markings, or engravings on the caseback, then the watch is a pure forgery.
Rolex markings and engravings are very rare and can only be found in the very old models of Rolexes. Or still, in some military watches, COMEX and the Rolex Sea-dweller. Rolex doesn't engrave the caseback exterior.
Scammers will always try to prey on people who know little about the genuine Rolex. Hence, they will imprint all sorts of things on the backside of the watch including a replica of the Rolex Crown and other decorations that tend to be very convincing.
The Band

The real Rolex bracelet or rather the band should not kink when placed on a flat surface. It should instead lie completely straight. With time, you might find that the links' spacing may stretch a little but they still should fit correctly when placed together.
At times, you may even find that authentic Rolex watches are paired with fake watch straps. In such a case, when you wear the Rolex on your wrist for some time, the band stretches. This means you need to be very cautious with the band too, not just the watch.
Ways to Distinguish Real Rolex in Different Collection
Now that you know how to tell a fake Rolex from a real one, it's now time to get into the tiny details of each collection. There are dozens of popular Rolex collections/series in the market today. With that in mind, you need to find out which of these collections best suits your style. That is why this section will help you get the best Rolex series. Also, getting to know the watches by their models will help you differentiate them from counterfeits. Here are some of the popular collections and their unique features. Each of these Rolex watches comes with different Rolex bracelets.
Rolex Submariner

Probably one of the most popular Rolex, the Submariner is specifically made for scuba divers. But over time, this great design has transcended its original purpose.
If you are a die-hard fan of the 007 series, then I'm sure you've already heard of the Rolex Submariner. Aside from the lines on the crown, there are other different ways to identify a Rolex Submariner. This will also help you tell the difference between a Rolex Replica and an original Rolex Submariner.
One of the most outstanding features of the Rolex Submariner is the Chromalight. The Chromalight feature was first introduced in the Rolex Deep Sea Dweller but later made its way to the Rolex Submariner. The new Chromalight is able to last the entire night, close to 8 hours, without going off.  This is actually two times more durable than the previous photoluminescent materials.
A major example of the Chromalight is the Rolex Submariner Green 116610LV. It was not a few days after the Rolex Submariner green debuted before enthusiasts branded it the Rolex Hulk. This Green Hulk watch is a pure symbol of style and class. It features a green display and it's highly luminesced. That's because the primary objective of this green watch was to support deep-sea divers. Another great option of the Rolex Submariner is the 116610LN. It definitely gives you that much-needed status in any event you attend.
The original design of the Rolex Submariner is majorly concentrated on how a deep-sea diver will be able to use the watch. Although currently, almost every Rolex Submariner is fitted with a date complication; the vintage designs didn't have this section.
Apart from the Rolex Submariner date watch, the no-date version slowly assumed vintage status. The Rolex Submariner no-date watch has been priced lower than the Rolex Submariner date version. All in all, the Rolex logo still remains the same since both versions are of the same company. The Rolex Submariner no-date can also feature an oyster bracelet though it's available in many different configurations.
Rolex Daytona

The Rolex Cosmograph Daytona was originally launched in 1963 and has quickly risen to its reputation. The Daytona watch was named after the city where the first NASCAR Race was held. It's actually the trophy of every winner of the Le Mans. Therefore, this watch is closely associated with racing.
Daytona watch features a calibre 4130, which is a self-winding Rolex Chronograph. This chronograph is equipped with fewer components than your standard chronograph. That enhances the movement reliability of this watch. On top of that, the Chronograph features are easy to see as they stand out more than the rest. It's also a great choice if you are looking for a Rolex watch with diamonds.
Additionally, it also helps to save up on space. The extra space makes it possible to house a larger mainspring that extends the power reserve all the way from 50 to 72 hours.  One of the most outstanding features of the Rolex Daytona is its tachymetric that enables drivers to read average speeds. What's more, this device is also built with a thickness of 12mm and a lug width of 20mm.
Rolex Datejust

Like most of the Rolex watches, the Rolex Datejust is just a chronology of "The Date Changes Just at midnight." That's what this watch does rather than taking long hours to change the date wheels like most date watches. This is also considered a presidential Rolex watch. It is also branded as a woman's Rolex.
Without a doubt, Rolex has existed for quite some time now. That said, the company had to find a way to commemorate their 40th anniversary and that led to the debut of the Rolex Datejust 36. The Datejust 36 comes in a 36mm case size. Additionally, this also led to the name the 'Jubilee Rolex'. Other versions of the Datejust include the Rolex Datejust 2 and the Rolex Datejust 41.
The Rolex Datejust comes with a unique blend of taste, style, and brand. With that in mind, due to the Datejust's style, most people tend to brand it a Woman's Rolex. But that's just the tip of the iceberg. The Rolex Datejust has a lot to offer other than just style. It features a Cyclops lens that magnifies the date display. With a distinctive bezel, the style in this watch is timeless.
What's more, the oyster bracelet in this watch is a perfect blend of technology and aesthetics. That makes it a pillar of the entire oyster collection. A gold Rolex watch is an amazing watch to add to your collection. It also comes in a black Rolex if you are not a fan of the gold-blend. All in all, gold is coveted especially when it comes to nobility and luster.
Rolex Sea Dweller

If you are a deep-sea diver, then this watch will help you get the best experiences. The Rolex Sea Dweller is equipped with high levels of water-resistance and the latest technology of Chromalight in Rolex. That makes it the ideal device to take when going for that deep-sea dive with your pals.
Rolex Sea Dweller gives you an experience like no other. The hands of the watch give out a distinctive blue light that's clear even in the deep sea. A perfect example of this collection is the Rolex Sea Dweller 126600 that uses Oyster steel to ensure it has absolute resistance to corrosion and water. The Sea Dweller 126600 is a good option for you.
On top of that, the crown uses a Trip lock technology making it secure. Rolex Sea Dweller's resistance properties go all the way up to 1200 meters.
Rolex GMT Master

The GMT Master was first introduced in 1955. This high-end timepiece was first developed in an effort to meet the needs of intercontinental airline pilots in their navigation. The whole idea of introducing the Rolex GMT  Master proved completely invaluable to those whose professions demanded them to live by constant long-distance travel.
Rolex is now presenting a new version of the Oyster Perpetual GMT Master II that features a bidirectional 24 hour graduated bezel as well as a separate hand that allows anyone traveling across the world to be able to read two time zones at the same time. At times, read even up to three just by turning the rotatable bezel.
This watch comes with a sapphire that's resistant to scratches and at the same time has a Cyclops lens just over the date window. The Rolex GMT Pepsi features a combination of the original 1955 and color combo of the 2018 model. In that, the 24-hour bezel in blue denotes the night hours (1800-0600 hrs.) while the red bezel denotes daytime (0600-1800 hrs.).
Known as the bruiser, this black and blue Rolex GMT master bezel combination was introduced in 2013. And since then, it has been nicknamed by its fans as the Batman watch, Rolex BLNR. That's because it has a dark color combination that gives the wearer a moody look.
The Best Ways to Buy a New Rolex Watch
As there are many advantages of wearing fine timepieces, buying a luxury watch comes with its fair share of demands. First of all, before settling for buying a Rolex watch, you need to do much research.
However, if you know nothing about how to buy the best new Rolex, then this section is in your best interest. Below I will share with you some of the questions that you need to ask yourself before you buy your first new Rolex.
Why Rolex?
Rolex is one of the finest timepieces on the planet that is mass-produced in the industry. To start with, I'd say that buying a Rolex is more or less a personal decision. However, generally, there are many reasons why people will spend a whopping $5,000 for a Rolex watch. These reasons may include:
For the purpose of celebrating a milestone or an achievement in life
In order to own a watch that holds so much value and history
To own a luxury watch
In order to communicate a level of life success or career
Others just have a ton of money and they are looking for a timeless watch to spend on
The good thing with Rolex watches is that they fulfill each and every one of these needs. And there is no reason to buy a Rolex watch that is better or worse than the other. When you have in mind why you want to buy your first Rolex, then your purchase will be well planned for, hence you will have nothing to regret thereafter.
Where do I buy My First Rolex? Official Shop
Indisputably, the best place to buy your first new Rolex watch is an authorized official dealer who has been certified and well inspected by Rolex. If possible, it's better that you go for a local official dealer with a physical shop.
All in all, one of the greatest disadvantages with official shops is that Rolex discourages these authorized dealers from offering discounts on Rolex watches. However, for used Rolex and vintage models, you can get at least a 5% discount although this will majorly depend on the dealer.  
Pros
The experience of buying a new Rolex watch is unforgettable
You get a valuable warranty
The new Rolex's history links to you and you alone which feels great
It's the best option if you want to go for the most expensive Rolex models
Cons
No discounts on new Rolex watches
It will cost you more money
Online Buying Platforms
Buying an authentic Rolex watch from an online platform is without a doubt a very risky endeavor. However, if you invest your time to research some of the best online buying platforms, then this might turn out to be very rewarding.
Although it's quite easy to learn how to buy a real Rolex online, deciding whether you want to use online platforms is a totally different question. All in all, there is no need to panic as there are plenty of certified online dealers out there. The most important part before making any online purchases is research.
One of the best online platforms to buy real Rolex is www.thewatchcompany.com. This is also the best place to buy discount Rolex watches online. The platform supports overseas shipping; this means when you order your Rolex watch, it can be delivered to you safely all over the world. In addition to that, they have a physical shop in Japan that you can visit any time you wish.
Pros
The prices are great
There are lots of authorized dealers who sell authentic watches
Cons
The warranties offered by online market dealers are not as valuable as the ones from official dealers
Parallel Import Online Shops
Parallel import online shops are a common thing, especially in the grey market. With this option, you will get non-fake Rolex watches at lower prices. The only difference is that there are no permissions granted by the intellectual owner of the property which might be an issue in most countries.
Pros
It offers lower prices
It  widens the range of options for consumers to choose from
Cons
Parallel imports are not supported across all countries
There is a high risk of getting counterfeit Rolex watches
There is a chance you can get damaged watches
Parallel Import Physical Shops
These are similar to the parallel import online shops, only that in this case, there are physical shops. This means that this type of parallel import faces similar shortcomings as the latter. However, with the parallel import physical shops, the Rolex watches might end up being somewhat more expensive than the online imports.
Pros
The parallel imports physical shops offer the consumers a wide range of options to choose from
Cons
It could cost a little bit more
Lack of enough information on the imported Rolex watches
Watch Forum
Rolex forum is one of the best places where you can get genuine second-hand cheap Rolex watches. In such forums, you get access to some of the best dealers who have Rolex for sale. Moreover, you will find a couple of watchmakers who will contribute, hence clarifying any misconceptions. For instance, they could clarify "how much is a Rolex?" And the good thing with watch forum is that you get crazy discounts from some dealers. This means that you will pay way less than purchasing from a retail shop.
Pros
You get authentic Rolex for sale at discounted prices
You get recommendations for the best reputable dealers from other peers
On Rolex forum, you don't have to be subscribed in order to pose and read questions on the platform
Cons
There is a high chance that you could land on some Rolex watches that are inauthentic
The page has so many banner ads if you are not subscribed to the forum
Conclusion
Rolex watches are here to stay and with the right guidance, you will get one that fits your style best. Take your time and scroll through this article for the best quality watches in the business.
So, if you want to style up your suit and tie or even dress, then it's time you start shopping for a Rolex Watch. I hope this article proves to be helpful and stick around for more information.