Watch Guide
A Symbol Of Versatility: The Rolex Daytona
May 08, 2019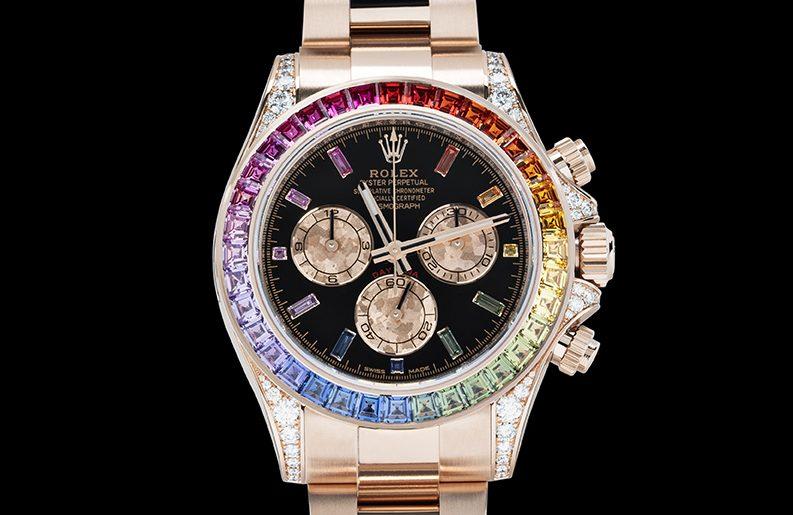 The Rolex Daytona is one of the most desirable Oyster models from the stable of Rolex. When we think about Daytona, what comes to mind is the Phoenix. For this glamorous watch, it is all about being reborn and becoming better than its first life. Among all the models from Oyster, the story of the Daytona seemed to be the most turbulent of the lot. Starting out as a Rolex Cosmograph, the model practically died a painful death. It was a total failure at its introduction, with no one willing to pay for it. If they really wanted to, even Rolex couldn't give them away.

Down the Memory Lane
However, the tide changed, and right from its ashes, the glamorous Rolex Daytona arose to take the world of class and style by storm. Today, some models of the watch sell for as much as $30,000 USD and some sell much more. So, what changed the story of Rolex Daytona? It's only the features and attributes of the watch that can do justice to this question. Welcome to the world of Rolex Daytona; welcome to the world of class and glamour.
Very few wristwatches have been able to attract a tradition like the Rolex Daytona. The watch was christened after a Florida city that is known as the hub of speed. The city is arguably the most popular destination for motor racing. Daytona was introduced in 1963 and it was designed to fit into the growing popularity of motor racing at the time. Unfortunately, unlike its predecessors, the Daytona wasn't accepted by the motor racing community. Authorized dealers of Rolex were practically offering discounts on the watches just to get them off the shelves but still, it didn't work. The story changed when Paul Newman, a prolific motor racer and Hollywood star, took interest in the watch and began to wear it. As a matter of fact, he was practically wearing the watch 24/7. That was the turn of the event for the stylish and glamorous Rolex Daytona.
Rolex Daytona Exceptional Signature Chronograph Movement
From inception, the movement of Daytona was sourced from another manufacturer. It had the Valjoux 72, which was a reliable and a great hand-wound chronograph caliber. It came with a lateral clutch and a column-wheel controller. Long after automatic chronographs began to gain popularity in the market, Rolex took the step to go fully automatic and that was where the popularity of Daytona began to rise. Rolex got its El Primero chronograph movement from the infamous Zenith. To make it its own, Rolex went ahead to detune the trademark high frequency to 28,800 vph. This was the most remarkable redesign for the watch. It received crown guards, new sub-dials and typefaces, and a thicker steel bezel.
By 2000, Rolex introduced its signature chronograph movement, caliber 4130. Riding on its reputation, the Daytona prides itself on its supreme specifications that are incomparable to no other sports chronograph. It sports an accuracy of +/-2 seconds and a power reserve of 72. It also comes with lesser components when compared to other standard chronographs.

Wearing a Rolex Daytona; how to do it
Your Rolex Daytona is not your regular watch. Oh no! Not at all! Owning a Rolex Cosmograph Daytona places you in a different class entirely and wearing it is exquisite. It is no wonder Paul Newman was always wearing his pair practically every time. Really, you would be pardon if you were to wear your Daytona morning and night, to the ballroom, boardroom, or bedroom. You have a choice between the Daytona steel, brown dial, and yellow gold. You just have to sport what suits you best. The Rolex can be worn with a suit, especially with its 40mm diameter. However, you have to be sure that the bracelet is perfectly fitted so it doesn't hang down from the back of your hand. For a weekend trip, the Rolex Oyster on steel bracelet is the perfect deal to turn heads with a glamorous ensemble.
Daytona Maintenance for a Perfect Shine
Although it is one of the best Rolex watches for men, you still have to think of its maintenance. Of course, it is not absolutely resistant to wear and tear. You have to take care of it like you would on any mechanical watch. No doubt, chronograph watches come with an unparalleled guarantee but you still need to take it in for servicing every five years thereabout.
Well, servicing your Rolex Daytona isn't cheap. In addition to this, you must be ready to part with it for a couple of months, especially if it needs to take a trip back to Switzerland. You don't have to worry though; you can always rely on your dealer to provide you with another watch to wear pending the time you would have your watch back. Really, you shouldn't expect anything to go wrong with your Rolex Daytona, except you take it through some unusual times. This is basically because the quality of Rolex watches is unmatchable. The inclusion of the ceramic bezel also makes it sturdier than your average watch. The watch is also water-resistant to up to 100 meters and the steel is 904L high grade.

Waiting for Rolex Daytona
Many people have wondered why they have to be on a waiting list to buy a Rolex watch. Well, the Rolex Daytona with stainless steel is one of the few Rolex watches for men that come with quite a long waiting list. You can wait up to two years before you get your prized Rolex Daytona, and that is if the dealer is familiar with you or you have luck written over your name. The waiting list is one of the reasons why the Rolex is a prized possession. It is a culture that we don't want to go into extinction. Now, it's not that Rolex just wants to keep its customers waiting unnecessarily. The fact is that the company sources its movements from Zenith and there is usually a high shortage of them.
Final Thoughts
Either way you look at it, waiting for a Rolex all the more adds more mystery and reputation to it. If you want the Platinum and Gold Rolex Daytona, you can easily find it at your dealer's shop. However, if you want the stainless steel models, you have to really wait for them. Only then would it become a prized possession.