New & Feature
15 Altimeter Watches To Bring To Your Daring Adventures
Sep 15, 2021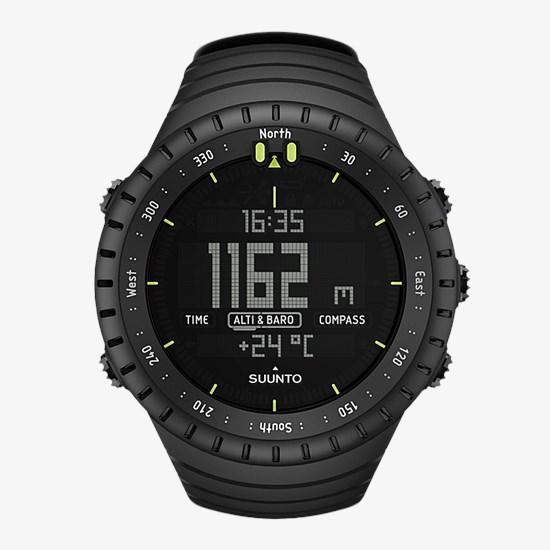 Over the years, the watchmaking industry has provided wearers with all sorts of innovative timepieces for specific purposes. Professional divers who need to stay submerged underwater can rely on their trusty dive watch to keep track of regular and elapsed time while also withstanding the effects of water pressures. If you are a fitness enthusiast, the industry also has a slew of sports watches for you to check your workout progress and health. Along with pilots, military men, and train conductors, these are but a few examples of those that have had wristwatches made exclusively to cater to their professions.
Another kind of timepiece that has increasingly become a staple for specific fields is the altimeter watch. It is a highly resilient and exceptionally reliable piece of horology that showcases numerous inventive features. For this reason, it is a watch you can frequently spot on the wrists of seasoned hikers, mountaineers, skydivers, or anyone with a daring and adventurous spirit. If you are currently on the lookout for the best altimeter watches and plan to get your hands on one of these horological bad boys, we have provided you with a list containing several of the most outstanding altimeter watches on the market.
Top 15 Altimeter Watches 
As we all know, every watch is built differently from another. While there is no ultimate "best" model, there are a handful of timepieces that truly stand out in the industry. Listed in no particular order, here are fifteen of the top altimeter watches that money can buy. Keep in mind that the prices listed for each timepiece are approximate values.
1. Garmin Instinct Solar

If this is not the first altimeter watch list you have seen on the Internet, then you've probably seen the Garmin Instinct Solar featured more than once. As a member of the brand's Instinct series, this solar-powered ABC watch stands out as one of the most recognised models in the entire collection. The Instinct Solar showcases a stark black aesthetic accompanied by military-grade resistances. Whether it is altitude differences, impacts, intense heat, freezing, corrosion, or water pressures up to 100 metres, this timepiece can handle it all without breaking a sweat.
With regards to its functionality, the Garmin Instinct Solar brings a lot to the table. Aside from the usual ABC functions, the Instinct Solar also comes with GPS navigation, a heart rate monitor, an accelerometer, and Bluetooth. Additionally, it has several modes dedicated to all kinds of high-octane outdoor activities such as running, hiking, biking, weightlifting, skiing, rowing, and even swimming. This Garmin watch powers itself through the use of a solar-charging lens. With a power manager feature to configure the battery, the Garmin Instinct Solar has the potential to stay activated for years. For its price, the Garmin Instinct Solar is approximately worth $400 USD.
2. Casio ProTrek PRG270-1 

This would not be an appropriate list if we did not bring in Casio. The Protrek PRG270-1 is one of the most affordable altimeter watches in the Protrek series. Despite its affordable price, the Casio Protrek has numerous unique features and is relatively easy to use. With a simple push of their respective buttons, wearers can access the Protrek's altimeter, barometer, and compass right away. The all-black Protrek also features Casio's Triple Sensor Version 3 engine. This new system allows the sensors of the watch to be a lot more precise while also using less power. Paired with a rechargeable solar battery, the PRG270-1 can last more than nine months when frequently exposed to sunlight. In case the batteries do run low, a battery level indicator is also present in the watch.
Moving on to its durability—well, there really is not much that needs to be said. Casio is a brand known around the world for producing exceptionally durable watches. The Protrek PRG270-1 has a dark stainless steel case that can endure temperatures as low as -10C (14F) and is water-resistant up to depths of 100 metres. For the simple price of $200 USD, this Casio watch is an exceptional choice for anyone on a budget.
3. Suunto Core 

Another brand that is frequently seen on lists of best altimeter watches is Suunto. They provide an array of fascinating altimeter watches at moderate prices. Among their different collections is the multifunctioning Suunto Core. The Suunto Core is an all-black composite-cased timepiece with a bundle of neat features. With the essential ABC and timekeeping functions, temperature reading, and a battery indicator, the Suunto Core proves to be durable, versatile, and everything an outdoorsman needs.
What distinguishes the Suunto Core from other watches is how much it can prepare you for anything. Built within the Suunto Core are sunrise and sunset times of over 400 different locations along with an unusual storm indicator. These two features will allow wearers to plan their routes in advance and avoid any mishaps. Even for the most experienced forecaster, weather can be unpredictable. With the help of the Suunto Core, it could mean the difference between a memorable adventurer or an unforgettable disaster. Similar to the ProTrek PRG270-1, the Suunto watch fetches a price of $200 USD.
4. Casio ProTrek PRW3500-1 

The PRW3500-1 is an ABC watch that specialises in water activities. Aside from possessing the standard qualities of a traditional Casio Protrek, the PRW3500-1 has a water resistance rating of 200 metres. That means that wearers can easily bring this watch to fun activities like water sports, snorkelling, and scuba diving. The PRW3500-1 also makes use of the Casio Multi-Band 6 technology. For those who are not familiar with it, the Multi-Band 6 is a form of radio technology that allows the watch to accept radio waves from transmission stations worldwide. Once the Protrek receives a signal, it will begin calibrating itself to match the time of the nearest region.
Inserted on top of the sturdy watch case is a white stationary bezel with compass readings etched on its surface. Overall, this Casio watch is robust and efficient at its work. It is worth $330 USD and also comes with a solar-charged battery and the brand's Triple Sensor Version 3 system. For those who prefer this watch in lightweight titanium, Casio has also produced the PRW3500T-7.
5. Garmin Fenix 6 Pro 

For wearers who want one of the best GPS navigation systems altimeter watches can provide, look no further than the Garmin Fenix 6 Pro. This Garmin timepiece works well as both an ABC timepiece and a sports watch. It has detailed topographic mapping with comprehensive navigation tools that make it the perfect companion for trekking, hiking, and mountaineering. Wearers won't have to worry about its accuracy in tracking and navigation as the Garmin Fenix 6 Pro collects data from three different satellites: GPS, GLONASS, and Galileo.
Apart from the usual ABC functions, the Fenix 6 Pro comes with some nifty sports features. While many watches already come with a built-in heart rate monitor, the Fenix 6 Pro also has a pulse oximeter, allowing wearers to monitor their blood oxygen saturation rate while sleeping or acclimating to the altitude. As a newer model from the Fenix line, the watch also comes with extended battery life. Depending on the version you get, the Fenix 6 Pro has a varying price tag. The more expensive editions feature specs like gold casing, scratch-resistant sapphire glass, and solar-charged batteries. Depending on the variant chosen, the Garmin Fenix 6 Pro can cost between $650 – 950 USD.
6. Suunto Traverse 

As its name suggests, what this Suunto watch excels in is helping you traverse all sorts of wild terrains. It features GPS and GLONASS compatibility, which gives it access to topographic maps to pair with its POI navigation. The watch can also track speeds, distance, altitude, steps, calories and discover new paths. Like the Suunto Core, the Suunto Traverse also comes with sunrise and sunset times and a storm alarm. Additionally, it has a solar-chargeable lithium battery that can last up to 14 days when fully charged. 
Suunto designed this watch to be durable and look good while doing its job. The Suunto Traverse uses a black composite case equipped with a stainless steel bezel for a sophisticated look. It has a mineral crystal surrounded by dense ABS plastic for optimal protection. It is also equipped with a water resistance rating of 100 metres, which is always useful to have. Without a doubt, this is a Suunto watch built for all types of uses. The best part? It's only $240 USD.
7. Tissot T-Touch Connect Solar

While Casio, Garmin, and Suunto remain at the forefront of altimeter watches, other brands have also developed their own fantastic ABC models. Take Tissot, for example. For enthusiasts who thrive in the outside world, Tissot provides them with the sporty T-Touch Connect Solar. The Connect Solar is an altimeter timepiece paired with an insanely strong scratch-resistant ceramic bezel and shock-resistant sapphire glass. The case of this Tissot watch is made from titanium, which is known for being as sturdy as steel but not as cumbersome. 
If you press down on the centre crown of the Connect Solar, you will have access to the watch's Touch mode. With this, the sapphire glass has a new role as a tactile interface. The Connect Solar boasts several features: altimeter, barometer, compass, timer, chronograph logbook, temperature reading, call and connection alerts, step and calorie counter, eco mode, and much more. If its justifiably exorbitant price of $1,050 USD does not bother you, then the Tissot T-Touch Connect Solar is an excellent choice.
8. Coros Apex

Providing the needed altimeter, barometer, and compass functionalities along with some other exclusive features, the Coros Apex is a $350 USD watch more focused on sports than outdoor adventure. The Coros Apex is a titanium sports watch equipped with a stainless steel bezel and sapphire glass. Similar to the Tissot T-Touch Connect Solar, this wristwatch uses a touch-screen dial for its different modes. 
The greatness of the Coros Apex lies in the care that it gives to its users. For instance, the watch will notify you if you exert too much effort during your workout. With the Coros Training mode, you can access over 200 preloaded exercises to create the ideal personalised training session. The Coros Apex also comes with a Performance Optimization Device. This feature provides wearers with running metrics, form data, and power levels to help you exercise more efficiently. Quite frankly, the Coros Apex is the perfect fitness trainer fitted on your wrist.
9. Coros Vertix 

Another Coros watch worth mentioning is the Vertix. Simply put, the Vertix is quite similar to the Apex but comes with added resistances and refinements. Made entirely out of lightweight titanium, from the bezel to the case, the Coros Vertix only weighs around 50 grams—equivalent to three slices of bread. It has a battery life that can last up to 45 days with regular use and a water resistance rating of 150 metres. The Coros Vertix can also withstand low temperatures of up to -20C and still function with as little as around 30% depreciation. 
The Vertix also makes use of a new and improved digital sapphire glass which is treated with a diamond-like coating for added strength. The dial comes with more accurate sensors, allowing users to touch and navigate the watch face effortlessly, even if they are wearing gloves. Of course, such innovations make the Coros Vertix more expensive than the Apex. But if you need something that can endure all sorts of harsh environments and weather conditions, then this is the watch for you. The Coros Vertix costs around $650 USD.
10. Polar Grit X 

Polar is yet another underrated brand that is often overlooked. That said, although they are not as renowned as names such as Casio and Suunto, their timepieces are just as competitive, and this includes their altimeter watches as well. One of Polar's most popular and adept models is the Polar Grit X. 
The Grit X is a sporty ABC timekeeper that melds stylishness and ruggedness. It has a stainless steel case with military-approved resistances, one of the most precise heart rate monitors you can find in GPS and altimeter watches, and a long-lasting battery with power-saving modes for extended use. Indeed, this watch is easily capable of lasting even longer than you can. In terms of functionality, aside from the qualities mentioned above, it also shares some modes and features in common with the Coros Apex and Coros Vertix. In terms of pricing, the Polar Grit X is worth approximately $500 USD.
11. Casio PRTB50-1 

The PRTB50-1 is one of Casio's most recognised Protrek models. Completely loaded with all kinds of modes and capabilities, this Casio watch has an answer for everything. The Protrek PRTB50-1 comes with Quad Sensors, Bluetooth Link technology, and all the conventional functions that you can find in most Casio Protreks. Altogether, the Protrek PRTB50-1 is both modern and precise, and is truly a watch that can rise to any challenge. 
As per usual, Casio ensures that you will not have to worry about its battery, as the PRTB50-1 can stay active for two whole years. Paired with the Protrek's signature lightweight resin case and armored mineral glass, the PRTB50-1 proves to be an affordable timepiece that Casio built to last. It is definitely worth its $220 USD price tag.
12. Suunto 9 Baro 

Suunto makes a lot of watches that are well-suited for various activities. If you are looking for something similar to the Garmin Fenix 6 Pro, the Suunto 9 Baro is a more than adequate alternative. Apart from the usual altimeter watch functions, the Suunto timepiece also offers over 80 different modes for sports. 
Like many other higher-end ABS watches, the 9 Baro also uses a sapphire crystal for protection and interaction. With its edgy and dark aesthetic, 100 metre water resistance, weather features, heart rate monitor, precise tracking, and intelligent battery system, the $730 USD Suunto 9 Baro establishes itself as an exceedingly versatile altimeter watch. 
13. Casio G-Shock Rangeman GPR-B1000 

Toughness is something that everyone associates with a G-Shock timepiece. The G-Shock Rangeman GPR-B1000 is incredibly hardy, possessing resistances to dust, mud, dirt, shock, low temperatures, high temperatures, and water. Aside from its durability, the Rangeman also boasts advanced specifications such as GPS navigation, Triple Sensors, Bluetooth, temperature reading, world timer, and the standard ABC functions, to name a few. Without a doubt, this watch can handle any conditions and environments mother nature has to offer. From arid deserts and frozen tundras to humid rainforests and maybe even the apocalypse, the GPR-B1000 knows no fear and can overcome any challenge in its way.
14. Suunto Ambit3 Peak 

The Ambit3 Peak is a watch that a lot of professionals and adventurers love to use. It features all the ABC, weather, and sports functions you see in most Suunto timepieces, all for a moderate price of $300 USD. The Ambit3 Peak's case is made entirely from polyamide, making it light and comfortable to wear while also offering decent protection. Perched on top is a stainless steel bezel and a mineral crystal to shelter the dial. The Ambit3 Peak is not just an altimeter timepiece, as it makes for an excellent timekeeper for outdoor activities and sports like trekking, camping, running, cycling, and swimming as well. 
15. Tissot T-Touch Expert Solar 

Although it is not as modern and up-to-date as the current line of T-Touch watches, the Expert Solar is still a pretty great option. Featuring six main functions, the Expert Solar is a gorgeous ABC watch with multiple additional benefits. It comes in an anti-magnetic titanium case treated with PVD coating on its bezel, crown, and pushers. Additionally, this Tissot timepiece runs on a quartz caliber equipped with solar-charging capabilities. Its tactile sapphire dial features solar cells that draw energy to the watch to power it, while also giving it a unique surface design. Compared to the price of the Connect Solar, the Expert Solar costs around $750 USD, which is $300 USD cheaper than its successor.
What is an Altimeter Watch?
The altimeter watch is a multifunctional timekeeper that measures and monitors different altitudes. Known sometimes as the ABC watch, the device usually comes with an altimeter, a barometer, and a compass. These components are crucial to the timepiece as it helps inform the wearer about the surrounding conditions and environment, which is extremely important for hikers or adventurers. Although these features are also accessible through modern smartphones, these phones are honestly not reliable enough for the great outdoors, as they rely too much on cellular data and can easily lose a signal or run out of battery. With their functionality and dependability, "ABC" altimeter watches prove to be essential instruments for individuals who thrive on adventure. Their designs and complications ensure that wearers can get the most out of their outdoor experience without falling into the hands of danger. 
Nowadays, most modern altimeter watches offer more than just the standard A, B, and C functions. Depending on the watchmaker, each altimeter timepiece has a combination of different modes and features to serve the wearer for various purposes. These functions can range from timers, day-and-date displays, sensors, backlights, thermometers, step counters, and even Bluetooth and wi-fi connectivity. With different compositions and specs, altimeter watches can come in all sorts of forms and sizes with a varying range of capabilities.
Final Thoughts
As watchmakers continue to innovate and broaden the scope of their timepieces' capabilities, they also discover new ways to make watches more specialised and practical for everyone to use. The altimeter watch is one of the most highly capable timepieces in all of horology. It provides an abundance of exclusive functions that help its wearer stay safe and keep track of time while also enjoying the unmatched beauty of mother nature. Compared to other timepieces, altimeter watches are pretty affordable, which is quite something, considering all the features they can offer. So, if you are looking for a new and budget-friendly utility timepiece to add to your collection, why not consider one of the top-notch altimeter watches we have listed above?
Looking for a stunning and highly capable diver watch? Why not check out the Omega Seamaster Diver 300m Beijing Edition and see if the watch suits your tastes.
Featured Image By: Suunto