New & Feature
Doxa Dive Watch: Your Company to Deep Sea Adventures
Jul 18, 2022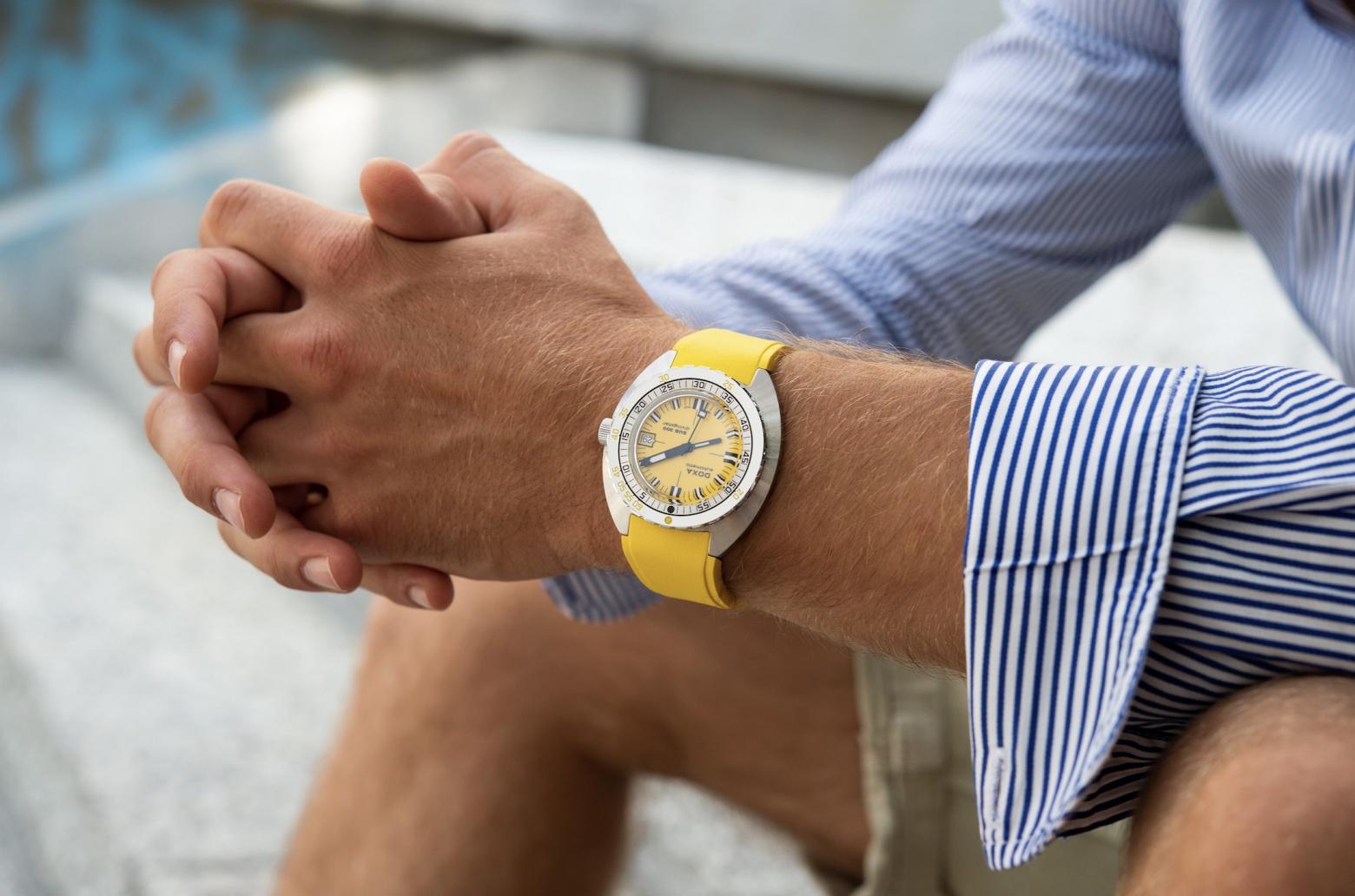 Nothing beats the conquest for great adventure while traversing the deep seas with the company of Doxa dive watches. Doxa is an underrated Swiss watch brand that offers a remarkable lineup of dive watches. Despite not being as popular as some of its other Swiss competitors, Doxa has a wide and incredibly diverse range of reliable dive watches all geared toward helping you tackle the vast oceans. Functional, durable, and offering a wide variety of funky colours, Doxa dive watches are perfectly made for maritime exploration.
Anatomy of a  Doxa Dive Watch
Water Resistance
A dive watch would not be called such if it was not protected from the extreme pressures of deep-sea waters. As we mentioned, the models of Doxa dive watches pride themselves on offering a vast array of reliable timepieces to choose from. Under its belt, Doxa has dive watches that can withstand an incredibly deep range of submersion, ranging from 200 metres, 300 metres, and 600 metres, all the way up to 1,500 metres of water. As such, it is clear to see that Doxa is an excellent choice for diving and water-sports enthusiasts.
Material 
It is especially important for dive watches to be made using durable materials. In that regard, you will certainly not be disappointed by Doxa dive watches. 
Doxa makes sure that all of its timepieces are made from premium quality materials. Most Doxa dive watches are crafted using stainless steel, which is an incredibly robust material that is highly resistant to scratches, impacts, and corrosion. 
The Swiss brand even offers a few models that are made from carbon and titanium. On top of rivalling stainless steel in durability, carbon and titanium are also known for being extremely lightweight. Carbon and titanium watches, therefore, are very easy to tote around, even if they come in bulky sizes. All in all, Doxa is surely a great choice when it comes to diving watches that can survive your conquests through deep waters.
Lume 
Over the course of your day and throughout your underwater adventures, you may encounter moments in which it is difficult to check the face of your watch for the time. Doxa assures you that its dive watches are all designed to be legible even in the darkest of places. Doxa dive watches all make use of Super-LumiNova, a remarkable brand of lume that is popularly used by most watch companies for their dive and tactical watches. 
Having said all of that, we have curated a list of the best Doxa dive watches available in the market today. On top of being incredibly stylish and functional, each model shown below possesses the mentioned characteristics necessary for being a top-tier dive watch. 
Best Doxa Dive Watches
1. Doxa Sub 200 C-Graph 

If you are looking for a sleek, high-utility diver's watch that offers excellent water resistance, then the Sub 200 C-Graph is a great choice for you. The Doxa Sub 200 C-Graph is a chronograph watch that offers a very professional style. 
This Doxa dive watch comes in a sturdy 45mm case made of 316L stainless steel. This is coupled with slim, bevelled straight lugs that make this watch look smaller than it actually is. On the right side of the case, you can find a screw-down crown and two pushers. The top of the crown is embellished with Doxa's iconic fish logo, while the pushers are used to control the watch's chronograph functions. Wearers can choose to pair this watch with either a beaded stainless steel bracelet or a rubber strap that matches the vivid colour of the watch's dial. 
Doxa dive watches are known for having very vibrant dials, and the Doxa Sub 200 C-Graph is no different. This watch's dial is available in six different funky colours: professional (orange), sharkhunter (black), searambler (silver), caribbean (deep blue), divingstar (yellow), and aquamarine (aqua blue). All of them share the same layout, comprising rectangular hour indices, black-tone sword hands, and three chronograph sub-dials for the 60-second, 30-minute, and 12-hour counters. The hands and indices are also coated in Super-LumiNova, allowing for optimal legibility at all times. 
Driving this watch is the Sellita SW510 movement, which is a calibre that is frequently used by watchmakers. This chronograph movement offers an extended 62-hour power reserve. Finally, the Sub 200 C-Graph is also water-resistant up to depths of 200 metres, which far exceeds the ISO 6425 international standards for dive watches. 
The Sub 200 C-Graph retails from around $2,750 USD to $2,790 USD.
2. Doxa Sub 300 

For a more robust, masculine timepiece with very distinctive colourways, take a look at the Doxa Sub 300. This timepiece stands out with its thick, cushion-shaped case, which is paired with bulky straight lugs that protrude out from the case. Despite its chunky case, however, the inner case of the Sub 300 actually has a fairly standard size of 42.5mm. As such, you will find that this watch fits quite nicely on wrists of any size and is not too heavy to tote around all day. 
The Doxa Sub 300 is also offered in the same six colourways as the Doxa Sub 200 C-Graph. However, this model differs in bearing a simpler design that does away with the chronograph layout. Its dial is adorned with black and white hour indices, thick sword hands, and a rectangular date window at 6 o'clock. These elements are all outlined in black, placing them in stark contrast against the Doxa Sub 300's colourful dials. This guarantees optimal readability. 
As with the Sub 200 C-Graph, this Doxa dive watch can be worn with either a beaded stainless steel bracelet or a sporty rubber strap. It runs on the popular ETA 2824-2 movement. This Swiss automatic movement is held together by 25 jewels and can last for up to 38 hours when fully wound. Finally, the Doxa Sub 300 comes with a water resistance capacity of 300 metres. This is even greater than the Sub 200 C-Graph's depth rating, making this watch very efficient in activities like commercial diving. 
The Sub 300 is priced at approximately $2,450 USD to $2,490 USD.
3. Doxa Sub 300 Carbon 

If you are interested in a lightweight yet very durable diver's watch, look no further because the Sub 300 Carbon is here to save the day. Much like the Doxa Sub 300, the Doxa Sub 300 Carbon shows off a very distinctive cushion-shaped case. That said, this model stands out with its forged carbon case construction. This makes the Doxa Sub 300 Carbon weigh much less than other Doxa dive watches, so you will feel absolutely no discomfort even after wearing this watch all day. The caseback of this watch is also made from solid titanium, which is another strong yet extremely light material. 
Aside from its dark grey carbon case, the Doxa Sub 300 Carbon is actually identical to the Doxa Sub 300 in terms of design, sharing the same straightforward dial layout. It is also powered by an ETA 2824-2 movement. This gives it a reliable power supply of 38 hours and an excellent 300-metre water resistance capacity, making it the perfect lightweight diver's watch for all your deep-sea adventures. 
The Doxa Sub 300 Carbon has an estimated price tag of $3,890 USD, making it the most exorbitant of all the Doxa dive watches. 
4. Doxa Sub 600T Pacific 

The next piece on this list is a more exclusive, limited edition Doxa dive watch. Unlike the aforementioned watches, the Doxa Sub 600T Pacific is only offered in one specific colour, which, according to Doxa, matches the hues of the Pacific ocean. 
This watch is presented in a 42mm brushed titanium case, with sharp, bevelled edges that give this watch a much sleeker and more angular look. In addition, the chunky crown of this watch is located, quite unusually, at the 4 o'clock position instead. Fixed on top of the case is a lovely blue unidirectional bezel made of ceramic. Bearing vibrant orange indicators, this handy bezel is used to calculate no-stop dive times. It goes wonderfully with the watch's matching blue dial and blue rubber strap.
The blue dial of this watch is also very simple. All its components are neatly spaced out, such that the dial looks clean and uncluttered. It is adorned with dot indices, diamond-shaped hour markers, and thick sword hands in vivid orange, giving this watch a more playful edge. The hands and hour markers are all generously applied with Super-LumiNova, so wearers can easily read the watch face even in poor lighting conditions. 
The Doxa Sub 600T Pacific is powered by a familiar Sellita SW200-1 Calibre. This automatic movement beats at a frequency of 28,800 vibrations per hour and provides a 38-hour power supply. Best of all, this watch has a reliable 600-metre depth rating. 
As a limited edition watch, the Doxa Sub 600T Pacific is limited to just 200 pieces, making this a truly rare catch. With its exclusivity and top-notch dive watch features, the Sub 600T Pacific costs around $1,990 USD. 
5. Doxa Sub 1500T 

For hardcore divers and deep-sea enthusiasts, the perfect dive watch is most certainly the Doxa Sub 1500T. Modelled after the iconic design of the Doxa Sub 300, the Doxa Sub 1500T is the perfect, highly-upgraded heir to the legacy of Doxa dive watches. 
This watch is housed in a larger 45mm cushion-shaped case that is made from robust 316L stainless steel. This is coupled with a sleek five-link bracelet made of the same material and a stainless steel bezel that bears bright orange indicators, which you can use to measure no-stop dive times. Aside from having the same layout as the Doxa Sub 300, the dial of this watch also shows off a lovely sunray silver finish that gleams brightly at all times. 
As the most prized dive watch in Doxa's catalogue, this watch sets itself apart with its helium escape valve. This valve allows pressure to escape the watch case at regular intervals. It prevents any build-up of internal pressure in the case so that the watch is able to survive much deeper ocean depths. Thanks to its helium escape valve, the Doxa Sub 1500T can withstand water pressures of up to 1,500 metres. This is a truly outstanding depth rating, far surpassing most watches in the dive market. 
With its 42 hours of power reserve and useful helium escape valve, the Doxa Sub 1500T will surely take you places in the deep abyss of the sea. In spite of its excellent specifications, this watch sells from just $2,350 USD to $2,390 USD.  
Alternatives to Doxa Dive Watches
Doxa dive watches certainly make for excellent diving companions. However, the prices of the Doxa dive watches fall on the more expensive side, and not everyone can have the budget to afford them. If this is the case for you, fear not. We have curated a short list of affordable and reliable Doxa dive watch alternatives for your perusal below: 
1. Citizen Eco-Drive Ref. BN0200-81E

The Citizen Eco-Drive Ref. BN0200-81E is a great budget-friendly choice for a durable diver's watch. It utilises a round 44mm titanium case and bracelet, making it quite light and highly resistant to scratches. Standing out against the all-silver exterior is a matte black elapsed time scale bezel and dial. This black dial is furnished with thick, luminous hour indices, white sword hands, and a compact date display at 3 o'clock.
Driving this watch is the Calibre E168. This is one of Citizen's innovative Eco-Drive quartz movements. Aside from offering a solid 180-day power reserve, this movement can also be charged using solar energy, which makes it extremely convenient. Like the Doxa Sub 200 C-Graph, the Citizen Eco-Drive Ref. BN0200-81E also offers a water resistance capacity of 200 metres. 
This Citizen Eco-Drive timepiece is worth approximately $369 USD. 
2. Victorinox Maverick Ref. 241706

If you want to feel as though you are one with the sea, the Victorinox Maverick Ref. 241706 is the perfect watch for you. Durable yet simple, this dive watch shows off its inspirations with its lovely sea-coloured dial and bezel. 
This Victorinox Maverick watch comes in a 43mm stainless steel case and strap, which set up a beautiful contrast against the deeper blue elapsed time scale bezel and dial. The dial of this watch is decorated with silver-tone hour indices, applique Arabic numerals, and sword hands, all of which are coated in lume. At 6 o'clock, you can also find a small date aperture, outlined in silver. 
Underneath this straightforward watch face, you can find a robust ETA Calibre 2824-2. This automatic timepiece offers a 40-hour power supply and a solid depth rating that goes up to 100 metres. It is an ideal choice for individuals who enjoy light water activities like snorkelling and recreational diving. 
This Victorinox watch retails at around $895 USD. 
Final Thoughts
On the whole, Doxa has done a great job of developing a series of truly diverse dive watches that cater to just about everyone in the market. Built to accompany you on every exploration of the seas, these stylish Doxa timepieces vary in every way imaginable, from size and colourway to materials used and water resistance capacities. If you want a fun and reliable dive watch that will not let you down, then you should definitely consider adding the Doxa dive watches to your collection. 
All images are courtesy of The Watch Company, unless otherwise stated. 
Photo credits: Doxa Watches.
Want to know more about an interesting and stylish timepiece? Check out our article about the very blue FP Journe Chronometre Bleu!