New & Feature
Cartier Tank Americaine: A Review of the Classic and Sophisticated Dress Watch
Sep 08, 2022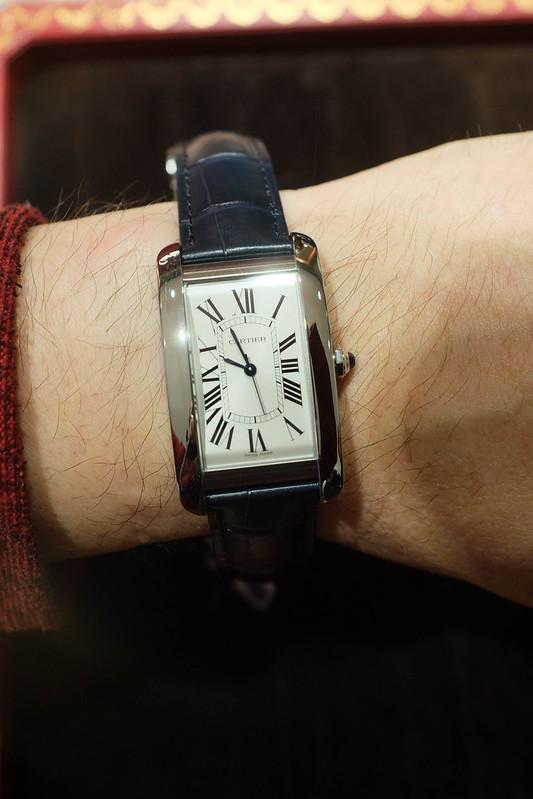 Cartier is a respected Swiss watch brand home to some of the finest and most elegant dress watches ever made. Indeed, we cannot deny the appeal of each piece that Cartier has offered in the horology market. From the brand's unwavering icons such as Tank and Santos to its urban classics like the Drive and Ballon Bleu lineups, Cartier watches are truly an epitome of sophistication.
Among a sea of dapper Cartier watches, one that stands out from the rest of the brand's extensive catalogue is the  Cartier Tank Américaine. A sub-collection of quintessential timepieces from the growing and well-received Tank series, the Cartier Tank Americaine boasts a distinctive Cartier design and top-notch functionality. In today's article, we will be highlighting all the impressive features of the Cartier Tank Americaine and everything else it has to offer. Read on to find out more about this classic Cartier dress watch. 
First Impressions
The Cartier Tank Americaine was first released in 2017, as a landmark watch. As part of Cartier's celebrations for the 100th anniversary of the Cartier Tank collection, the Tank Americaine was introduced. There were three models of the Cartier Tank Americaine launched in total, each of them in varying sizes. All three Tank Americaine variants were clad in durable stainless steel and showed off timeless, versatile designs that pair wonderfully with virtually any formalwear available in your wardrobe.
In this next section, let us review the three Cartier Tank Americaine watches in greater detail.
Anatomy of the Cartier Tank Americaine
Case and Bezel

The Cartier Tank Americaine in steel was officially introduced back in 2017, with three different models available for purchase. These Tank Americaine variants were offered in different sizes, so wearers could easily pick the one that best fit the sizes of their wrists. These included the smallest model Ref. WSTA0016, which measures 34.8mm x 19mm; the medium-sized Ref. WSTA0017, with a case that measures 41.6mm x 22.6mm; and the Ref. WSTA0018, which is the largest version of the Cartier Tank Americaine, coming in at 45.1mm x 26.6mm. 
As with many classic Cartier timepieces, the Cartier Tank Americaine is presented in a fine rectangular case, with a sleek and well-built frame. That said, the shape of the Cartier Tank Americaine's case is not quite like the usual rectangular watch, either. Cartier has done a commendable job of enhancing the usual plain rectangular design seen with other Cartier watches. It has thick rails and smooth sides, giving the watch's edges a clear and sharply-outlined visual definition.
The case of the Cartier Tank Americaine is made out of hardy, polished stainless steel, which gives the watch a gleaming lustre that you will find difficult to take your eyes off. Thanks to its stainless steel composition, the Cartier Tank Americaine is quite durable and able to withstand all sorts of scratches and impacts.
To top it off, a polished fixed bezel, also made of stainless steel is cloaked around the top of each case. Aside from adding to the watch's well-defined build, this fixed bezel also helps provide greater protection from external damage to the watch's face.
Crown and Caseback
Another distinguishing Cartier element that can be found on the Cartier Tank Americaine is its cabochon crown. On the right side of the watch case, you will notice a thick, protruding crown that is also made of stainless steel. This crown is tipped with a sapphire cabochon stone, which is a Cartier signature that can also be found on timepieces like the Cartier Santos Black. Aside from adding to the Tank Americaine's identity as a distinctive Cartier timepiece, this sapphire cabochon crown also gives it a more elegant, dressy look.
Flipping the Cartier Tank Americaine over, you will find a flat caseback that is made entirely out of solid, well-brushed stainless steel. This caseback curves outwards slightly, so that there is enough space in the watch case to accommodate the robust mechanism that powers this watch. It is also tightly screwed down, protecting the watch's inner mechanisms from any moisture or dust. Thanks to the screw-down crown and caseback, the Cartier Tank Americaine has a depth rating of 30 metres. This is a standard water resistance capacity for a handsome dress watch for this, allowing the Cartier Tank Americaine to survive any accidental splashes or showers.
Dial

By far, the most exciting feature of the Cartier Tank Américaine is its brilliant sunburst-finish silver dial, which glimmers satisfyingly when viewed under the light. It is adorned with bold Roman numeral hour markers in a slanting, stylised typeface, along with a blocky minute track that loops around the centre of the dial. It also bears sleek blued steel hands, which add a cooler edge to this otherwise plain watch face. On top of the dial, you can find a scratch-resistant sapphire crystal, which provides additional security against any external damage.
Movement
One of the most interesting things about the Cartier Tank Americaine is that the different models are actually equipped with different types of movements. The medium and larger-sized Tank Americaine timepieces are both driven by a robust ETA 2671 movement. This is a self-winding movement that is held together by 25 jewels and offers a solid 38-hour power supply. Measuring just 17.2mm in diameter, the ETA 2671 Calibre is particularly well-known for its reliability and compact size, which makes it a good fit for the slender Cartier Tank Americaine.
The smallest Cartier Tank Americaine, on the other hand, is powered by an efficient Swiss quartz calibre. Its use of a cheaper quartz movement contributes significantly to the more affordable price of this smallest Cartier Tank Americaine model. In addition, it also has an impressive battery lifespan of up to two years.
Strap

Each model of the Cartier Tank Americaine is paired with a rich, dark blue alligator leather strap. This strap shows off a lovely semi-matte finish and has plain brown leather lining its underside, making it both handsome and comfortable. It is also equipped with a steel folding buckle, with Cartier's familiar logo engraved upon it. This buckle ensures that the bracelet is kept securely wrapped around your wrist.
Price
The three different Cartier Tank Americaine models all come at different price points. Firstly, the largest Cartier Tank Americaine Ref. WSTA0018 sells at around $6,039 USD, while the medium-sized Tank Americaine Ref. WSTA0017 retails at around $5,229 USD. Finally, the smallest Cartier Tank Americaine Ref. WSTA0016 with a quartz movement is priced at just $4,489 USD. 
Alternatives to the Cartier Tank Americaine    
Now, let us have a closer look at some of the best alternatives to the Cartier Tank Americaine. 
1. Tissot Tissot Heritage Ref. T117.509.16.032.00 
First up, we have the playful Tissot Tissot Heritage Ref.T117.509.16.032.00. As opposed to the classic elegance of the Cartier Tank Americaine, this Tissot timepiece has a much more fun, energetic appeal that younger audiences are sure to love. 
Like the Tank Americaine, this timepiece is presented in a rectangular case made of stainless steel. Measuring 39mm in diameter, this watch's case has slimmer, sharper edges than the Cartier Tank Americaine, giving this watch a more angular look. It is paired with a sleek silver-white dial and a loud brown crocodile leather strap.
Despite its plain white finish, the dial of this watch has a very vibrant look. It is furnished with thick Arabic numeral markers of varying sizes, in a Willy Wonka-esque typeface that enhances the watch's quirky aesthetic. Towards the centre of the dial, you can find blued steel spade hands and a subtle, oval-shaped minute track. All of these functions run on a robust ETA 901.001 Calibre. Held together by 3 jewels, this quartz movement is incredibly dependable, offering an extensive 132-month battery life. 
You can purchase this classy Tissot Heritage watch for just $379 USD.
2. Longines DolceVita Ref. L56555706

If you love wearing stainless steel watches, then the Longines DolceVita Ref. L56555706 is just the right pick for you. This watch has quite a similar appearance to the Cartier Tank Americaine, with its peculiar rectangular-shaped case and handsome, dressy style. 
This Longines DolceVita watch is housed in a 32.1mm stainless steel case, paired with a five-link bracelet made of the same material. Affixed to the top of the watch case is a stainless steel fixed bezel which has been painted in exquisite gold, matching the gold-tone crown that can be found on the right side of the watch. This combination of silver and gold hues elevates the watch's appearance, giving it a more lavish, high-class look.
The dial of this watch showcases a clean white sunray finish that wonderfully complements its all-silver exterior. Like the Cartier Tank Americaine, this dial is decorated with thick Roman numeral markers in a slanting typeface and blued steel sword hands. However, Longines has opted to place this watch's minute track on the very rim of the dial instead. A small seconds sub-dial with dark blue indicators can also be found at 6 o'clock.
Inside this watch is a first-class in-house Longines Calibre L176. Containing 15 jewels, this movement delivers a solid 45-hour power supply. It also comes with a 30-metre depth rating, which enables this watch to withstand any downpours or raindrops. 
The Longines DolceVita Ref. L56555706 has an estimated price tag of $1,219 USD. 
3. Jaeger LeCoultre Reverso Ref. Q3858520 

Lastly, we have the Jaeger LeCoultre Reverso Ref. Q3858520. Compared to the other timepieces in this article, this watch has a chunkier build, with its 45.6mm rectangle case made of stainless steel. As part of the brand's famous Reverso collection, the most interesting thing about this watch case is that it has a reversible face. This is because the Reverso timepieces were originally designed for polo matches. As a result, all of them come with reversible cases, which allow wearers to turn the watch face inwards to protect it from any harm. 
Aside from its sturdy watch case, this Jaeger LeCoultre timepiece also comes with a black alligator leather strap and a clean silver-white dial with a well-brushed finish. This dial has a very simple layout, consisting of Arabic numeral hour markers in a neat typeface and blued steel sword hands. A fun aspect of this timepiece is the way it maintains a consistent rectangular motif throughout. Both the minute track and the small seconds sub-dial come in unusual rectangle shapes, wonderfully matching the watch's case.
An in-house JLC 822/2 Calibre powers this watch. Held together by 21 jewels, it beats at a frequency of 21,600 vibrations per hour (3Hz). In addition, it also offers a 30-metre depth rating and can last for up to 45 hours when fully charged. 
You can buy this classic dress watch for $7,139 USD.
Final Thoughts
If you are hunting for a stylish and sophisticated dress watch, the Cartier Tank Americaine should definitely be on your radar. Indeed, Cartier has even made sure to offer the Cartier Tank Americaine with various different proportions, accommodating wrists of all sizes, so you will not be forced to settle for a watch that is too small or too large. Sleek, polished, and elegant, this watch is the perfect partner for all your formal dinner events.
All images are credited to TheWatchCompany.com unless otherwise stated.
Featured image courtesy of (Martin Hickman) on Flickr.
Searching for a sophisticated Bauhaus-inspired dress watch? Check our review of the well-received Junghans Max Bill Chronoscope.