New & Feature
Seiko 62MAS: A Closer Look At The Brand's Toughest Diver
May 23, 2022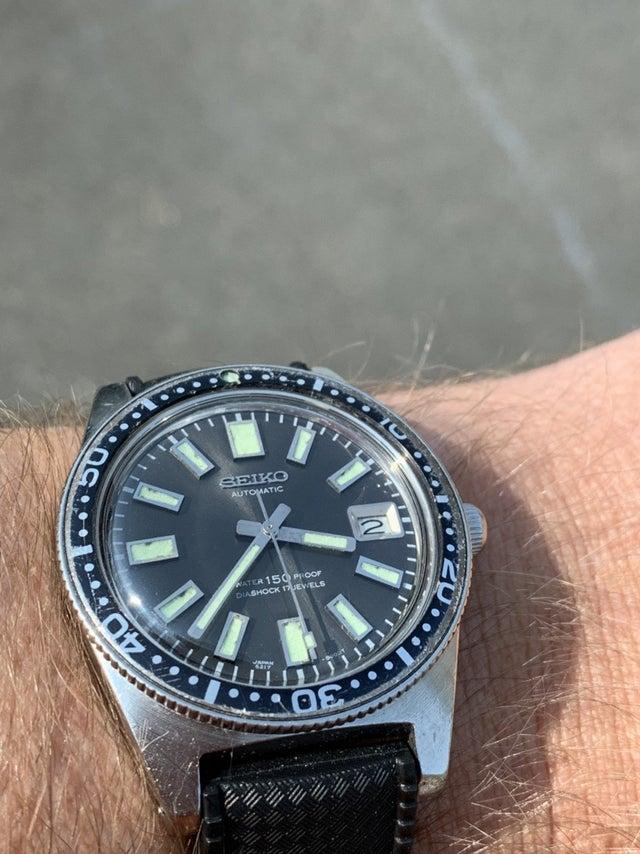 Although Seiko was founded all the way back in 1881, it took some time before the legendary Japanese watchmaker finally entered the professional dive watch market. While Blancpain launched the Fifty Fathoms way back in 1953, followed by Rolex with its iconic Submariner, and Omega with its Seamaster 300 in 1957, Seiko only broke into the dive market in 1965, with its Seiko 62MAS.
As the first dive piece ever produced by Seiko, the Seiko 62MAS can be seen as the grandfather of the Seiko dive watch family. It has had significant impacts on the production of many Seiko Prospex diver watches today. Indeed, the Seiko 62MAS was a trendsetter right from the outset. It was packed with many elements that would go on to influence modern Seiko dive pieces, such as its appealing small crown and visually striking grey-green dial. Without further ado, let us take a closer look at the Seiko 62MAS, what it has to offer, and why it remains such a crowd-pleaser in the vintage dive watch realm.
A Closer Look at the Seiko 62MAS
This watch was actually released as the Seiko Ref. 6217-8000. At the time, it stood out not just for being Seiko's first dive watch, but also because it came with an innovative quick-set date function, which not many watches had back then. The watch's "62MAS" nickname is actually derived from its reference number – 62 – and movement – "auto[MA]tic [S]elfdater", which is the term used to refer to an automatic movement equipped with a date complication.
Case, Bezel, and Caseback

The original Seiko 62MAS is a very robust and quintessential dive watch, jam-packed with features that were quite revolutionary for its time. It is presented in a 37mm stainless steel case that is highly scratch-resistant. The case, from its short, straight lugs to its sides, has a meticulously circular-brushed finish, giving the watch a bright and eye-catching lustre.
As a highly practical dive watch, the Seiko 62MAS also comes with a unidirectional rotating bezel, also made of stainless steel. This bezel is fitted with a black elapsed time scale insert, which bears silver Arabic numeral markers and indices for a sharper, more legible contrast. On the underside of the watch, you can find a solid stainless steel caseback. This caseback is also engraved with the brand's iconic dolphin emblem, marking this watch as incontrovertibly Seiko. You can also find details on the Seiko 62MAS's reference number and calibre movement carved onto the caseback.
On the whole, this Seiko 62MAS shows off a very quintessential design. Although the Seiko 62MAS's silver case and black bezel combination are quite commonly seen today, you could hardly accuse this watch of being stale. After all, it was the Seiko 62MAS that provided the inspiration for generations of Seiko dive watches, making it the true original and a trendsetter in its own right. With its incredible history and classic aesthetic, it is no surprise that the Seiko 62MAS remains a top favourite in the vintage realm today.
Dial 

One of the more unusual things about the Seiko 62MAS is its beguiling dial, which showcases an unusual grey-green sunray finish. This look is probably more familiar to old-school Seiko patrons. There are a number of vintage Seiko dive watches that bear this type of dial, although it has fallen out of favour in modern Seiko pieces. This sunray grey-green colourway gives the watch face a metallic, rustic look, enhancing the watch's vintage charm.
In addition, the dial is also adorned with oversized rectangular hour indices in varying sizes and long blunt hands. These hands and indices are all outlined in silver, so they blend in better with the dial. Seiko has also coated the hands and indices of this watch with radioactive lume, so the watch face will be brightly illuminated in the dark, allowing for optimal legibility. At 3 o'clock, you can find the quick-set date display, which has become an almost ubiquitous feature for dive watches today.
Protecting the dial of the watch is a layer of domed plexiglass. This plexiglass is very scratch-resistant and provides wearers with a clear, unhindered view of the dial.
Movement
Inside this watch, you can find an in-house Seiko Calibre 6217 movement. Considering the original Seiko 62MAS's age, it comes as no surprise that the capabilities of the Calibre 6217 are limited. This is a non-hand wound, non-hacking automatic movement with a beat frequency of 18,000 vibrations per hour. Held together by 17 jewels, this watch has a substantial 32-hour power reserve.
One striking thing about this movement that is it comes with a quick-set date function. While this is quite commonplace in watches produced today, back then, quick-set dates were a rather rare feature. In fact, the Seiko 62MAS was one of the first dive watches to incorporate a quick-set date. You can adjust the time using the non-screw-down crown positioned at 3 o'clock on the case.
Strap 
The Seiko 62MAS is offered with two different types of straps: a stainless steel bracelet and a black silicone strap. If you want something that looks more professional and blends in better with the watch's entire rustic style, the stainless steel bracelet is a great option. On the other hand, the black silicone strap is sporty, soft, and comfortable on the wrist, making it a better choice if you enjoy outdoor adventures. Both straps come with steel pin buckles, which you can use to secure the wrist to your watch.
On the off chance that you do not enjoy either the stainless steel or silicone straps, fear not! The Seiko 62MAS has a very standard lug width of 20mm. This means that you can easily purchase an aftermarket strap of your choice and fit it onto your Seiko 62MAS timepiece without much trouble.
Water Resistance
The Seiko 62MAS comes with a good 150-metre water resistance capacity. Considering when the Seiko 62MAS was released, this depth rating is actually quite impressive. It exceeds the 100-metre water resistance rating that most dive watches offer, both back then and today. In fact, the Seiko 62MAS was considered so reliable that the Japanese Antarctic Research Expedition had utilised it during their missions from 1966 to 1969. The Seiko 61MAS performed excellently on every expedition, proving its superior resistance to extreme underwater conditions. 
Price
Given the historical significance and superb features of the Seiko 62MAS, you would not expect this watch to come that cheaply. Today, this vintage piece still costs around $3,000 USD or higher, depending on the specific retailer from whom you purchase it. If you are a retro-lover looking for a dive watch that has a rich heritage and legacy, then the Seiko 62MAS is definitely a worthy investment. 
Alternatives to the Seiko 62MAS
1. Tudor Pelagos Ref. 25500TN-TITANIUM

The Tudor Pelagos is a collection of robust, top-tier diver watches hailing from the sought-after Swiss watch brand, Tudor. This series of diving watches is incredibly well-received for its sporty and stylish looks. It gives them a very versatile appeal, so you can bring the Tudor Pelagos to both a nice dinner party and on all your underwater adventures. The Tudor Pelagos Ref. 25500TN-TITANIUM, in particular, is one of our recommended top picks. It has a sleek, suave beauty that is fit for any occasion.
This Tudor watch comes in a 42mm titanium and stainless steel case, coupled with a three-link titanium bracelet. The use of titanium, which is a relatively light metal, ensures that this watch has a more lightweight profile that you can easily tote around all day without any trouble. Fixed on top of the case is a unidirectional rotating bezel, also made from titanium. This bezel is topped with a black elapsed time scale insert made of ceramic, which is highly resistant to scratches. 
The dial of this watch also comes in a jet-black hue, complementing the black bezel. This dial comes with white hour indices in a variety of geometric shapes and the signature oversized Tudor snowflake hands, so the dial is quite easy to read. Located at 3 o'clock is a compact date window with black text and a white background to contrast more sharply against the black dial.
Driving this watch is a powerful Swiss ETA Calibre 2824 movement, which has a solid 38-hour power reserve. It also comes with an incredible 500-metre depth rating, which far exceeds what the Seiko 62MAS is capable of. If you want a luxury diver watch fitted with advanced features, then this Tudor Pelagos watch is an excellent choice.
This Tudor Pelagos Ref. 25500TN-TITANIUM is available at $4,539 USD. This is a fair price considering it's a top-notch dive watch that features a stylish, contemporary appearance.
2. Longines HydroConquest Ref. L37834569

If you want a timepiece with a slightly sportier look, check out the Longines HydroConquest Ref. L37834569. This watch effortlessly blends classic elegance and a robust aesthetic, making it appropriate for both daily wear and fun diving escapades.
This Longines HydroConquest dive watch utilises a 41mm stainless steel case paired with a traditional black rubber strap. With its strong waterproof properties, this comfortable black rubber strap is a great choice for a dive watch that you intend to bring underwater often. The watch's case also features alternately brushed and polished surfaces, giving the entire watch a glamour, so the light plays off it appealingly from every angle. Fitted on top of the case is a unidirectional rotating bezel, also made from stainless steel. This bezel has a black ceramic insert, which bears pronounced Arabic numeral markers for the elapsed time scale.
Like the Tudor Pelagos model mentioned above, this watch shows off a stark black dial. However, the Longines HydroConquest Ref. L37834569's dial is busier, with more components and complications. This dial is furnished with applique dot indices and broad diamond hands, along with a bold, pronounced Arabic numeral marker at 12 o'clock and a compact date display between 4 and 5 o'clock. Most of the dial is taken up by three chronograph sub-dials, for the 60-second, 30-minute, and 12-hour counters. All three sub-dials are outlined in silver, so you can see them more clearly against the watch's black dial. 
This Longines watch is powered by a robust in-house Calibre L688. Held together by 27 jewels, this movement has a beat frequency of 28,800 vibrations per hour. It also possesses a good 54-hour power supply and a substantial 300-metre depth rating, making it quite a user-friendly dive watch.
The Longines HydroConquest Ref. L37834569 retails at just $1,809 USD. 
3. TAG Heuer Aquaracer 3-hand Ref. WAY108A.FT6141

Last but not least, we have the rugged TAG Heuer Aquaracer Ref. WAY108A.FT6141. This watch exudes a casual charm, making it perfect for your daily routines. This TAG Heuer Aquaracer piece has a cool all-black exterior, with its 43mm black ion-plated titanium case and black rubber strap. Placed on the front of the case is a matching black titanium bezel. This bezel is fitted with a gleaming aluminium elapsed time scale insert, which is extremely resistant to both scratches and impacts. 
This watch's all-black aesthetic is contrasted sharply against the snow-white dial. This stunning white dial is adorned with applique hour indices in black and white hues, luminous sword-shaped hands, and a sizeable date complication at 3 o'clock. The dial is also protected by a layer of luxurious sapphire crystal. A powerful Swiss quartz movement ticks inside this TAG Heuer watch. With an exceptional lifespan of several years, you do not have to worry about winding this watch every day or having to get its battery replaced anytime soon. In addition, this Aquaracer watch also has a solid 300-metre depth rating, so it is suitable for both swimming and diving. 
Prepare to shell out around $2,099 USD to get your hands on this TAG Heuer timepiece.
Final Thoughts
The arrival of the Seiko 62MAS, as Seiko's first diver watch, was definitely a noteworthy milestone for the brand. Not only is it a professional dive piece packed full of features innovative for its time, but the Seiko 62MAS is also a watch with a rich heritage, that has left its mark in horology. It is the grandfather of Seiko's diving family and the inspiration behind so many of the Seiko dive watches that we love today. If you love vintage dive watches, then there's no need to think twice; just grab this Seiko 62MAS.
All images are credited to TheWatchCompany.com unless otherwise stated.
Featured image courtesy of (u/gnapoleon) on Reddit.
If you are an anime lover searching for the best anime-inspired watch on the market, don't forget to read our article on the Seiko Naruto.