New & Feature
Swatch Irony: A Guide to Swatch's Most Chic Watches
Jun 24, 2022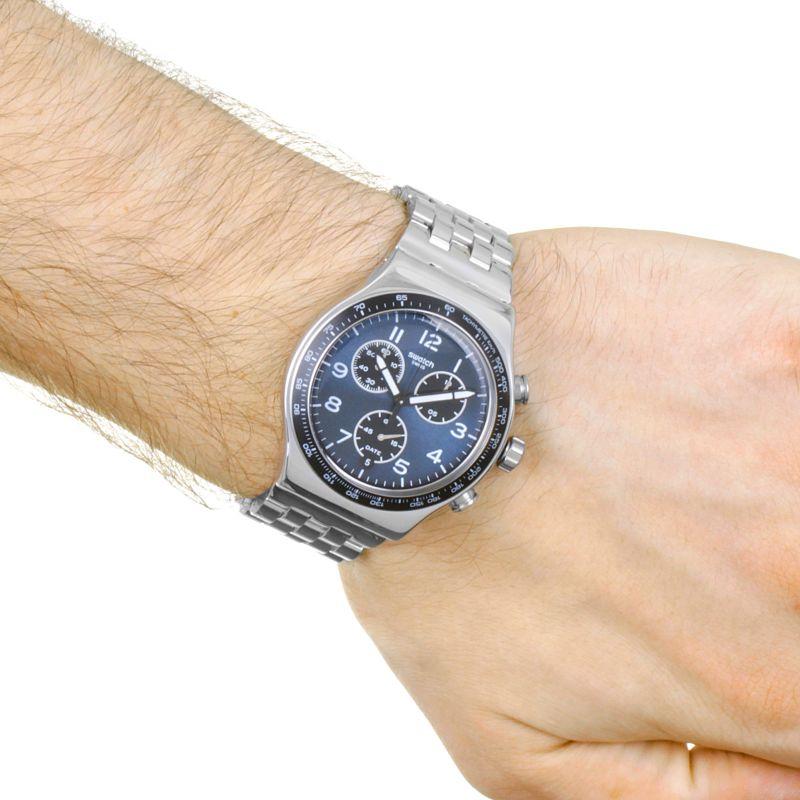 When talking about the biggest Swiss watch brands in the horology industry today, Swatch is probably one of the first names that will come to your mind. Swatch is one of the most ubiquitous watch brands in the market. It offers a massive lineup of timepieces with casual and playful aesthetics that resonate with both the young and the old. In particular, Swatch specialises in producing avant-garde designs that cannot be found in any other brand, all for a very budget-friendly price, a philosophy which is espoused in the brand's Sistem 51 collection. 
In this article, we will be taking a look at one of Swatch's most popular lineups: the Swatch Irony series. The Swatch Irony range offers higher-end Swatch watches, all of which are made using top-notch, high-quality materials. Boasting chic and modern styles, the Swatch Irony watches are some of the best affordable timepieces to bring to your next dinner event. Read on to find out more about the Swatch Irony collection and the best it has to offer.
All About Swatch Irony Collection

The Swatch Irony collection was first introduced in 1996, starting with the release of the Swatch Irony Chronograph Ref. YCS101. This watch collection is adored by both Swatch patrons and the general public alike, making it one of the most sought-after lineups from the Swiss brand. It is best known for delivering metal-cased watches that are exclusively designed and manufactured by Swatch. 
As opposed to other Swatch ranges, which frequently utilise materials like silicone and bio-sourced plastic, all Swatch Irony watch cases are made entirely from metals such as stainless steel and aluminium. As a result, the Swatch Irony timepieces have very durable builds that are highly resistant to scratches or impacts. In addition, the stainless steel compositions of these watches also give them very sleek, robust exteriors that simply look more high-end and luxurious. 
Today, there are more than a hundred watches available in the Swatch Irony collection, so you have quite a vast selection to choose from. The Swatch Irony watches are offered in a variety of different colourways. For instance, the Swatch Irony's case comes in silver, rose gold, yellow gold, copper, and black tones, depending on the model you are looking at. These different hues are achieved by coating the stainless steel case in a colourful PVD coating, which both embellishes the watch case and bolsters its resistance to scratches.
The dial of the Swatch Irony is also available in a wide variety of shades. These dial colours include more traditional hues like white, black, and grey, or more contemporary, fashionable ones such as blue, green, and brown. This same diversity of choice is applied to the strap of the Swatch Irony. While the Swatch Irony straps are primarily made using leather, rubber, and stainless steel, they can also come in a number of colours, such as brown, silver, black, blue, and more.
In terms of technical specifications, the Swatch Irony watches are powered by a variety of movements. This includes both quartz and automatic calibres. For example, some Swatch Irony watches run on robust quartz movements that offer date, day/date, chronograph, and tachometer features. Other Swatch Irony timepieces are driven by the brand's best self-winding movements, such as the Swatch Calibre 21J and Swatch Calibre 23J. These movements are exclusive to Swatch and are adapted from the ETA 2822 and ETA 2842 movements. 
Finally, despite their stylish aesthetics and use of high-quality materials, the Swatch Irony watches still retail at very reasonable prices. You can purchase a Swatch Irony model for under $200 USD.
3 Best Swatch Irony Watches You Should Check Out
Whether your style is casual, minimalist, or dressy, the Swatch Irony collection has got you covered. This series capably caters to everyone's needs with its massive catalogue of high-calibre, visually striking timepieces. In this section, we have even curated three of the best Swatch Irony watches you should definitely consider adding to your collection.
1. Swatch Boxengasse Irony Ref. YVS423G
The first watch on the list is the Swatch Boxengasse Irony Ref. YVS423G. This is a timeless and sophisticated sports watch just for the gents. With its refined style, this is a versatile timepiece that could easily double as a partner to your next dress-up event.
This Swatch Irony timepiece utilises a 43mm stainless steel case and a five-link bracelet made of the same material. Affixed to the top of the watch case is a matte black bezel, with indicators in a clean white typeface for the tachymeter scale.
The dial of this watch showcases an appealing, sun-brushed blue finish, which adds to the stylish look of the entire timepiece. Although it is packed with complications, all the components in this dial are quite neatly organised, allowing for optimal legibility. It consists of Arabic numeral hour markers in a neat typeface, a compact date display at 6 o'clock, thick sword hands, and a chronograph display. The three chronograph sub-dials come in a jet-black finish, which ensures they stand out more clearly against the blue backdrop. They serve as the 60-second, 1/10th of a second, and 60-minute counters.
Driving this Swatch Irony watch is a powerful quartz movement. It is fully equipped with excellent shock resistance and a water resistance capacity of 30 metres, giving this timepiece some degree of durability.
The Swatch Irony Ref. YVS423G retails at just $150 USD. 
2. Swatch Irony Minimalis-Tic Ref. YOS453G

If you are into more minimalist watch aesthetics, you are sure to enjoy the Swatch Irony Minimalis-Tic Ref. YOS453G. Rugged yet subtle, this is one of the most impressive men's watches from the Swatch Irony lineup.
This watch comes in a rather chunky size, sporting a 47mm stainless steel case and a matching three-link stainless steel bracelet. A simple black count-up bezel is pressed on top of the watch case, with a bright orange inverted triangle at 12 o'clock that helps add a burst of vibrancy to this watch face.
The dial itself shows off a soft beige finish, which goes well with the watch's sleek silver exterior. This dial is furnished with black Arabic numeral markers, a circular date window at 3 o'clock, black sword hands, and three chronograph sub-dials. These sub-dials have silver sunray finishes that help differentiate them from the rest of the dial. They act as the 60-second, 1/10th of a second, and 60-minute chronographs. A vivid orange seconds hand also serves to add more colour and liveliness to this dial.
Like the previous model, the Swatch Irony Minimalis-Tic Ref. YOS453G is also a quartz-powered chronograph. Priced at around $165 USD, this versatile timepiece can be used for both casual and formalwear. 
3. Swatch Irony Xlite Chrono Ref. YYS4014 Yellow Pusher

Lastly, we have the Swatch Irony Xlite Chrono Ref. YYS4014 Yellow Pusher. This is an eye-catching timepiece in every sense of the word, with a quirky and colourful design that is loved by younger audiences. Its casual, laidback style makes this the perfect everyday watch for all your daily routines. 
This Swatch timepiece is housed in a 45mm aluminium case, coupled with a sporty purple silicone strap. On top of the watch case, you can find a fixed aluminium bezel. This bezel is equipped with a blue plastic insert and black indicators for its tachymeter scale. A stout, flat crown is located on the right side of the case, surrounded by two small pushers. The crown and the lower pusher both come in deep purple, complementing the hue of the watch strap. This is contrasted against the upper pusher, which comes in vivid orange, giving the watch a more playful spark.
The striking dial of this watch is also not quite what you would expect. It comes in a textured grey finish and is patterned with diamonds, making the dial look like it is made using textile. It is adorned with Arabic numeral hour markers in a vibrant yellow typeface, blunt black hands, a date aperture at 6 o'clock, and three chronograph sub-dials that are also highlighted with yellow accents. The dial is also protected by a layer of mineral crystal, which guards the watch face against any scratches or impacts. All of the watch's features run on a first-class quartz calibre, which offers an average depth rating of 30 metres.
Bright, lively, and colourful, the Swatch Irony Xlite Chrono Ref. YYS4014 Yellow Pusher is a timepiece that is sure to catch the eye of anyone who sees it. This watch masterfully fuses orange, purple, and yellow hues, creating a bold design that is perfect for those who love loud and casual watches. It sells at just $110 USD, making it one of the most affordable Swatch Irony models. 
Final Thoughts
The Swatch Irony collection is an extensive lineup of incredible watches loaded with high-end features, delivered by the one and only Swatch brand. The watches in this range always have something unique to offer, no matter which Swatch Irony model or style you select. Affordable yet dependable, the Swatch Irony series is the watch line to look at for those seeking a good entry-level watch to start their collection with.  
All images are courtesy of Swatch's official website unless otherwise stated.
Featured image courtesy of Watchshop.com.
If you are searching for the best Canadian watch brands in the horology market, why not have a closer look at our article about the underrated Canadian brand, Momentum Watches.