New & Feature
A Comprehensive Guide to ETA Movements
Aug 20, 2020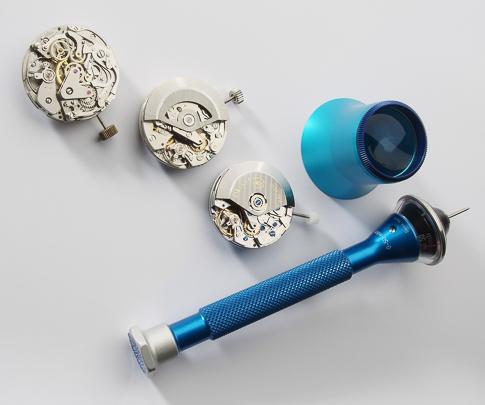 Swiss luxury watches have either one of two movements: in-house or ETA. Most people who are new to watch collecting might have heard of an ETA movement but have little to no idea what it really is. Meanwhile, those who have been in the business for quite a while know exactly what we're talking about.
No, it's not an acronym for "Estimated Time of Arrival". To put it simply, ETA is Switzerland's biggest and leading movement maker. This company creates the nervous system of your watch, most especially your Swiss luxury watch. Brands such as Tudor, TAG Heuer, Omega, and Frédérique Constant mainly uses an ETA movement or ETA-based movements.
What is ETA SA?
ETA SA Manufacture Horlogère Suisse — simply known to many as ETA — provides and supplies movements to various watch brands. The company produces quartz movements, hand-wound and self-winding mechanical movements as well as ébauches. Ébauche, in horology, refers to unassembled or partially assembled parts of a movement. Now a wholly-owned subsidiary of The Swatch Group, ETA supplies its sister companies and other competing companies parts or whole movements for their timepieces.

History of ETA SA
ETA SA's history traces as far back as 1793 despite it being officially founded in 1856. The institution ultimately came about as a result of the consolidation of the Swiss watch industry. The amalgamation of former movement manufacturers such as Valjoux, Peseux, and Lemania brought the company about.
In 1793, four master watchmakers — namely David Benguerel, Isaac Benguerel, and François and Julien Humbert-Droz — opened a workshop and business named Fabriques d'Horlogerie de Fontainemelon (FHF). In 1856, more than six decades later, in Grenchen, an ébauche factory emerged through Urs Schild, a schoolmaster, and Dr. Joseph Girard. This would later become Eterna. Generally, ETA SA was Eterna's movement branch founded in 1896. Through the years, Eterna established a separate section for its movements. Then in 1926, a tie-up between Eterna's ETA SA and FHF formed Ébauches Ltd.
The Fall and Rise of the Swiss Watch Industry
The years that followed weren't particularly good for the Swiss watch industry. Before the war emerged, Omega and Tissot founded Société Suisse pour l'Industrie Horlogère (SSIH) in 1930. The company established itself as a powerful player in the industry by unifying companies that produce high-quality movements and watches. A year later, in 1931, Allgemeine Schweizerische Uhrenindustrie AG (ASUAG) came into the picture. As a solution to the Great Depression that took over the economy in the same year, the Swiss Government and the Swiss Banks formed ASUAG.
Since the establishment of both companies, SSIH and ASUAG led the Swiss watch industry in many ways. ASUAG, in itself, became the biggest group by purchasing companies under its subsidiary General Watch Co (GWC). The companies, however, didn't stop at that. They started complementary research and development programs to fight the economic crisis.
However, with the Quartz Crisis in the 1970s, both ASUAG and SSIH faced financial troubles and ultimately, bankruptcy. After few years, in 1978,  SA and ETA merged.
The Formation of The Swatch Group
Since the merger, Dr. Ernst Thomke led ETA SA. At the time, Dr. Thomke became the CEO of Ebauches SA and was delegated on the Board of Directors of ASUAG. Later, in 1983 and under the leadership of Dr. Thomke, ASUAG and SSIH merged and became Société de Microélectronique et d'Horlogerie or SMH. Then, in 1985, ETA acquired all production from Ébauches Ltd. and FHF that were both parts of SMH.
As the first CEO of SMH, Dr. Thomke held his position until 1991. With the arrival of Nicolas G. Hayek, the board elected a new Chairman. However, as the main shareholder, Hayek ultimately became the only person of reference for SMH. In 1998, SMH was renamed to what we know today as 'The Swatch Group'.

Advantages of an ETA Movement
A lot of brands produce in-house movements. However, most of these in-house movements still find its roots from an ETA movement, only modified and improved in certain ways (such as with the Omega Co-axial watches). ETA's existence greatly takes off the burden from various watch brands. Researching, designing, developing, and manufacturing in-house movements take a lot of risks. Firstly, it's expensive and, of course, time-consuming. ETA focuses on all these aspects so the brands themselves can now focus on the creation of their watches. ETA usually supplies various brands with complete, assembled movements. However, some companies prefer the supply of ébauches in building their in-house movements.
Because ETA only focuses on the development of movements, they surely have higher standards when it comes to quality control. As a result, their movements boast accuracy, precision, reliability, as well as durability. ETA creates various calibres of diverse grades. Some of their watches are even COSC-certified chronometers.
5 Best ETA Movements
ETA movements dominate the market when it comes to both mechanical and quartz movements. Quartz, however, remains to be their most popular especially as they supply this throughout the Swatch Group. The presence of an ETA movement in a watch gives it the prestige of being "Swiss Made". Here are the best ETA movements and the watches they power.
Mechanical Movements

1. ETA 2824-2
Labelled by the watch community as a "workhorse" movement, ETA calibre 2824-2 boasts its wide popularity among enthusiasts. As one of the most recognised movements, it also became the quintessence of reliability and efficiency among ETA movements. Its production began in 1982. Based on the original Eterna Calibre 1427, automatic movement ETA 2824 comes in four grades available: Standard, Elaborated, Top, and Chronometer — priced accordingly. The adjustment and accuracy of each grade go as follows:
Standard — adjusts in two positions with an accuracy of +/-12 seconds a day up to +/- 30 seconds a day; perfect for an everyday watch
Elaborated — adjusts in three positions with an accuracy of +/-7 seconds a day up to +/- 20 seconds a day
Top — adjusts in five positions with an accuracy of +/-4 seconds a day up to +/- 15 seconds a day
Chronometer — COSC certified; best for dive watches
It's best to know which grade your watch has to better understand its value.
You might not notice it but a lot of companies take this calibre to rebrand it as their own. Since ETA supplies the movement to a huge market, rebranding the calibre makes for a smart business move. It certainly drives up the cost of the watch, making it seem like an in-house calibre. A great example would be the Glycine Caliber GL224 as well as the Frederique Constant Calibre FC-303. Renaming the calibre number doesn't necessarily change the overall function of the movement. It is, in fact, for branding purposes alone.
Unfortunately, the patent for ETA 2824 already expired. This allowed cloned versions or replication of the popular ETA movement. For instance, you have the Sellita Calibre SW200 and the Seagull Calibre ST2130.
This movement features about 38 hours of power reserve and vibrates at 28,800 beats per hour. It comes at 25.6mm in diameter and a fair 4.6mm in thickness. Moreover, the movement is now known as ETA 2824-2, the "-2" suffix refers to its generation. Watches that feature this calibre include the Tissot Carson via the Powermatic 80 movement. A modified version of this movement runs the IWC Pilot Mark XVIII, improved with 42 hours of power reserve and renamed as Calibre 30110.

2. ETA 2892.A2
Many enthusiasts deem the ETA Calibre 2892.A2 as the best ETA movement for many reasons. It is, after all, the successor to the ETA 2824 calibre, discussed above. In fact, it hikes up the price of just about any watch that has it. This movement powers the most expensive watches that ETA supplies. It's no surprise given that this movement requires certified chronometers to fully capture its functionality. To put it to technical terms, this watch has an accuracy of about +/-20 seconds a day to +/-5 seconds a day. It has three grades of production quality to this movement as most ETA movements do.
Elaborated — Adjusts to four positions with an average accuracy of +/-5 seconds a day to +/-20 seconds a day
Top — Adjusts to five positions with an average accuracy of +/-4 seconds per day to +/-15 seconds per day
Chronometer — COSC-certified and adjusts to five positions with an average accuracy of -4/+6 seconds a day
This movement vibrates at 28,800 beats per hour with 42 hours of power reserve and 21 jewels. It's a lot thinner than the ETA 2824 at 3.6mm. It offers as an exceptional base for most chronograph movements. As earlier mentioned, the Omega Co-Axial movement is based on an ETA movement — the ETA 2892.A2, for this matter. They rebranded the movement as Omega 1120 for the Omega Seamaster Professional 300. As such, the Breitling B41 on the Breitling Transocean Automatic Chronograph is based on the ETA 2892.A2 as well.

3. ETA/Valjoux 7750
The ETA 7750 is by far the most popular and recognisable automatic chronograph movement. Now, you might be confused as to why it's either called Valjoux or ETA 7750. Valjoux joined Ebauches SA in 1944. So, it was part of the many mergers that went in between various organisations in the Swiss watch industry through the 20th century. Formally, ETA refers to the movement with proprietariness as ETA 7750 or append the Valjoux for reference. This traces back to its base movement, the manual wind Valjoux Calibre 7733. Today, this movement works as part of ETA's Mecaline Chronograph movements.
This movement comes in three grades of production quality: Elaborated, Top, and Chronometer grade. With 7750 as base calibre, ETA grew its line with three more variations.
7750 with sub-dials on 12, 6, and 9 o'clock positions and a day/date window at 3 o'clock.
7751 with sub-dials on 12, 6, and 9 o'clock positions, a central date hand, and a day/month window at 12. It also includes a moon phase window at 6 o'clock.
7753 with sub-dials on 3, 6, and 9 o'clock positions and a with a date window at 4 o'clock.
7754 with sub-dials on 12, 6, and 9 o'clock positions, a date window at 3 o'clock and a GMT hand.
Just like the ETA 2824, the patent for ETA 7750 already expired. This sprung up various other versions of the movement from other brands such as the Sellita SW500.
The movement weighs a bit hefty at 30mm in diameter and 7.9mm thickness. It also features up to 48 hours of power reserve. You can see the ETA 7750 Valjoux in a Hamilton BeLOWZERO Chronograph. It's the base movement for the Omega Calibre 1164 as seen on the Omega Speedmaster Day/Date Chronograph. Also the base for the TAG Heuer Calibre 16, it powers various powerful chronographs from the brand such as the TAG Heuer Aquadiver Automatic Chronograph.
Quartz Movements
Contrary to what it may lead you to believe, ETA's quartz movements prove more popular to enthusiasts, even brands. This is due to the fact that ETA usually supplies movements to Swatch Group brands. Given that this company ultimately responds to the Quartz Crisis, ETA took a shot at quartz movements as well.
Quartz movements definitely changed the industry in more ways than one. Without this movement, we wouldn't enjoy more affordable choices for timepieces. We might as well be looking at shorter lifespans and perhaps effortless shock resistance.

4. ETA 282.002
The ETA 282.002 quartz movement comes from the company's Flatline series. This series features a selection of high-end brass movements. With its extremely thin (thus, its name) and customisable exterior, the movements from this collection easily becomes removable and repairable. ETA 282.002 allows for a flexible, elegant design among watches. It is, in fact, the thinnest available movement on the Swiss Made market.
With a thickness of only 1.20 mm, it's a powerful movement for chic timepieces. Moreover, with its HeavyDrive technology, it can support the unbalances of more than 200%. This anti-shock system is exclusive only to ETA. Enjoy this calibre on the Rado True Thinline watches.

5. ETA F05.841
ETA F05.841, on the other hand, comes from ETA's Trendline series. The Eta movements in this range are called "entry-level quartz movements". Due to the composite materials used such as synthetic spacer, main plate and bridges in brass, movements under this range present great value for money.
The ETA F05.841 features three hands, a date window, as well as a moon phase window for added elegance. Despite the moon phase function at 6 o'clock, this movement still aligns itself at the same value as other Trendline movements. It also has 3 jewels, end-of-life display, and measures about 3.60 mm in height and 23.30 mm in diameter. The luxury brand Balmain powers its 'de Balmain Moon Phase' watch with this movement.
Monopoly Controversy
In 2002, Swatch Group released a statement that threatened to stop selling ébauches to third-party companies. This means any brand not under the Swatch Group will never be able to use ETA movements on their watches. The market, of course, uproared with complaints that if they can no longer buy movements from ETA, they will go out of business.
Swatch Group ultimately got a bad rep for this as they appear to aim to saturate the market with only their products and eliminate any and all competitions. Due to this, the Swiss Competition Commission ran an investigation on the situation. It took many dreadful years before reaching an agreement in 2013.
In the agreement, Swatch may progressively lessen the number of ETA movements it supplied to third parties from the time of the agreement, until 2019. By 2020, Swatch may do whatever they please with their products.
However, as 2020 dawned, the agreement stands on. Through a study, it's revealed that ETA still supplies most companies with its movements, therefore, giving them the freedom to cut back since stopping the supply for good will dwindle down the Swiss watch economy.
The Swatch Group, however, hopes that by 2023, the issue will be resolved to give them the freedom to choose which brands they can continue to support.
Final Thoughts
ETA SA definitely holds immense power and influence in the industry. Similarly, an ETA movement maintains great power over a single timepiece. Every watch powered by ETA surely boasts impressive stats, to no surprise. While not everyone recognises the greatness of ETA movements, they will surely remain a force to be reckoned with.
---
Want to learn more watch terms? Check out our guides on Sapphire Crystal and COSC Certification!