Watch Guide
Top 15 Brands That Manufacture The Best Automatic Watches
Jul 31, 2019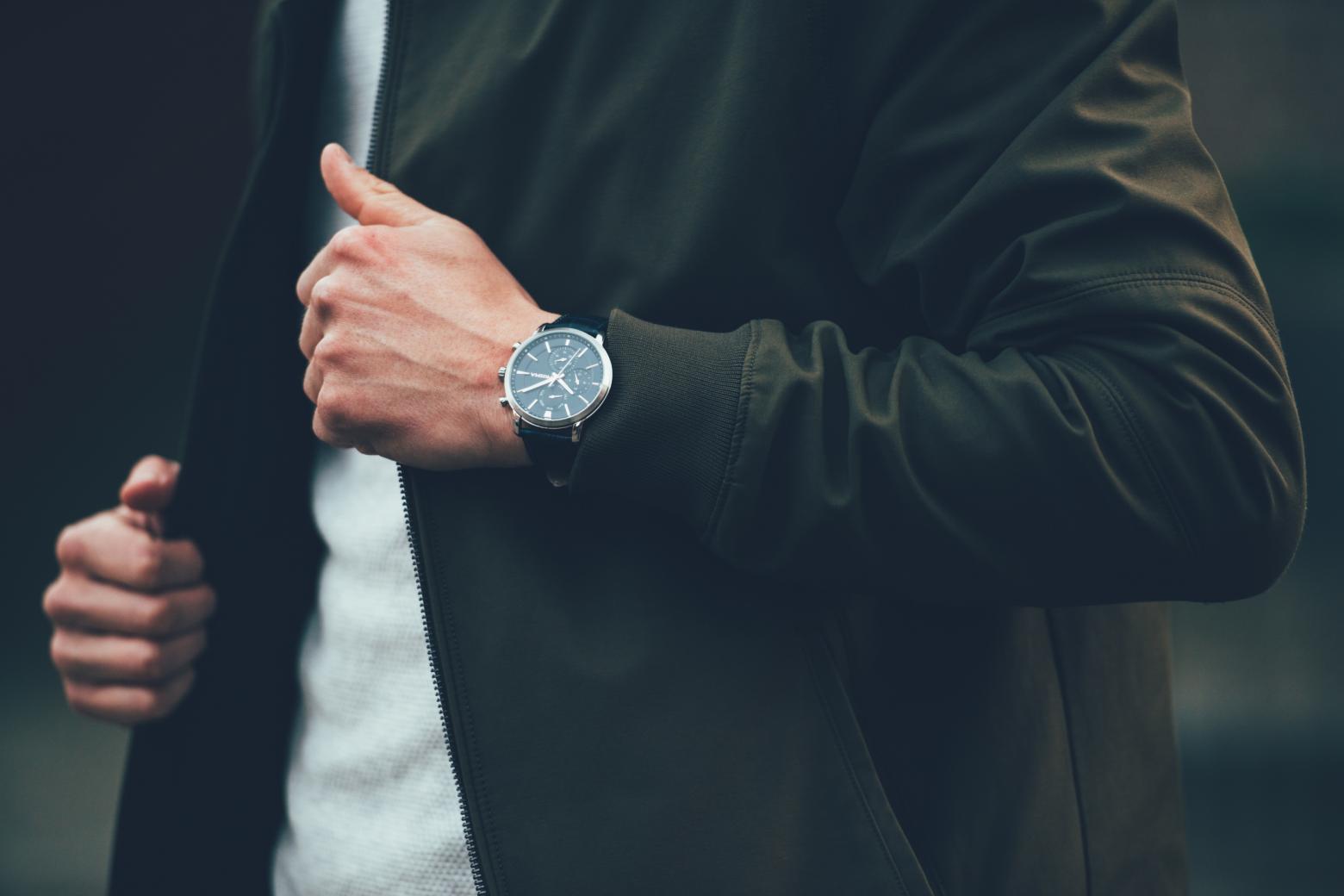 It goes without saying that some of the world's finest timepieces fall into the category of automatic watches. Indeed, for many purists, this intricately constructed type of watch represents the ultimate standard in horological ingenuity.
As a result of their first-class reputation, automatic watches tend to be pricey. This is because of the sheer amount of time it takes to construct a single piece. These intricate items keep time via a complex series of mechanical inner workings.
In addition, automatic watches tend to use premium materials for their casing and strap such as gold, titanium, and premium leather.
In this article, we will take a look at some of the very best automatic watches available. Including pieces from world-famous brands such as Rolex and Seiko.
We will also take a look at what exactly an automatic watch is, whilst outlining the difference between this style of timepiece and others.
So, without further ado, let's take a look at our selection of the best automatic watches.
What Is An Automatic Watch?
Essentially, an automatic watch is a timepiece that uses kinetic energy generated from the user's natural movements.
A style of mechanical watch, automatic watches differ from wind-up watches (manual mechanical watches) because they do not require the wearer's assistance to stay powered.
For this reason, many view automatic watches as the ultimate pieces in mechanical watch technology. And although they are not as convenient as quartz watches, they are generally seen as a more premium option.
Due to the fact that these watches undergo an extremely complicated production process requiring hundreds of man-hours and untold levels of microengineering, it is very rare to find one for below $1,000.

Who Makes The Best Automatic Watches?
Whilst some makers of automatic watches are household names, brands such as Rolex, Seiko, and Patek Philippe spring to mind, others are known only to connoisseurs of the timepiece world.
The question of which company makes the best automatic watches is very much a matter of personal preference. Some collectors prefer a more classic aesthetic while others very much opt for a modern take on the style.
One thing is for sure, the higher the price of an automatic watch, the more premium the product is likely to be. In general, automatic watches start at $1,000 and can reach some truly dizzying price tags. Some automatic watches sell for millions at auction, especially if they are collector's items or antique pieces.
Now that we have some background information on what an automatic watch is and who makes them, it is time to take a look at some of the best automatic watches.
Rolex Automatic Watches

Another legendary Swiss watch company, Rolex is perhaps the definitive brand name when it comes to high-end automatic watches. The brand's stunning automatic watches are the stuff of legend, with particularly iconic models including the Datejust and Submariner timepieces.
The precision-engineered, high-end watches made by Rolex are inspired by the classic aesthetic of boating watches with the brand maintaining a strong affinity with all things nautical to this day. This makes Rolex some of the sturdiest automatic watches around as well as some of the most visually pleasing.
Tissot Automatic Watches

Swiss to the core, Tissot is a legendary watch brand that has been producing some of the world's most reliable automatic watches for generations. In fact, the company launched way back in 1853 in Le Locle, Switzerland.
Ever since, this luxury watchmaking company has consistently produced beautiful timepieces for a range of tastes. From the beautifully simple Tissot Balade automatic watch to the bold T-Classic model, Tissot has created some truly memorable and in some cases even classic iterations over the years.
Audemars Piguet Automatic Watches

A true titan of Swiss watchmaking, Audemars Piguet is a name that's synonymous with quality and luxury the world over. Founded in 1875, the brand produces a very limited number of watches each year, making Audemars Piguet one of the globe's most prestigious timepieces.
Consistently at the forefront of global horology, this company is renowned for the quality of the inner mechanics of their watches as well as the beautiful, elegant outer aesthetics.
As one of the globe's greatest watchmaking names, Audemars Piguet watches are some of the most expensive on the planet, with some models selling for more than six figures.
Vacheron Constantin Automatic Watches

One of the oldest Swiss watch brands on earth, Vacheron Constantin traces its roots back to Geneva 1755. As a result, today's timepieces from the famous Swiss brand are a study of timeless heritage and elegance, with these watches being among some of the most valuable on earth. This name is so renowned that it is even said Napoleon Bonaparte himself wore Vacheron Constantin. Truly, a timepiece fit for an emperor.
At the higher end of the price spectrum, Vacheron Constantin watches can cost well over $100,000. Whilst an entry-level timepiece from this legendary Swiss producer will cost at least $15,000.
Seiko Automatic Watches

The first non-Swiss entry on our list comes in the form of the Japanese brand Seiko. Ironically, this company was a pioneer in the introduction of quartz technology in wristwatches. A development that almost rendered classic mechanical automatic watches extinct.
Luckily for enthusiasts across the globe, this never came to pass. These days, Seiko even creates some of their own beautiful automatic timepieces. In fact, Seiko automatic watches are considered to be among some of the finest non-Swiss options around. This is accredited to their reliable engineering, simple beauty, and affordable price tag. All in all, making them a truly great choice for entry-level purchasers.
Patek Philippe Automatic Watches

Our next name takes us back to Switzerland with one of the world's most highly-esteemed watchmaking brands. Patek Philippe is a true horological institution, a heritage brand like no other that continues to consistently produce some of the most beautiful automatic watches on the planet.
Patek Philippe launched in 1851. Since then, it has been synonymous with tradition and luxurious elegance. The choice of various royals across Europe for the best part of two centuries. Today, the brand continues to remain popular among circles of elite watch collectors.
Chopard Automatic Watches

Known the world over for their luxurious timepieces, Chopard is also a popular jewellery brand. The Swiss company takes a fabled ability to craft luxurious pieces while applying centuries-old wisdom of mechanical watches to create some of the globe's finest timepieces of any kind.
From formal items to rubber-strapped chronograph pieces, Chopard watches are as varied as they are elegant. With global popularity and a stellar reputation, Chopard frequently ranks in the top ten most valuable brands of luxury jewellery watchmakers.
For many, owning a Chopard watch is the peak in timeless elegance, with this Swiss titan of the industry continuing to make profits year in year out.
Ulysse Nardin Automatic Watches

Ulysse Nardin is perhaps one of the lesser-known brands to feature on our list of the best automatic watches. Nonetheless, Ulysse Nardin is a legendary name in the world of Swiss horology and watchmaking in general.
Producing visually distinctive automatic watches that make use of high-quality materials and centuries-old mechanical wisdom, Ulysse Nardin items are truly for the aficionados and collectors in the world of watches.
These timepieces have incredible value as seen by their prices, with entry-level models starting at around $5,000 and high-end Ulysse Nardin pieces reaching close to six-figure sums.
This pricing is a testament to the globally admired quality and heritage of a brand like Ulysse Nardin. Today, this Swiss company continues to produce nautically inspired watches that blend time-honoured tradition with modern technology and craftsmanship techniques.
Rado Automatic Watches

Swiss watch company Rado makes some of the world's most beautiful automatic timepieces. With a range of styles and price points, Rado is a globally popular brand that blends timeless tradition and cutting-edge styles to create gorgeous products.
From the Rado Diastar to the Hyperchrome watch, this Swiss heritage brand crafts some of the most impressive automatic watches around. The elegant yet masculine aesthetic of many Rado timepieces makes this a highly respected brand both in Switzerland and around the world.
TAG Heuer Automatic Watches

Pushing the limits of watchmaking technology, Swiss luxury watchmaker TAG Heuer is known for its breakthrough innovations and design aesthetics. Its automatic collections, such as the TAG Heuer Carrera and Aquaracer, are products of cutting-edge research and masterful designs. Depending on the model, most automatic watches from TAG Heuer boast a power reserve of between 42 and 48 hours. 
Some of TAG Heuer's most legendary models, such as the Carrera, are closely associated with car racing. The Carrera was inspired by Mexico's most dangerous car race, the Carrera Panamericana, which was famous in the 1950s. To this day, each of their watches exudes the highest of precision standards. 
Longines Automatic Watches

Founded by Auguste Agassiz in 1832 in Saint-Imier, Switzerland, Longines has been a subsidiary of the Swiss Watch Group since 1983. With a watchmaking heritage that is based on tradition, innovation, and sophisticated craftsmanship, the brand manufactures some of the most sought-after automatic watches, including the Longines Master and the Longines Heritage collections.  
Boasting more than 200 years of watchmaking history and exceptional attention to detail, Longines ensures that each and every automatic watch they produce exemplifies the brand's design elegance and technical prowess. With a presence in over 150 countries, the brand boasts more than a dozen collections that cater to watch lovers from all walks of life.
Orient Automatic Watches

In 1901, Shogoro Yoshida opened the Yoshida Watch Shop in Tokyo, Japan, selling imported pocket watches. It was such an instant success that in 1912, he eventually started producing gold watch cases and table clocks. It wasn't until 1951 when the company's name was changed to Orient Watch Company, which it is known today.
Today, now owned by Seiko Epson, Orient Watch has some of the important watches in the industry under its belt, including the Grand Prix 100 and the Fineness, considered the world's thinnest automatic wristwatch with day and date calendar function for its time.
Some of Orient's automatic collections today, including the Orient Bambino and Orient Tay, are among the most reliable and affordable hand-winding mechanical watches in the market. 
Hamilton Automatic Watches

With its American flair and Swiss heart, Hamilton is one of the top mid-range watch brands that should be on your radar. Founded in 1892 in Lancaster, Pennsylvania, USA, Hamilton Watch Company first manufactured pocket watches, then moved on to creating wristwatches. 
Rooted in its DNA even from the very beginning was the company's focus on craftsmanship and accuracy. Not only is Hamilton successful in the world of horology, but the brand is also well-known in the film, sports, and military industries, having worked with some of the best films and sports organizations. When it comes to Hamilton's automatic watches, one of their best-sellers is the Hamilton Khaki King. 
Citizen Automatic Watches 
Founded in 1918, Citizen is well-known for its light-powered and sustainable Eco-Drive watches. For more than 100 years, the brand has been a pioneer in watchmaking innovation and design. The brand's Eco-Drive technology has been a dedicated pillar in pushing for an environment-friendly and sustainable watchmaking industry. 
However, Citizen also manufactures some of the best automatic watches in the market, including the iconic Eagle 7 series and the Mechanical collection. In fact, Miyota, the Japanese automatic watch movement that many watchmakers use, is part of the Citizen group of companies. 
Cartier Automatic Watches

The final instalment on our list of the best automatic watches is a non-Swiss brand with a stellar reputation. Parisian brand Cartier is today a byword for French luxury and sophistication for many ranks it among the globe's finest purveyors of automatic watches.
With a rich history dating back to World War I, Cartier Tank watches, which can either be quartz or automatic, are one of the most iconic and recognisable timepieces of all time. Designed in 1917 by Louis Cartier, the Tank watch was inspired by the modern Renault tank Cartier had exposure to during the war. The piece develops its finesse, explicit detailing, and classy appearance from the rich history accompanying it.
If you enjoyed this article, be sure to read Most-Celebrated Rose Gold Watch Models.