New & Feature
Citizen NY0040: Better than the Seiko SKX007?
Mar 08, 2021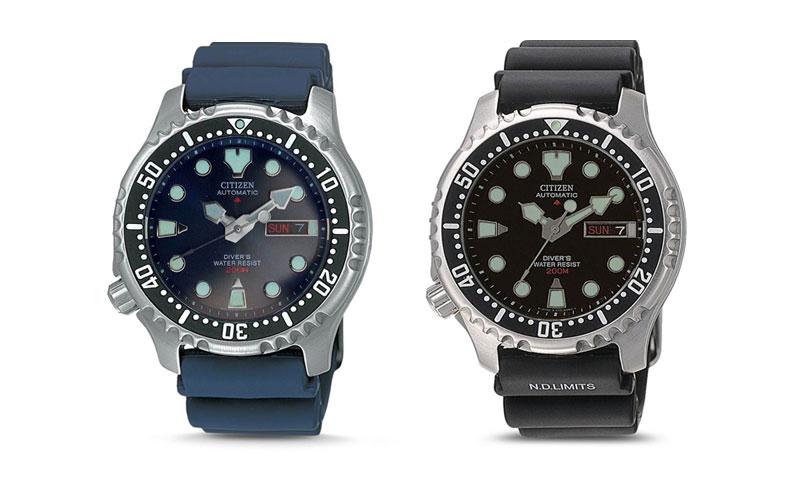 The Citizen NY0040 from the Citizen Promaster collection is one of the most recognizable watches among watch enthusiasts. It is distinctively sporty and has a certain look and function that many collectors vie for. The Citizen NY0040 is, indeed, a watch built to last. Such a watch is not something you can look past, especially at its price point.
However, it is a watch that often gets compared to the Seiko SKX007. Unsurprisingly so, as the two have stark similarities when it comes to design. This is due to the fact that both are sports watches based on practically the same mould. It's almost impossible to find a difference between the two, at least physically. However, there are still some differences that deserve the spotlight.
Let's dive deep into the features and functions of the Citizen NY0040. To understand why it's one of the most sought-after Citizen watches, let's get to know it better. Here's an unadulterated review of the Citizen NY0040 and why it could be better than the SKX007.
All that said, take note that the Citizen NY0040 refers to various watches under the Promaster diver collection. As aforementioned, Citizen NY0040 met with many changes over the years. It also inspired various iterations that also became increasingly popular in the community. You may find those watches with the same reference, appended by an identifying set of letters and numbers.
Is Citizen NY0040 better than Seiko SKX007?
There's more to the Citizen NY0040 than people give it credit for. It's a great sports watch with a set of functions that work for a dive watch. Is it better than the SKX007? Perhaps, not. But it's not as bad either. If any, it deserves the same recognition that the SKX007 gets among watch enthusiasts. It carries just about the same function but in a different way. It's not an alternative but a great option and something that you should take into consideration as well.
This watch also offers great value for money. While Seiko is not a bad choice in itself, this watch also deserves a rightful spot beside the SKX007. From its looks to the functions it offers, it's a classic watch. Moreover, you get an automatic movement and a water-resistance of 200 metres. Plus, you also get an ISO-certified watch! It's hard to go wrong with this watch.
Up Close with the Citizen Promaster NY0040
Launched in 1997 by Citizen, the Promaster NY0040 (known to many as Citizen NY0040) is one of the most recognisable watches from the brand. Many watch enthusiasts can spot this timepiece instantly, from anywhere. Despite the changes it had undergone, it only proved iconic as ever. To this day, the watch remains in production with various iterations available.
The Citizen NY0040 has a distinctly sporty look that is familiar to many. That said, you can expect it to carry the same features other sports watches have. It has the traits of a dive watch, so it performs the way other dive watches do. You can trust its depth rating, its bezel functions, and many others. So, you can't say that it's just a sports watch by design. It's a sports watch by principle from the inside out.
It's also an automatic watch, so a lot of watch enthusiasts consider this a great diver. It's one of the many reasons it gets compared to the SKX007 from Seiko. Both are great options for entry-level sports or dive watches. They also both carry the same aesthetic and practically the same functions. However, the distinct differences make the two ultimately different from each other.
For a brand that makes quartz watches, Citizen stands out for its mechanical timepieces as well. That's why you'll surely get your money's worth with this watch. It offers exceptional value for an automatic watch at its price point. Let's find out why it's one of the most reliable yet affordable sport watches you can get.

Citizen NY0040's Specifications
We love the watch as much as you're probably loving it right now! Let's review the specifications of the watch.
Diameter: 41.5mm
Thickness: 12mm
Material: Stainless steel
Bezel: 60 clicks, unidirectional, aluminium bezel insert
Crystal: Mineral
Case Back: Solid
Strap: Rubber
Movement: Citizen in-house Miyota Calibre 8200, self-winding movement with a manual-winding function
Water resistance: 200 meters or 660 feet
1. The Case
Right off the bat, the case of Citizen NY0040 stands out for many reasons. Sure, it comes in your typical stainless steel design and it also has a satin finish, but it also has polished sides so it's an impressionable watch. That alone already enhances the quality of the watch, making it look high-end.
The Citizen NY0040 is a relatively big watch but that's only rightful, especially for a dive watch. It comes in a 41.5mm diameter and 12mm thickness. That may sound big but that's just right for a men's dive watch, suitable for medium to large wrists. It provides just the right amount of presence if you're looking for a watch that gives exactly that. With that said, it has particularly small lugs relative to the case size, but that makes it replacing the straps come with ease.
The case also has a straightforward design. So, you get the information you need at a single glance. You won't even have to think twice about processing all that information. Sitting atop the dial is a mineral crystal that resists most scratches. While it doesn't have a sapphire crystal caseback, you can still expect mineral crystal to do its job. Especially for a watch at this price point, this is the most you can get!
It has a unidirectional rotating bezel that comes with a usual 60-minute marker. Depending on the iteration you pick among the Citizen NY0040 watches, they all have a matte aluminium bezel insert. The colours, of course, depend on the version you pick. The bezel is easy to use with its distinct design. It comes with six groups of five hacks that can help when you're gripping the bezel to rotate it.
Turning the watch over, you'll see a solid caseback instead of an exhibition one. To top all these, the watch features a depth rating of 200 metres (660 feet). That's the basic water-resistance you can get for a good dive watch. It should also be considered that the watch comes with an ISO certification for its water-resistance.
8 o'clock Crown
One of its stand-out features is its crown position. You're probably used to seeing the crowns of dive watches located at 4 o'clock. That's a technique used so that it's easier to operate the crown when worn. Citizen followed the same principle but reversed it by placing the crown at the 8 o'clock position instead of 4 o'clock. This provides an instinctive function while also making it friendly to left-handed users. The position also keeps the crown from digging on the wrist of the wearer so it's more comfortable to wear.
2. The Dial
Legibility is a key feature that all dive watches must-have. It's not a dive watch if you can't read it when you're deep underwater, right? So, the brand made sure that the Citizen NY0040 has great legibility.
Hands & Markers
As expected, for the dial of the Citizen NY0040 watches, you can find different colour options. This depends on which version you bought, but so far, there have blue and black colours available. These colours are great underwater for their look as well as legibility.
The hour markers of the watch are huge enough to be read in broad daylight. They're also large enough to carry a generous amount of lume. That makes it incredibly legible whether you're in dimly lit places or even underwater. The markers come in shapes of the distinct 12 o'clock Citizen marker, dots, and trapezoids. Around the markers is a polished metal frame.
The hands come in various shapes. The minute hand has an arrow tip. Meanwhile, the hour hand has a square shape to it with a pointy tip. The second hand comes with a sharp tip and a luminous dot at the end.
The outer edge of the dial consists of an angled chapter ring. This is a great way to give the watch dimensions. A lot of watches tend to look flat and two-dimensional, so it's a smart choice to include an angular chapter ring instead. On this chapter ring, you can find the seconds markers.
Date Window & Inscriptions
At 3 o'clock you get a day and date window. This feature is not particularly necessary for a dive watch. In fact, it doesn't add value if you're using the watch during one of your dives. However, given that many people use watches like the Citizen NY0040 as an everyday watch, the brand took advantage of that. The brand took that into consideration and incorporated the date window anyway. That's a thoughtful and nice touch for people who will use this watch on a day-to-day basis. The day and date window comes with a metal frame around it.
As expected, the dial also comes with inscriptions. You can find the brand name, Citizen, at 12 o'clock. Underneath is the word "automatic" to determine the movement that powers the watch. At 6 o'clock, you can find the words "Diver's" with "Water Resist" underneath. Below that is "200M" written in red for a great but non-intrusive emphasis.
Overall, the dial of this watch is clean and well-balanced. It's basically how a basic dive watch should look and it doesn't have unnecessary functions or information on it.

3. The Movement
The Citizen NY0040 watches all work with an automatic movement. In particular, the movement used in these watches is the Miyota 8200 automatic self-winding movement. This is considered an in-house movement by Citizen and vibrates at a frequency of 21600 beats per hour with 21 jewels. It's a reliable movement that many enthusiasts even refer to as a workhorse. Given the price of the watch, this is a one-of-a-kind movement to have.
Despite this being an automatic movement, the Miyota 8200 comes with a hand-winding feature. Not all affordable dive watches have this. Particularly, you won't get this feature from a Seiko watch like the SKX007.
4. The Strap
You can avail of the Citizen NY0040 with a rubber strap that is thick enough, so you'd know it's of great quality. This is a great inclusion, especially that this is a dive watch. Rubber is very water-resistant and it possesses a more sporty look. Not to mention, many people prefer fitting this on their wet suits better than a stainless steel bracelet. Stainless steel bracelets usually require an extension when worn on top of a wetsuit. A rubber strap doesn't require any extension at all when being worn over a wetsuit for diving.
The strap of the NY0040 comes with the words "N.D limits" written on it. This means it has "No Decompression Limits". To explain, this refers to the maximum amount of time that the watch can spend at certain depths before absorbing too much nitrogen before returning to the surface. As indicated by the strap, it doesn't have that. So, it can stay at a certain depth at any given time.
Another great thing about the watch is that you can always change the strap to any bracelet you prefer. If you don't like the rubber strap or are looking forward to wearing the watch in a more casual or formal setting, this is what you do. The Citizen NY0040 looks good on any strap such as nylon and stainless steel.
Price of the Citizen NY0040
The price of the brand new Citizen NY0040 revolves around the $250 USD mark. That's a steal given the features of this watch. However, you can get the watch for a more affordable price if it's pre-owned. You can get it for about $200 USD. You can purchase it on Citizen's website or online via Amazon.
---
Want to take a closer look at the Seiko SKX007? Check out our feature on the Seiko SKX007: Ode to the Most Iconic Seiko Diver.