New & Feature
Grand Seiko SBGH267: A Review of the Hypnotic GS Whirlpool
Aug 30, 2022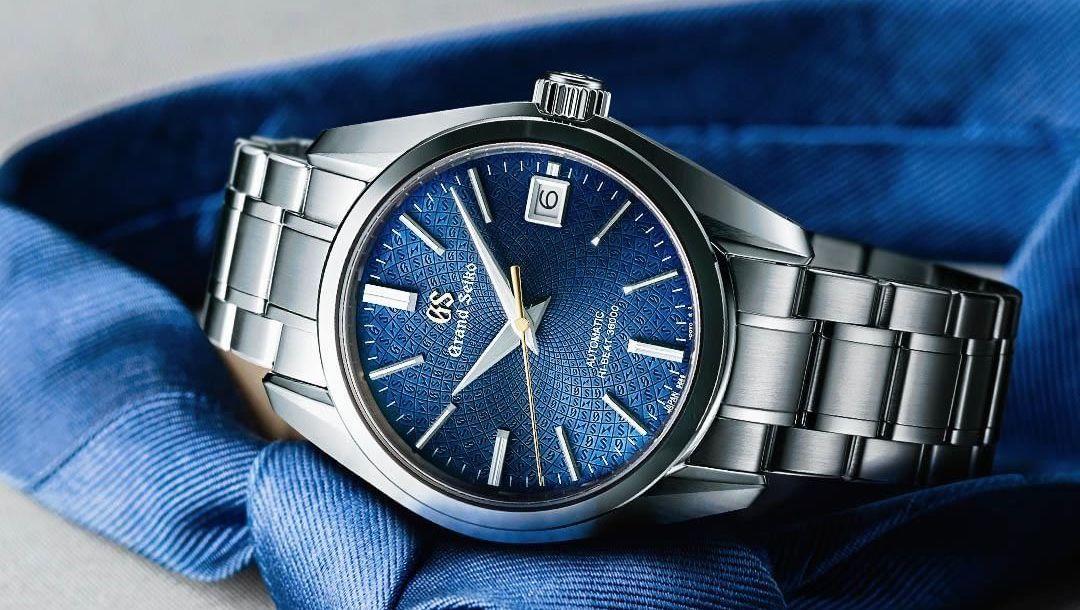 When it comes to dress watches, one of the watch brands that will always come to mind is Grand Seiko. This Japanese watch brand is home to a variety of iconic timepieces crafted with top-notch quality. In fact, the names of famous offerings such as the Grand Seiko Snowflake, Grand Seiko White Birch, and Grand Seiko Rikka might ring a bell. 
Joining the ranks of these notable timepieces is the Grand Seiko SBGH267. More popularly referred to as the Grand Seiko Whirlpool, this watch hails from the brand's 9S Mechanical collection. Packed in a beautiful and sturdy build, this prestigious timepiece holds a pristine reputation in the watch market. 
Let us get to know more about the Grand Seiko SBGH267 as we delve into its history and its specifications in this article. 
Grand Seiko SBGH267: A Brief Overview

The Grand Seiko SBGH267 was released in March 2018. It is an anniversary model launched in honour of the first-ever 9S Mechanical Calibre, which was created in 1998. There were only 1,500 pieces of this limited-edition watch produced worldwide. As such, it can be a little difficult to find a brand-new Grand Seiko SBGH267 piece today.
The Grand Seiko SBGH267 was also released alongside two other limited-edition models. The first is the Grand Seiko 9S Mechanical Ref. SBGH265J. Limited to just 20 pieces, this watch comes in a platinum case and a black leather strap. The other is the Grand Seiko 9S Mechanical Ref. SBGH266J. 150 pieces of this model were made available. It has a case crafted from luxurious 18K yellow gold and comes with a brown leather strap. 
Of the three anniversary watches, the Grand Seiko SBGH267 is the most affordable one, as it was marketed as a great entry-level piece. Moreover, it is the only version that comes in an all-stainless steel build, which gives it a more robust exterior. 
Fun fact: Grand Seiko designed all three 20th-anniversary pieces with exclusive, eye-catching whirlpool dials. These alluring dials come in shades of white and blue, with the Grand Seiko SBGH267 showing off a rich blue finish. 
Without further ado, let us take a closer look at the specifications offered by the Grand Seiko SBGH267. 
A Closer Look at the Grand Seiko SBGH267
Case 

The Grand Seiko SBGH267 boasts a wonderfully handsome look with a dash of poise. Crafted in solid stainless steel, the case of this watch measures 39.5mm in diameter and 13mm in height. It spans a lug-to-lug width of 47.5mm. With these dimensions, the Grand Seiko SBGH267 is well-suited for small-to-average-sized wrists. The lugs of this watch are also designed in a sloping, downwards fashion. This allows them to rest perfectly on and adapt to the curves of the wrist when worn. 
The surface of this case is embellished with a charming combination of two different finishes. The front of the case is treated with the brand's signature Zaratsu polishing technique, while its sides are given a lovely satinised finish. This combination gives the Grand Seiko SBGH267 an exceptionally lustrous case that you simply cannot look away from. 
Caseback
On the underside of the Grand Seiko SBGH267, you will see a screwed-in caseback made of stainless steel. Engraved on this caseback are details about the watch like its depth rating, serial number, and country of manufacture. 
In the middle of the caseback, there is a transparent sapphire crystal insert. Through this insert, you can see the watch's blue oscillating weight, which is crafted from lightweight titanium and tungsten. This oscillating weight is what enables the self-winding capabilities of the watch's movement. The sapphire crystal insert itself bears Grand Seiko's distinctive gold lion emblem.
Crown 
On the right side of the Grand Seiko SBGH267, a screw-down crown is located. Made from stainless steel, it is designed with sharply grooved edges. This ensures that you can easily grip and turn the crown even when it is wet. The top of the crown bears an exquisite carving of the brand's GS logo, adding a more stylish look to the watch. 
This crown helps protect the inner mechanisms of the Grand Seiko SBGH267 from getting damaged by dirt or moisture leakage. When completely screwed down, it seals this watch shut, providing it with a reliable water resistance capacity of 100 metres. For a dress piece, this is quite remarkable, since most dress watches tend to come with depth ratings that range from 30 metres to 60 metres. With this 100-metre water resistance capacity, you can easily take the Grand Seiko SBGH267 on all sorts of water adventures like swimming or recreational diving. 
Bracelet
The Grand Seiko SBGH267 is paired with a sturdy three-link stainless steel bracelet. Like the case of the watch, this bracelet shows off beautiful, alternating satin and polished finishes, with polished outer links and satinised centre links. 
This clasp is also equipped with a stainless steel folding clasp. This clasp bears a delicate print of the brand's GS logo. It can be unlocked using a pair of push-release buttons, making this watch very easy to wear and remove at the same time.
Dial

The dial of the Grand Seiko SBGH267 is certainly its most remarkable attribute. With its rich, dark blue finish, it is also designed in a whirlpool-like pattern. This mesmerising dial is patterned with at least 80 spun lines, subtly containing the letters "G" and "S". This recursive pattern also contains the logo of Daini Seikosha, the first Seiko factory to release a 10-beat watch movement. 
This blue mosaic dial is adorned with silver applique indices, sharply bevelled dauphine hands, and a lovely gold seconds hand that adds a touch of luxury to this watch face. A date aperture, outlined in silver, is placed at 3 o'clock. Adding to this dial's refined look is the gold GS emblem that can be found just below the 12 o'clock marker. 
The dial is also protected by a layer of sapphire crystal. As the strongest watch crystal available on the market, it is completely shock-resistant and scratch-proof. It provides the dial with superb security.
Movement
Visible through its transparent caseback, this watch's state-of-the-art movement can be seen just behind the marvellous blue oscillating weight. The Grand Seiko SBGH267 runs on the powerful in-house Grand Seiko Caliber 9S85.
This self-winding movement is a Hi-Beat movement held together by 37 jewels. It has a breathtaking frequency of 36,000 vibrations per hour (5Hz) and a power reserve of 55 hours. Moreover, it offers an exceptional accuracy rate of -3/+5 seconds per day.
Price
When the Grand Seiko SBGH267 was released in 2018, it had a retail price of $6,300 USD. Now that several years have passed, the value of this entry-level luxury watch has appreciated due to its rarity. A pre-owned Grand Seiko SBGH267 now sells at a price range of around $8,000 USD up to $14,000 USD.
Alternatives to the Grand Seiko SBGH267
1. Longines Présence Ref. L49224926

If you are looking for a more slender alternative to the Grand Seiko SBGH267, check out this elegant timepiece from Longines. The Longines Présence Ref. L49224926 is encased in a 40mm stainless steel case that measures 8.9mm in height, making it the slimmest watch in this article. It is coupled with a stylish beads-of-rice bracelet, also made of stainless steel. 
This Longines Présence piece shows off a deep blue sunray dial that is just as sophisticated as the Grand Seiko SBGH267's whirlpool dial. It is decorated with slim applique hour indices and slender pencil hands, all of which come in polished stainless steel. A small date aperture also rests at 3 o'clock. 
Inside this watch, you can find the in-house Longines Caliber L888. Fitted by 21 jewels, this self-winding movement beats at 25,200 vibrations per hour (3.5Hz). It possesses an outstanding power supply of up to 72 hours or approximately 3 days.
You can get your hands on the Longines Présence Ref. L49224926 for around $1,500 USD.
2. IWC Pilot Ref. IW327016

For another stunning blue dial watch, take a look at the IWC Pilot Ref. IW327016. This IWC piece is presented in a 40mm stainless steel case and a five-link bracelet made from the same material. 
This watch's matte blue dial is furnished with thick Arabic numeral markers, broad diamond hands, and a white minute track on its rim. A compact date complication is also located at 3 o'clock. The hands and indices of this watch are all coated in white Super-LumiNova, allowing you to read its watch face easily even in the dark.
This IWC Pilot piece is a special Le Petit Prince edition. It hails from the brand's IWC Mark XVIII collection, which is one of the most iconic pilot watch lines in the world of horology. So, when you flip this watch over, you will find a delicate engraving of the little prince on its steel caseback. 
In addition, this watch is driven by an in-house IWC Calibre 35111. This automatic movement is held together by 25 jewels and has a beat frequency of 28,800 vibrations per hour (4Hz). When fully wound, it can last for up to a solid 42 hours. 
The IWC Pilot Ref. IW327016 costs approximately $5,700 USD.
3. Omega De Ville Ref. 435.13.40.21.03.001

If you are on the hunt for something more formal and sophisticated, here is the Omega De Ville Ref. 435.13.40.21.03.001. This Omega watch belongs to one of the most famous Swiss luxury watch brands ever. It sports a 40mm stainless steel case with a height of 10.6mm. This is paired with a blue alligator leather strap, which adds to the handsome look of this timepiece. 
Like the Grand Seiko SBGH267, this Omega De Ville watch houses a very visually interesting blue dial. Resembling the texture of soft linen, this dial is ornamented with thin hour indices and stick hands made of 18K white gold. A trapezoidal date display can also be seen at 6 o'clock. 
The back of this watch is sealed shut by a see-through caseback. The watch's in-house Omega Calibre 8910 is visible behind it. Fitted with 29 jewels, this automatic movement beats at 25,200 vibrations per hour (3.5Hz). It also boasts a stellar power rating of 72 hours. Moreover, this watch is water-resistant up to depths of 30 metres, which is the standard for most dress watches.
Fork out around $6,500 USD for this sleek and majestic Omega timepiece.
Final Thoughts
The Grand Seiko SBGH267 is a clear example of the meticulous attention to detail Grand Seiko places in its dress watches. From its mesmerising dial to its state-of-the-art movement, the Grand Seiko SBGH267 is an excellent dress piece with magnificent poise. If you want something to accompany you to your next dinner event, the Grand Seiko SBGH267 is certainly a worthy choice.
All images are courtesy of The Watch Company, unless otherwise stated. 
Photo credits: Grand Seiko.
If you're looking for a timepiece with a different dial color aside from blue, check out our review of these awesome Green Dial Watches!