New & Feature
Grand Seiko SLGA007: A Review of the Grand Seiko Lake Suwa
Jul 23, 2022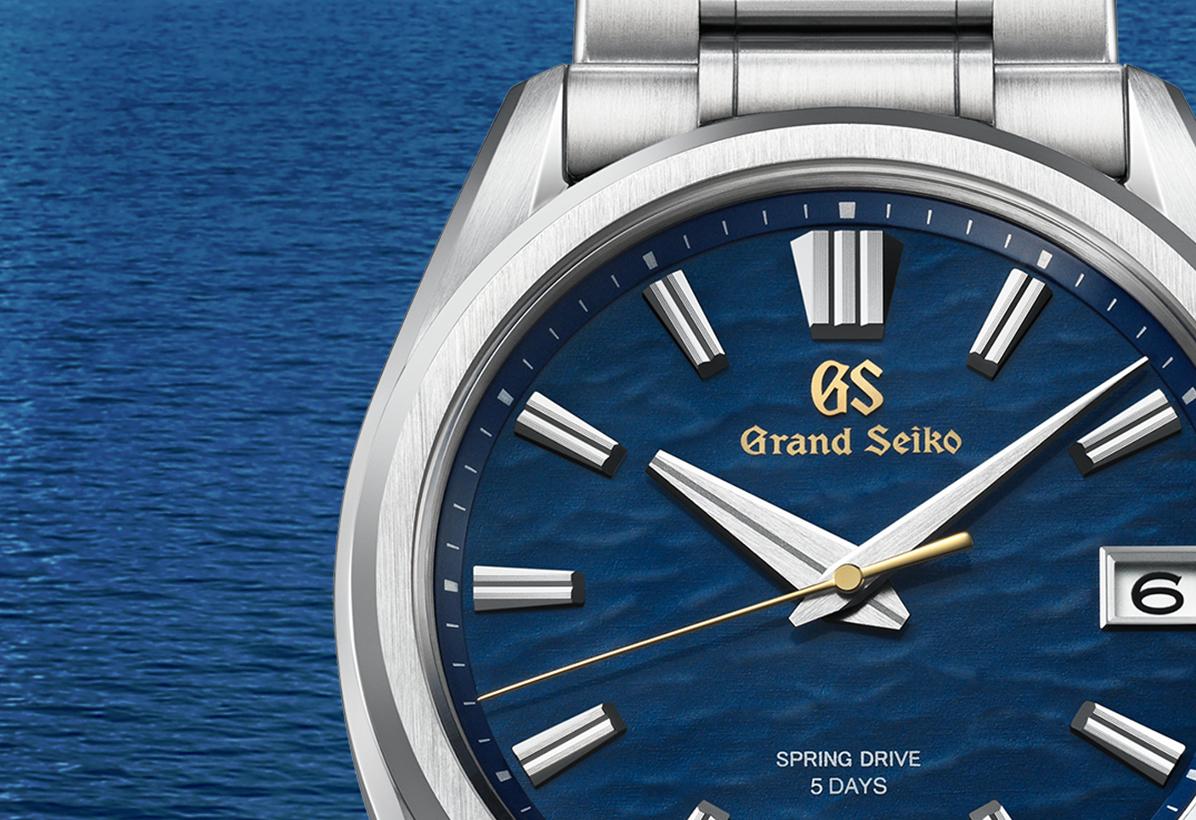 Those familiar with the horological market probably have heard of the name Grand Seiko before. It is among the Japanese watch brands famous for holding a prestigious array of dress watches. The timepieces from this luxury brand offer top-notch quality and are categorised into a diverse number of collections, all of which are created using the finest craftsmanship. 
In this article, we will be taking a closer look at one of the most recent releases from the Japanese brand: the Grand Seiko Heritage Ref. SLGA007. More commonly referred to as the Grand Seiko Lake Suwa, this timepiece perfectly demonstrates what it means to be a dress watch built with utmost class and elegance. 
Grand Seiko SLGA007: A Brief Overview

The Grand Seiko SLGA007 hails from the brand's iconic Grand Seiko Heritage series. This impressive watch collection includes popular watches such as the Grand Seiko White Birch and the Grand Seiko Rikka, all of which are heavily influenced by nature's magnificence. The SLGA007, likewise, takes the same path, as it is greatly inspired by the alluring blue waters of Lake Suwa. 
Lake Suwa is located near Grand Seiko's Shinshu Watch Studio in Nagano Prefecture, Japan. Since the SLGA007 draws heavily on this gorgeous lake for inspiration, some watch connoisseurs have also come to refer to the watch as the Grand Seiko Lake Suwa. 
Aside from being a beautiful watch that is reminiscent of nature's grandiosity, the SLGA007 is also a watch that holds significant sentimental value. Released in 2021, the SLGA007 was actually created as an anniversary timepiece. It is a commemorative timepiece made in honour of the 140th anniversary of Seiko, the parent company of Grand Seiko.  
As a prestigious anniversary watch, the SLGA007 is a limited-edition timepiece, with only 2,021 pieces available worldwide. It was released alongside the Grand Seiko Heritage Ref. SLGA008, otherwise known as the Grand Seiko Tree Rings. This rose-gold Heritage piece is another limited-edition watch, with only 140 pieces produced in total. 
A Closer Look at the Grand Seiko SLGA007
Case 

The Grand Seiko SLGA007 is presented in a 40mm stainless steel case with a height of 11.8mm. Its lug-to-lug measurements span a total of 47mm, making this watch well-suited for wrists that are small to average in size. Along with its bracelet, this watch weighs a total of 176 grams. For a watch of this size, this is quite heavy. You will certainly be able to feel the all-stainless steel heft of the classy SLGA007. 
Following in the footsteps of other high-end Grand Seiko dress watches, the SLGA007 is also embellished with a combination of brushed and Zaratsu-polished surfaces. The Zaratsu polishing technique is one of Grand Seiko's most iconic signatures. It gives the SLGA007 a distortion-free and mirror-like finish that has an exceptional shine, boosting the watch's elegance. 
Together with the brushed sides of the SLGA007, this interplay of textures allows the watch to have a very visually-interesting exterior. 
Caseback

Flipping the Grand Seiko SLGA007 over, you will see a transparent caseback. Through this caseback, you can see the amazing movement that drives the SLGA007. The screwed-in caseback of this watch is made from solid stainless steel, with a transparent sapphire crystal insert in the middle. Printed on the sapphire crystal insert is the translucent image of a bold lion, along with Grand Seiko's brand name. Meanwhile, the stainless steel section of the caseback is engraved with details on the SLGA007. This includes its water resistance rating, its serial number, its country of manufacture, and more. 
Crown

On the right side of the Grand Seiko SLGA007's case, a polished crown is located. This stainless steel crown is quite chunky. It also has deeply grooved sides, so wearers can grip and turn it more easily. The top of the crown bears an engraved and stylised "GS" logo, which adds to the refined prestige of the SLGA007. 
This crown is tightly screwed-down, which helps to guard the SLGA007 against any water damage. Thanks to its screw-down crown and caseback, the SLGA007 has a depth rating of 100 metres. For a dress watch, this water resistance capacity is extremely impressive and is even on par with some dive watches. With this, you will have no trouble using the SLGA007 for all your watersports activities like swimming or recreational diving. 
Bracelet

As mentioned, the Grand Seiko SLGA007 is accompanied by a matching three-link stainless steel bracelet. Compared to the average three-link bracelet seen on other brands' watches, the SLGA007's bracelet has slightly larger and wider links. As such, when worn, they exude a more solid and grounded presence.  
The inner and outer links of this watch are also treated with alternating brushed and Zaratsu-polished finishes. This allows the bracelet to maintain the same sophisticated aesthetic as the SLGA007's watch case.
This bracelet is also equipped with a folding clasp that has a pair of push-release buttons. This allows wearers to quickly and easily wear or remove the bracelet. The watch clasp also bears a delicate gold medallion which is embossed with Grand Seiko's "GS" emblem. This lovely incorporation helps boost the SLGA007's elegance and grandeur, giving it the poise you would expect of a limited edition luxury watch. 
Dial

An emblematic dial that effortlessly draws the eye, the dial of the SLGA007 is one of its most remarkable components. The textured, wavy pattern of this striking blue dial is inspired by the gentle ripples of Lake Suwa's surface. 
In Japanese, this rippling water surface is called the "minamo". As such, apart from being called the Grand Seiko Lake Suwa, the SLGA007 is sometimes also referred to as the Grand Seiko Minamo. 
Lake Suwa Dial
This enchanting blue dial is decorated with silver-tone applique indices. These indices have grooved centres, which gives them a more sophisticated and less plain look. The centres of these indices are also coated with luminescent pigment, which helps illuminate the watch face in the dark, allowing for optimal readability. 
The dial is also adorned with a pair of thick silver-tone dauphine hands, with the hour hand also treated with luminescent pigment. You can also find a gold seconds hand, which sharply contrasts the rest of the rich blue dial. It goes well with the dial's gold imprint of Grand Seiko and its logo, which can be observed just below the 12 o'clock marker. These soft gold accents help add a burst of brighter colour to this watch face. Finally, a compact date window, outlined in silver, is located at 3 o'clock. 
Protecting this dial is a dual-curved sapphire crystal that is both scratch-resistant and shatterproof. It keeps the watch face from getting damaged by any scratches or impacts. This sapphire crystal is also treated with anti-reflective coatings so that it offers wearers a clear and seamless view of the dial. 
Movement
​

Visible through the watch's sapphire crystal caseback, the Calibre 9RA2 drives the Grand Seiko SLGA007. The Calibre 9RA2 is Grand Seiko's brand-new Spring Drive movement, which was also introduced in 2021. As one of Grand Seiko's latest in-house creations, this advanced automatic movement has a lot to offer. 
Calibre 9RA2 is fitted by 38 jewels and beats at an efficient frequency of 36,600 vibrations per hour (5Hz). It offers an excellent accuracy rate of +/-0.5 seconds per day. This is even more outstanding than the one-second variation offered by older Spring Drive movements. When fully wound, the Calibre 9RA2 can last for up to 120 hours, or approximately five days. 
One of the most fun things about this movement is that, through the transparent caseback, you can actually see a small power reserve indicator on its lower right side. As such, if you ever need to check how much power your SLGA007 has, all you have to do is to flip your watch over to see. This power reserve display has a blued steel hand. It is shaped in the classic Grand Seiko style, such that it resembles a lovely Japanese fan. 
Price
The SLGA007 is undoubtedly an exquisite masterpiece by the brand. As a limited-edition timepiece with only 2,021 pieces produced, it is little surprise that the SLGA007 retails at quite an exorbitant price. This is only compounded by several factors like its exceptional craftsmanship, beautiful dial, and the advanced Spring Drive Calibre that drives it. 
All in all, the Grand Seiko SLGA007 has a price tag of $8,700 USD. 
Alternatives to the Grand Seiko SLGA007
While the SLGA007 is indeed a magnificent timepiece, it may not be everybody's first choice. Hence, we have prepared a few watches that showcase a similar stunning blue dial and elegant poise.
1. IWC Da Vinci Ref. IW356605 

Another elegant alternative to the SLGA007 is the IWC Da Vinci Ref. IW356605. This IWC watch is encased in a 40.4mm stainless steel case, paired with a matching five-link stainless steel bracelet. It also shows off a rich blue dial with a radiant and metallic sunray finish. This dial is furnished with bolded Arabic numeral hour markers, sharp lancette hands, and a small date display at 6 o'clock. 
Like most IWC Da Vinci watches, this timepiece is driven by the brand's in-house Calibre 35111. Based on the Sellita SW300-1 movement, this calibre beats at 28,800 vibrations per hour (4Hz). It also holds a reliable power reserve of 42 hours. 
When it comes to water resistance, this IWC watch only has a depth rating of 30 metres. This is quite sub-par compared to the SLGA007, but it is actually the standard for most dress watches. It allows the watch to survive any accidental splashes or showers. 
You can get your hands on the IWC Da Vinci Ref. IW356605 for around $6,600 USD. 
2. Rolex Datejust Ref. 126300-Blue-J 

For an even more upscale option, check out the Rolex Datejust Ref. 126300-Blue-J. Hailing from one of the most admired Swiss watch brands, this Rolex timepiece shows off a very clean and elegant style. It sports a 41mm stainless steel case and a five-link Jubilee bracelet made of Oystersteel and luxurious 18-carat white gold. Together with its screw-down crown and Oystersteel caseback, this watch has a solid depth rating of 100 metres, like the SLGA007. 
The dial of this Rolex Datejust watch also shows off a metallic blue sunray finish. It contains luminescent applique hour indices and sweeping blunt hands, along with a magnified date aperture at 3 o'clock. Powering all of these functions is the brand's in-house Rolex Calibre 3235. This self-winding movement boasts a superb accuracy rate of +2/-2 seconds. It also possesses an impressive power supply of 70 hours. 
If you would like to invest in a pricier blue dial watch and have the budget for it, the Rolex Datejust Ref. 126300-Blue-J sells at about $10,995 USD. 
3. Mido Belluna Ref. M024.630.11.041.00 

The Mido Belluna Ref. M024.630.11.041.00 is packed in a 42.5mm stainless steel case, along with a five-link bracelet made from the same material. Unlike the previous blue dial watches mentioned, this timepiece has a distinct blue dial with a Guilloche pattern. It consists of rectangular applique hour indices and blunt hands, all of which are generously coated with luminescent material. A compact day-date complication rests at 3 o'clock as well.  
Through the sapphire crystal caseback of this Mido watch, you will find a Mido Calibre Powermatic 80. This calibre is based on the reliable ETA C07.621 movement, which is a very commonly used automatic movement in the market. It has a standard power supply of 38 hours and a decent accuracy rate of +/-12 seconds per day. 
If you are looking for an entry-level dress watch with the same stylish vibe as the SLGA007, this Mido Belluna timepiece is priced at just $950 USD. 
Final Thoughts
The Grand Seiko SLGA007 is an excellent testament to the brand's expertise in creating majestic timepieces that evoke the grand image of nature. With only 2,021 pieces available, an exquisite watch like this comes only once in a lifetime. From its lustrous Zaratsu finishing and high-tech movement to its charming Lake Suwa dial, the Grand Seiko SLGA007 is a worthy investment that truly has a lot to offer. 
All images are courtesy of The Watch Company, unless otherwise stated.
Photo credits: Grand Seiko.
Want another timepiece with an interesting blue dial? Take a look at our article on the IWC Le Petit Prince!