Watch Guide
A Beginner's Guide To The History Of Military Watches
Jun 28, 2019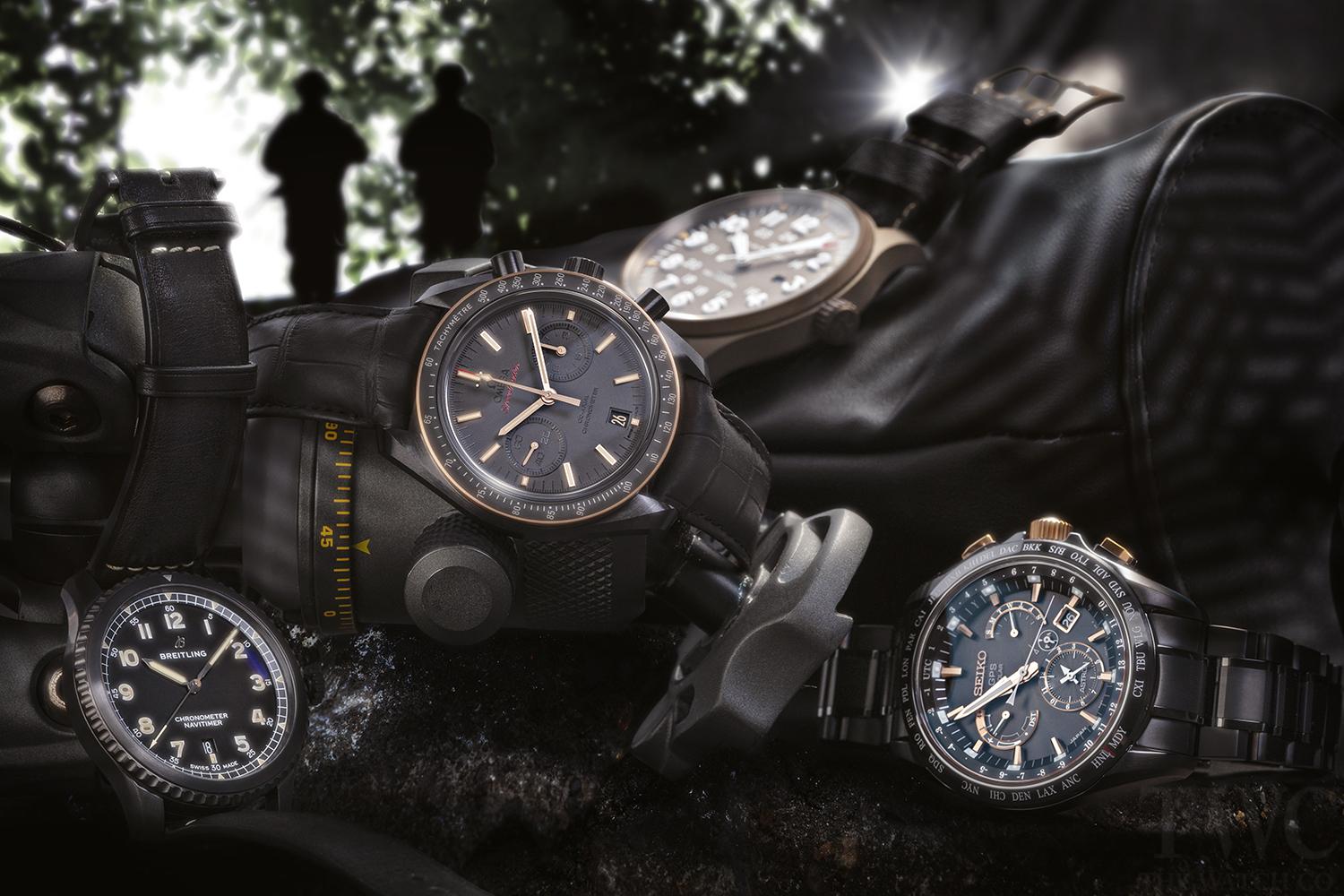 A military watch is a subject of interest for many watch collectors. It has a long and important history throughout the great world wars. But before this timepiece became a useful tool in a soldier's wrist, let's first dive into the short history of watches.
A Brief History
During the 15th century, watches were purely for show. Rumor has it, Peter Heinlein, a clockmaker from Nuremberg, made the first watch in history. People used to wear them as pendants. Those watches used to run on a spring-based system to pull the hands around the dial to tell the right time.
Then, in the 17th century, men began to wear them in their pockets. But they weren't used to tell time because these old pocketwatches were inaccurate in telling the time. As time passed by, watchmakers continued to make efforts in perfecting the mechanisms of a watch.
By the end of the nineteenth century, soldiers started strapping their pocket watches on their wrists for convenience. As the story goes, a German naval officer couldn't check the time from his pocket watch because both his hands were busy operating a machine gun. To remedy this, the officer strapped a pocket watch to his wrist using a leather webbed cap to support it. Thus, the first "wristwatch" was born.
After pocket watches, wristwatches became popular. Leather straps proved to be comfortable in any kind of situation. Throughout the first world war, companies like Rolex, Doxa, and Gruen made efforts to manufacture their own version of a military watch. When World War II rolled in, military watches had better features such as luminous digits and easy-to-read dials.

Surprisingly, there was a massive market for military watches during the post-war era. In fact, it became known as an accessory for rich young men. Thus, a military watch became popular amongst the masses. Military watches were so versatile in style and design. Even to this day, companies like Bell & Ross continue to produce their own military watch.
The Watch That Won The War
When discussing the history of MIL-SPEC-certified military watches, the Type A-11 is always mentioned. It had a distinctive appearance with white hands and an Arabic numeral file, dark dial, and chromium-plated brass case. It also included a unique feature — the seconds hand can be halted for a specific time setting. With this, soldiers could synchronise their watches with one another directly down to the seconds which was helpful in military tasks.
The Bulova A11
Bulova was a leading brand of military watches. And when it released the Bulova A11, the watch market was astounded with its features. It is interesting to note that the A11 is not any brand name. Rather, it is the production standard with which the military preferred its military watches. 
Originally, the A11 was exclusively issued to the aerial corps but then after knowing its uses, the infantry and ground corps followed suit. It then became a common sight to see soldiers with a military watch. In fact, one in every four military men had a military watch strapped around their wrist. Not only did it help them with synchronisation during an active battle but military watches also kept them punctual.
In the beginning, the A11 had a white dial with coined edges and flat bezels which were so compatible with fashion at that time, and had 15 jewel hacks. It was later updated with a black dial, white numbers, and white hands which were so easy to look at even during the darkest nights. Indeed, the military watch was accurately given the honour as the watch that won the war.
Military Watch History: Japan
A Spanish missionary by the name of Francisco de Xavier brought the first European timepiece to Japan. He brought it to the country as a gift to the feudal lord, Yoshitaka Ouchi of Suo. As Christianity spread across the country, the Spaniards opened vocational schools that taught the Japanese how to make clocks, organs, and astronomical equipment.
After this training, Japan started producing decorative and luxury clocks. The amazing thing is that Japanese clocks didn't work upon the hourly system but followed traditional Japanese time. This meant that their clocks ran a certain system where day and night were divided into six periods with varying lengths according to the season.
In 1872, the Meiji cabinet adopted a solar calendar in place of the lunar calendar. So, the old Japanese system ended, and they updated their standards to the hourly rate. In 1875, the modern industry began manufacturing wall clocks. As per records, a person named Tokuzaburo Ohno made the movement and case of pocket watches by hand in 1879. Wristwatch production only started in the 1920s.
Military Watch History: Germany
In 1879, the German emperor, Kaiser Wilhelm, signed a deal with Swiss watchmaker Girard-Perregaux. He was tasked to provide 2000 wristwatches for Wilhelm's naval officers. This deal was settled in two installments of 1000 wristwatches.
It was the first significant commercial deal, but military watches failed to get much attention during World War I. Why? Because of its limited market. But during World War II, the watches were used by the German military and issued in large numbers for the country's soldiers. Moreover, the German military watch played a big role in the history of aviation watches.
Though the watch industry had already been established by then, it only gained fame in the market during the Second World War. Watchmakers produced timepieces that soldiers could rely on. All versions of the German military watch featured nickel-plated brass cases, black dials with white Arabic numerals, 30-minute and running second counters, central flyback chronograph seconds hands, and either knurled rotating or smooth fixed bezels.
The German government had a different strategy when it came to its military watches. They never made a deal with the client directly but hired a contractor. This person was tasked to meet suppliers, describing the criteria and ensuring that the supplier fulfilled their requirements. These watches were no more than 31 to 34 millimeters and were mostly black and white colors.
Post-War Era
The German watches had a distinctive mark at the back of each military watch — the letters DH which stood for Deutsches Heer (German Army). The watches were specifically provided to the air force and the navy as well as the allied forces later on.
In 1935, the Ministry of Aviation designed new watch specifications which included an hour angle indication exactly like the famous Lindbergh watch. German Army watches used to be designed with two types of dials. The first one was designed in 1939 and featured Arabic numbers from 1 to 11. Instead of the number 12, a triangle was set in its place flanked by two dots. It also featured an outer minutes track with hash marks for each individual minute and longer, thicker marks at 5-minute intervals.
On the other hand, the second type was designed in 1941. It featured Arabic numerals beginning at 5 and continuing in 5-minute intervals through 55 with a triangle in place of 60. Aside from that, this type had an outer minute track with hash marks for each individual minute plus the thicker hash marks at 5-minute intervals, and an inner ring with Roman numerals 1 through 12.
Unfortunately, German military watches from WWII are extremely rare today as opposed to military watches from the U.S and the U.K. This was probably due to a European movement that required Nazi memorabilia to be destroyed.
Military Watch History: Switzerland
In 1884, Karl Elsener invented what is now known as the Swiss Army knife. Throughout his lifetime, he sought to improve not only this iconic tool but also the Swiss military watch. Victorinox, the company that produced such equipment, entered the US watch market in 1989 using the brand name, Swiss Army.

Victorinox featured a variety of watches that suited almost any occasion. Need something to complete your evening suit? They have just the piece for you! Want a watch that is durable enough to withstand a day of hiking in rough terrain? Don't worry! They've got you covered. 
Quartz and Automatic Mechanical Movements 
Since Victorinox is known for its Swiss knives, the company was a tad late in the production of watches. Despite this, they are still a beloved watch brand for the quality watches that they have produced over the years. Swiss Army has even released a collection of ladies' watches with the best ornamental diamonds in the dials, giving their pieces a flair of luxury.
Moreover, Swiss Army watches feature quartz and automatic mechanical movements. The watch uses an electronic system that is regulated by a quartz crystal. The automatic movements ensure time precision. Paired with the smooth movement of the timepiece's hands, any Swiss Army watch is worth the investment.
Characteristics of A Military Watch
A military watch shares a significant history with wars. And since the production of the first military watch, watchmakers have constantly sought to improve and innovate this particular timepiece. In general, military watches had numerous features. Some of its characteristics are:
Durability
Because of the terrible conditions that soldiers underwent during the wars, watchmakers had to make sure that a military watch could withstand the harshest of environmental conditions, impact, or corrosion. Aside from that, it was usually water-resistant and had a case made of nickel-coated base metals or sterling silver for durability (this was before watchmakers started using stainless steel). 
Reliability
To be successful in a military operation, there should be synchonisation and coordination among troops. For this reason alone, military watches had to be precise at all times.
Luminosity
Some watch manufacturers used a combination of radium and luminescent paint to help with luminosity. While that may be a cause for worry to some, it didn't endanger the lives of soldiers. A watch with radium dials only poses a threat when you disassemble the watch and tinker with its dials. But that feature certainly did the job. Some watches had luminescent digits which increased the watch's readability during the night or low-light situations. These days, manufacturers have developed safer methods in this regard.
Easy To Use
Because of the nature of a soldier's job, they should always be alert and fast to act. Thus, a military watch must not have any useless elements or clutter that obstruct or hinder its functionality. Moreover, it shouldn't be bulky at all, considering how heavy military gears are.
Military Watches and The Brands Behind Them
Back when this type of watch started gaining ground among the military, Bulova, Hamilton, Elgin, and Waltham developed watches that specially catered to the needs of the soldiers. Over the years, many others joined the bandwagon and produced their own version of a military watch.
Hamilton

Hamilton Khaki Field H70535081
During World War I, Hamilton was responsible for supplying railroad watches to the US military to time troop movements. As the brand continued to develop its military watches in terms of precision, Hamilton eventually became the supplier of the US military. In fact, in a span of three years (from 1942 to 1945), Hamilton was able to manufacture over one million watches for the military!
These days, the brand continues to manufacture military watches, recreating some of their classic timepieces to pay homage to the first military watches they made. One of the more popular and comfortable pieces is from the Hamilton Khaki Field collection.
The Hamilton Khaki Field H70535081 is a reliable tool for adventure seekers. Powered by an H-30 calibre, this stainless steel watch is one you can rely on perfectly while outside. Aside from its anti-reflective coating, it is also waterproof for up to 100 metres and has an 80-hour power reserve. 
Luminox
The Navy SEALs have preferred Luminox watches for over 25 years. In fact, the company's Original Luminox Navy SEAL put the company on the radar. Luminox watches are mostly known for their amazing visibility feature. Whilst they can't deal with the harshest climate conditions, their watches contain Luminox Light Technology (LLT). In fact, the tritium tubes inside the watch provide its signature illumination. 
Marathon
As indicated by Marathon, its Navigator was first created in 1986.  The Kelley Air Force Base requested a watch that could be used by pilots and paratroopers. In fact, even the Canadian Navy Rescue asked Marathon to produce a watch for them. But looking at the Marathon Military Navigator Pilots Quartz, the company certainly outdid itself.
It includes a fiber shell case, quartz development, tritium brightening tubes, and acrylic precious stone. This watch is lightweight, precise, and hard-wearing. These qualities have made this watch a favorite among the military for as long as thirty years. 
Swiss Military
Three distinctive sub-brands, Wenger, Hanowa, and CX Swiss Military Watch, produce and deliver Swiss military watches. This assortment of brands offers to watch enthusiasts an array of style options and features. A Swiss military watch takes into consideration the needs of the Swiss military-like precision, durability, and readability.
Iconic Timepiece from Swiss Military:
Swiss Military Flagship Chrono Men's Quartz Watch 
Breitling

The Breitling Navitimer is the most famous model amongst the pilot watches available in the market. In fact, pilots continue to enjoy the features of the Navitimer to this day. Even the Air Forces from around the world have recognized the importance of the Navitimer for their pilots due to the watch's impressive features.
The Breitling Men's AB012012-BB01 Navitimer Chronograph Stainless Steel Watch is one of the best from this brand. Whilst it's not exactly suitable for diving, the watch features a 43 mm stainless steel case with an anti-reflective sapphire dial window and an automatic self-winding movement.
Omega
As reported, Omega supplied military watches to the British Armed Forces. They used to design a water-resistant military watch that featured magnetic field protection.
During World War II, Omega delivered more than 110,000 watches to Britain's Ministry of Defence to support its Air Force and Navy pilots during their service. 
The Royal Navy made the Omega Seamaster 300m part of their uniform. It was especially useful to their divers given its 200-metre water resistance. Over the years, Omega introduced newer and better features, eventually making the Seamaster one of the best diving watches in the market.
Read more about the introduction of Omega Seamaster 300m
Bell & Ross

Many of Bell & Ross's present collections pay tribute to the timepieces used by the military in the past. This includes World War I pocket watches, World War II flight instruments with special functions, and the 1960s instrument panels. The company's timepieces have elements of the old in terms of design. However, they have been updated using the latest features for the needs of professionals today. Astronauts, divers, and pilots from all over the world seek Bell & Ross military watches not only because of the variety of styles but also their state-of-the-art features.
Iconic Timepieces From Bell&Ross:
Bell & Ross Ww1 Vintage WW1-Chronographe-Monopoussoir-Heritage
Mont Blanc

A Mont Blanc watch is known as one of the best military watches in history. At the start of the 20th century, an organization settled in Hamburg which, at first, made its imprint with wellspring pens. Today, Mont Blanc has its headquarters in Elbe where they manufacture luxury timepieces. This company trusts the skills of Swiss watchmakers in Villeret and Le Locle, where they produce a variety of collections like the Star, Timewalker, Sports, and Bohème.
The 1858 collection from Mont Blanc is distinctive with its vintage Minerva military-style mono-pusher chronograph with bronze bezel, telemeter scale, and radium-covered luminescent numerals. Mont Blanc drew inspiration from Minerva's watches from the 1920s and 1930s which were produced for military use and exploration. Their 1858 collection pays tribute and reinterprets the iconic Minerva watches.
Iconic Timepiece from Mont Blanc:
Mont Blanc Star Date Automatic Silver Dial Black Leather Men's Watch 107114 
Laco
During the war, Laco manufactured movements and watches. There was a particularly strong demand for pilot watches. Laco took advantage of this and produced timepieces that impressed the military. Their military watches eventually made it to the list of best watches for military use. 
Iconic Timepiece From Laco:
Laco Augsburg Type A Dial German Automatic Pilot Watch 861688 
Seikosha
Under the guidance of a US firm, Osako Tokei started making pocket watches by the hundreds featuring lever escapements in 1894. By then, over 20 Japanese factories were producing wall clocks, table clocks, alarm clocks, and pocket watches. The Japanese watch industry was dormant during World War II, but one company prevailed — Seikosha. This renowned brand was the only company capable of producing large quantities of watches.

Originally named Seikosha Tensoku/ Seikosha Kamikaze, this 48mm watch was of immense help to the naval pilots of the Japanese Imperial Army. A rare piece, the Tensoku had two versions. The first one was a hand-wound 19 Ligne movement piece with 15 jewels. On the other hand, the second version featured the same movements but had only 9 jewels.
Seiko
Seiko is one of the world's leading luxury watch brands. Some even go far as to say that its timepieces are as excellent as Rolex. Seiko has proven time and again that it is a force to be reckoned with. In fact, Seiko made history as the first company to produce the world's first quartz watch. Revealed on December 25, 1969, the Seiko Astron inspired other watch companies to start developing their own quartz watches.
Seiko didn't stop there though. In 1989, the company released what is now known as the Seiko Kinetic. It was the first watch of its kind to transform the movement of its wearer into energy to power the watch.
Seiko also has their own version of a military watch. Whilst it may not share the same prestige as other military watches, Seiko has produced pieces that are of high quality and feature the most basic functionality. These include scratch resistance, an anti-reflective coating, and a 300-metre water-resistance function. You'll be getting your money's worth for a wristwatch from Seiko's military watch line.
Iconic Timepieces from Seiko:
Some of the best Seiko watches are:
Seiko Black 21-Jewel Automatic Dive Watch (#SKX173)
Seiko 5 Military Automatic Nylon Men's Watch (#SNK805K2)
Casio

Founded in 1946, Casio wasn't initially famous for its wristwatches. In fact, before G-Shock's introduction to the market, Casio mostly produced calculators, electronic musical instruments, and digital cameras. But in 1981, Casio came up with G-Shock to satisfy the demand for durable watches. It truly lives up to its name as all of the pieces from this brand are shock-resistant, making it perfect for military use, outdoor, and sports activities.
Iconic Timepiece From Casio:
Casio Men's GW-9400-1CR Solar Watch
Conclusion
Military watches have a long and rich history. They have aided brave soldiers who fought the wars throughout the years, aiding in military missions and precise troop movements. Various companies continue to improve and innovate the features of a military watch. These watches will continue to help the soldiers, pilots, and Navy divers of today and will continue to do so in the years to come.