New & Feature
A Collector's Guide to the Credor Eichi II
Oct 27, 2022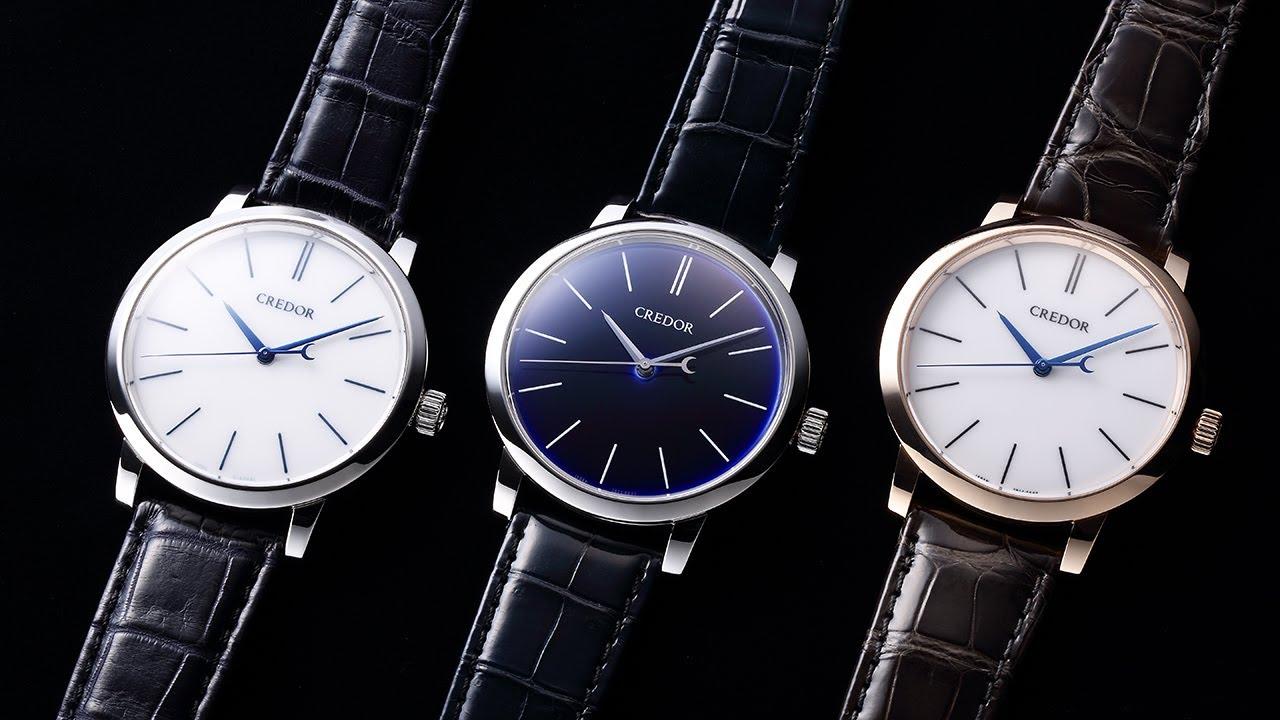 Japanese watch brands are some of the most acclaimed manufacturers in the world, with names like Casio and Seiko leading in watch research and innovation. That said, one underrated Japanese watch brand that you might not have heard of yet is Credor. Officially established in 1874, Credor is a luxury line under Seiko. Much like Grand Seiko, Credor has a catalogue of grandiose dress watches that showcase exquisite Japanese craftsmanship. 
Of all the watches in Credor's catalogue, the Credor Eichi II collection sets itself apart with its sophisticated designs and top-of-the-line features. Driven by the powerful Seiko Spring Drive movement, the Credor Eichi II consists of high-calibre masterpieces meant to appeal to the masses. 
So, without further ado, let us delve deep into the impressive features of the Credor Eichi II, all it has to offer, and some of the best models in this series. 
All About the Credor Eichi II 

The Credor Eichi II was officially released in 2014. It was launched in honour of Credor's 40th anniversary. The brand's elite artisans designed each Credor Eichi II watch with incredible detail, making and assembling each piece by hand. Also, these renowned watchmakers are famous for being part of the Micro Artist Studio in Shiojiri which is proof of their skill and mastery of the craft.
Anatomy of the Credor Eichi II
Build
The Credor Eichi II is available in a 39mm case made from luxurious metals such as platinum and rose gold. Its standard watch dimensions allow it to fit quite nicely on wrists of virtually all sizes. In addition, completing the suave appearance of this watch is a handsome and supple alligator leather strap, which comes in different colours depending on the model you are looking at. Every Credor Eichi II strap also comes with a deployant clasp, which ensures that the watch stays securely fastened to your wrist. 
The dial of the Credor Eichi II boasts a charming minimalist layout, reminiscent of simple yet appealing German Bauhaus watch designs. Each Credor Eichi II dial consists of tempered hands, slender stick indices, and an exquisitely painted Credor logo under the 12 o'clock marker. 
Movement
As mentioned, the Credor Eichi II runs on a modified version of Seiko's robust Spring Drive movement, known for its excellent timekeeping accuracy. In particular, the Credor Eichi II is driven by a Spring Drive Calibre 7R14 which is held together by 41 jewels. This durable automatic movement delivers a 60-hour power supply and an unparalleled accuracy rate of +/-15 seconds per month. 
Price
The Credor Eichi II retails for around $40,000 USD to $54,000 USD, depending on the specific model you are looking at. This exorbitant price is largely attributed to its exclusive status, with only 20 models released each year. 
Three Best Credor Eichi II Models 
1. Credor Eichi II Ref. GBLT997 

First up, we have the Credor Eichi II Ref. GBLT997. Sought after for its timeless beauty, it is perfect for those who love sophisticated and alluring dress watches. 
This lovely Credor Eichi II watch comes in a 39mm case made from lavish platinum, which gives this watch a gorgeous, lustrous look. It is coupled with a high-quality blue crocodile leather strap, which rests comfortably on your wrist. On the right side of the case, you can find a thick screw-down crown with grooved edges, allowing wearers to grip and turn it more easily. This crown also guarantees a 30-metre water resistance rating.
The dial of this watch is made from rich blue porcelain, which goes extremely well with the watch strap. It is filled with slender stick indices and thin sword hands made of steel. These hands and indices stand out in sharp contrast against the darker blue dial, adding to the watch's striking style. 
Ticking inside is the Seiko Spring Drive Calibre 71R4. This is a manual-winding movement that delivers a 60-hour power supply and an outstanding accuracy rate of +/-15 seconds per month. In addition, the Spring Drive Calibre 71R4 is also highly durable, as it can withstand strong magnetic fields of up to 4,800 A/m, or bout 60 gausses. 
The Credor Eichi II Ref. GBLT997 sells at around $54,000 USD.
2. Credor Eichi II Ref. GBLT998 

Nex up, we have the Credor Eichi II Ref. GBLT998. This is a refined dress watch with a very modest yet charming appeal. It is perfect for those who prefer more elegant and classy styles. 
Released in 2018, this Credor Eichi II model is presented in a round case made of luxurious 18K rose gold, along with a suave crocodile leather strap in dark brown. Fitted on top of the streamlined case is a slightly domed bezel, also made of rose gold, which slightly softens the look of this timepiece. 
The porcelain dial of this watch comes in a clean white finish that goes wonderfully with the rose gold case. It is furnished with slim black stick indices and sharp, blued steel hands. The seconds hand, in particular, has a small blue crescent moon at its end. This might be a small detail, but it adds a very delicate and refined touch to this watch face. 
Driving this watch is the Seiko Spring Calibre 7R14. This movement delivers an impressive 60-hour power reserve when fully wound. In addition, it also offers a superb accuracy rate of +/-15 seconds per month and a modest 30-metre depth rating. 
You can purchase this high-end luxury watch for around $41,000 USD. 
3. Credor Eichi II Ref. GBLT999

The Credor Eichi II Ref. GBLT999 is the perfect choice for those who enjoy minimalist accessories. This watch has a more serious and commanding style that is perfect for the office. 
This watch uses a simple combination of a 39mm platinum case and a smooth black crocodile leather strap. Like the previous model, it has a soft, snow-white porcelain dial that matches well with its watch case. This dial is adorned with blued steel sword hands and slim stick indices. 
The Credor Eichi II Ref. GBLT999 runs on the Spring Drive Calibre 7R14. You can fully admire this powerful movement through the watch's exhibition-style caseback. It provides an exceptional precision rate of +/-15 seconds per month and can last for up to 60 hours when fully wound. 
Be prepared to shell out around $53,000 USD to get your hands on this watch. 
Final Thoughts 
The Credor Eichi II watches are definitely classic and sophisticated dress pieces equipped with lots of incredible features. This luxury dress watch stands out from its counterparts due to its immaculate details and its powerful Spring Drive movement. If you are looking for an elegant, refined dress watch to wear to formal occasions, you should certainly consider checking out the Credor Eichi II watches.
All images are courtesy of Credor's official website.
Featured image courtesy of (webChronosTV) on YouTube.
Searching for another sophisticated dress watch equipped with top-of-the-line features?  Spare some time to read our review of the Grand Seiko SBGH267.