New & Feature
Miyota 9015: A Closer Look at the Popular Japanese Movement
Aug 02, 2022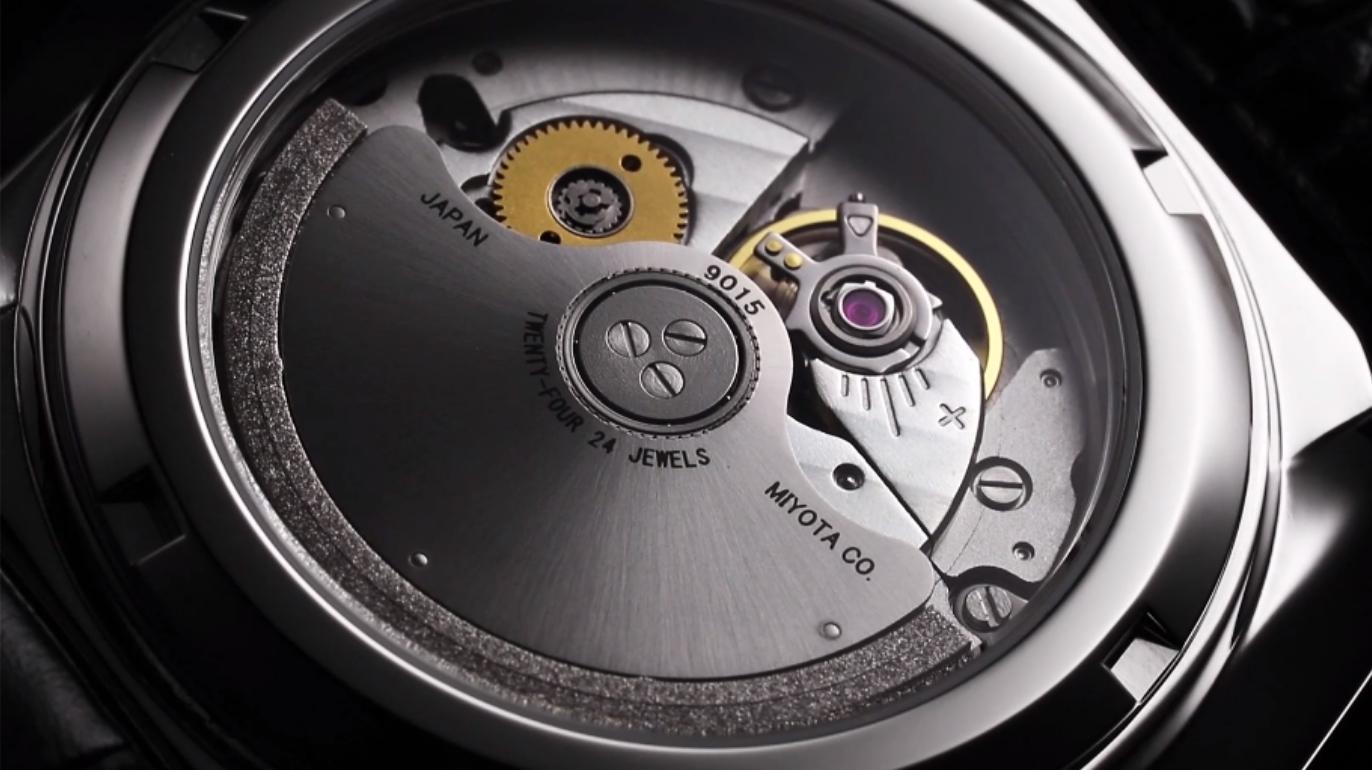 There is nothing more important in a watch than the movement, or calibre, that drives its mechanisms. After all, a watch without a movement is like a vehicle without an engine — it is essentially unusable. Indeed, a watch needs reliable movement and a set of gears in order to perform its functions. As the main powerhouse of the watch, it is important that a timepiece is equipped with a powerful movement that is both highly durable and capable of precise timekeeping. 
In this article, we will be taking a closer look at one of the most popular and dependable watch movements worldwide, the Miyota 9015 movement. Along with a brief look at the history of Miyota movements, we will be examining the specifications of the Miyota 9015 movement, everything it is capable of, and the five best watches that utilise the Miyota 9015 movement. 
Miyota Movements: A Brief History
The Birth of Miyota Movements 

In 1959, the iconic Japanese watch company, Citizen, launched its own watch movement manufacturer, Miyota. The name "Miyota" is actually a homage to the very town where it was founded. The Miyota headquarters itself is located in the town of Miyota, in the Nagano Prefecture of Japan. 
Despite being founded in 1959, Miyota actually only began to produce and distribute watch movements in 1980. A year after that, the first movement that Miyota ever created was released: the Miyota Calibre 2035. The launch of the Miyota Calibre 2035 in 1981 marked the emergence of legendary Miyota movements not only at that point in time but also in the years to come. 
As the first-ever Miyota watch movement, the Miyota Calibre 2035 is a quartz calibre that requires the use of a battery in order to function. The creation of the Miyota Calibre 2035 can actually be indirectly credited to Seiko and its pioneering invention of quartz movements in 1969. Thanks to their affordability and reliability, quartz calibres rapidly gained prominence in the watch industry and many watchmakers had to create their own quartz watches or risk being pushed out of the business. Citizen, likewise, realised the opportunity that quartz movements offered. It quickly put Miyota to work, thus producing these calibres.  
Aside from creating movements for Citizen watches, Miyota movements were also sold to third-party watch companies across the globe. As a matter of fact, Miyota was included in the 1991 Guinness Book of World Records for selling a hefty total of 1.7 billion movements, for just the Calibre 2035 alone.  
Miyota Movement: Continuing Its Legacy Today 
In 2016, another Miyota factory was founded in Saku City, which is also located in the Nagano Prefecture in Japan. This allowed Miyota's production capacity to expand exponentially, leading to the creation of countless diverse Miyota movements. 
Over the years, Miyota has developed a veritable arsenal of watch movements that it categorises under different labels. These include standard, slim, small, multi-function, chronograph, small second chronograph, standard automatic, and premium automatic movements. Moreover, Miyota is also known for developing a number of mechanical movements. 
On the whole, you can say that Miyota is the complete package and certainly worth investing in. Indeed, this is the brand that many watch manufacturers choose for their own watches, proving their trust in the reliability of Miyota movements. Compared to other commonly-used watch movements like the Swiss ETA calibres – which include the ETA 2824-2 and ETA 2892 movements – Miyota is a lot cheaper and more affordable. This is one of the main reasons why it is a primary choice of watch brands worldwide. 
Currently, Miyota movements are used in a huge array of watch brands, such as Citizen, Casio, Timex, Bulova, and more. It is also frequently used by watch microbrands.
Now that we know a little more about the history of Miyota movements, let us take a look at one of the company's most famous calibres: the Miyota 9015. 
Miyota 9015: The Affordable Powerhouse

The Miyota 9015 movement was first released in 2009. It is an upgraded version of Miyota's 8215 calibre, which was initially introduced in 1977. Like other movements from Miyota, the Miyota 9015 is known for being extremely affordable. Compared to more expensive Swiss movements, the Miyota 9015 offers an economical market price for third-party watch companies. As a result of its low-cost production, it is very widely used in different microbrand watches.
The Miyota 9015 is an automatic watch movement. This movement has a decent power reserve that can last for up to 42 hours when fully wound. Held together by 28 jewels, it also has a high beat frequency of 28,800 vibrations per hour (4Hz). Compared to the original Miyota 8215, which has a beat frequency of just 21,600 vibrations per hour (3Hz), the Miyota 9015 is a better and swifter calibre. This is especially demonstrated by the smooth ticking movement of the Miyota 9015's hands, especially the seconds hand. 

As an added bonus, the Miyota 9015 also comes with a hacking feature, which allows you to set the time more accurately. The winding motion of the movement's unidirectional rotor allows you to set the correct time precisely, so you can synchronise the time up to the last minute or second. Furthermore, the Miyota 9015 has an accuracy of -10 to +30 seconds per day, giving you a modest range for precise timekeeping.
In addition, as mentioned, the price of the Miyota 9015 is quite reasonable, going as low as $100 USD. As such, even if your watch movement gets damaged, you will have little problem getting an affordable replacement. Indeed, while the Miyota 9015 may not be as exorbitant as Swiss movements like the Tissot Powermatic 80 or famous Rolex movements like the Rolex Calibre 3255, it is still a great choice for thrifty and practical watch owners. 
Now that we know more about what the Miyota 9015 can do, let us take a look at some of the best watches that are powered by this calibre. Take note that some of these timepieces are from watch microbrands, so they might be lesser known to some of you. Nevertheless, every watch listed is an excellent timepiece that is worth investing in. 
5 Watches Powered by the Miyota 9015 Movement
1. Ticino Sea Viper

To start off this list, we have the Ticino Sea Viper. This watch pays homage to one of the most recognisable dive watches ever made, the Rolex Submariner Ref. 6538. For avid watch enthusiasts, this Rolex watch might be better known as the "Big Crown". This resemblance to the Rolex Big Crown can be seen in the Sea Viper's distinctive Mercedes hands and overall dial layout. 
This watch is housed in a 40mm stainless steel case, coupled with a three-link bracelet made from the same material. Affixed to the top of the case is a stainless steel bezel, with a black insert for the elapsed time scale. Shying away from the standard 60 and 120-click bezel types, this bezel rotates with an unusual 80-click motion. It has coin-patterned edges, providing wearers with an easier grip with which to turn the bezel. A domed sapphire crystal is also used to protect the watch face from any scratches or accidental impacts. 
The dial shows off a sleek black finish, complementing the watch's bezel. It is furnished with rectangular hour indices, Mercedes hands, and Arabic numeral markers in a neat typeface. At 12 o'clock, you can also find a single triangle index, matching the vibrant red triangle index that is also printed at the top of the bezel. 
As a dive watch, the Ticino Sea Viper has a solid depth rating of 200 metres. It retails at just $230 USD. 
2. Tisell 9015-A Antique

Looking for a watch to use at a formal or special event? The Tisell 9015-A Antique is a wonderful choice. This dress watch has a lovely, minimalistic style that is extremely evocative of the vintage German Bauhaus watches. 
The Tisell 9015-A Antique is encased in a 40mm stainless steel case, a perfect standard case diameter that goes well with wrists of all sizes. Affixed to the top of the watch case is a domed sapphire crystal, which keeps the dial safe from scratches and bumps. An elegant brown alligator leather strap is used to finish off the Tisell 9015-A Antique's classy style. 
The dial of this watch shows off a lovely sunray silver finish that catches the light brilliantly. This dial is also designed with an incredibly simple layout that favours minimalism. It comprises just slender stick hour indices, sweeping stick hands, and a circular date aperture outlined in silver at 6 o'clock. 
The Tisell 9015-A Antique has a water resistance capacity of 50 metres, which is quite standard for dive watches. Through the watch's screw-down, transparent caseback, you can admire its Miyota 9015 movement. 
This Tisell watch can be yours for just $200 USD. 
3. Raven Vintage 40mm 

A look-alike of the previous watch, the Raven Vintage 40mm is packed in a — as its name already suggests — 40mm stainless steel case and exhibits a robust demeanour. Also inspired by the ever-famous Rolex Submariner "Big Crown" Ref. 6538, the watch shows off a similar design as it. For instance, just like that Rolex Submariner watch, this Raven Vintage timepiece also uses a layer of domed acrylic crystal to safeguard its dial.
Thanks to the usage of Super-Luminova, the lume-coated printed geometric indices and gold-toned Mercedes hands all glow brightly in low-visibility conditions. Against the black theme of the dial, a date aperture at 3 o'clock blends nicely. The coin-edged bezel has a unidirectional rotation and has 120 clicks, a standard number of clicks for most dive watches. The hefty screw-down crown at the right side of the case presents a better grip when performing its functions.
Seeing as how these two featured timepieces are inspired by the costly Rolex Submariner 6538, they actually pose as a cheaper alternative for it. For those who can't afford the luxury watch, these two are valid options. Albeit slightly more expensive than the Ticino Sea Viper, the Raven Vintage 40mm comes at $480 USD.
4. Sternglas Zirkel

Hailing from a German brand that has a huge roster of Bauhaus-inspired timepieces, Sternglas presents various options for minimalist watches. For one, the Sternglass Zirkel is a handsome minimalist dress watch that has a very classic vibe. 
This watch sports a 40mm stainless steel case linked with a brown leather strap. Its clean white dial is decorated with black Arabic numeral hour markers, slim pencil hands, and a tiny date aperture at 3 o'clock. Equipped on top of the dial is a domed anti-reflective sapphire crystal glass. When you flip the watch over, you will find a see-through caseback with a layer of sapphire crystal insert. You can admire the watch's Miyota 9015 movement through it. 
This minimalist Sternglas timepiece can be purchased at approximately $300 USD.
5. Cadisen Diamond C8097

Finally, we have another elegant dress watch from the microbrand Cadisen. The Cadisen Diamond C8097 is housed in a 40mm stainless steel case and displays a minimalist vibe. 
This timepiece only measures 11mm thin, which is why it wears small and light on the wrist. Arranged on the plain white dial are applique silver-tone indices, hands, and a blue seconds hand. Already given by its name, an alluring diamond sits at the 12 o'clock position. A date display is also located at 3 o'clock. Fixed on top of the watch case is a curved sapphire crystal glass. In addition, the watch comes with a classic black leather strap, giving it a very elegant look. 
For a dress watch that exudes a luxurious presence, the Cadisen Diamond C8097 can be bought for around $130 USD.
Final Thoughts
For wearers and watch enthusiasts globally who are on a tight budget but want a decent and practical timepiece, watches that are driven by the Miyota 9015 movement are an excellent choice. Without a doubt, the Miyota 9015 movement plays an integral role in the reason for their affordability. No matter how expensive or inexpensive a watch may be, as long as it provides the correct time for wearers, the most significant purpose of having a watch itself is already accomplished. 
Photo credits: Miyota Movement, watchuseek, Tisell Watch, Raven Watches, Sternglass, and Cadisen Watch.
Looking for an extremely affordable dive watch? Check out the Timex M79!