New & Feature
Royal Oak Offshore Diver: The Coolest Watch for Diver Enthusiasts
Oct 06, 2022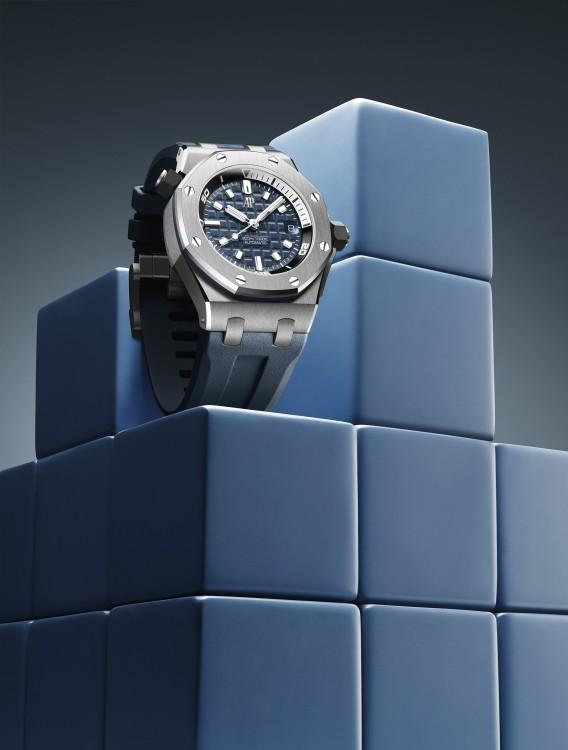 One of the most prestigious watch companies in the market is easily the Audemars Piguet. This brand, along with Vacheron Constantin and Patek Philippe, has established an incredibly stable foundation in the luxury market, with watch fans coining them the "Holy Trinity of Watchmaking". Of course, not everyone has the privilege of being able to own a watch from one of these brands, but that does not change the fact that these timepieces would make for great investments. Having at least one luxury watch from any of the Holy Trinity brands would definitely elevate your style while also giving you an undeniable sense of confidence when you wear it. 
One perfect example of a watch that does exactly that is the Audemars Piguet Royal Oak Offshore Diver. Sure, its name might be a bit of a mouthful, but this dive watch is certainly not to be underestimated. The Royal Oak Offshore Diver incorporates the brand's famous octagonal design, which was popularised by the brand's flagship Royal Oak collection. This gives the Royal Oak Offshore Diver a fresher, more unique look compared to the more common round cases used by most dive watches, making this watch a true gem. 
Read on to find out more about the particular wonders that the Royal Oak Offshore Diver delivers.
A Brief History of the Royal Oak Offshore Diver
Hailing from the Audemars Piguet Royal Oak sports watch collection, the Royal Oak Offshore Diver was first introduced in 2010. It quickly rose to fame, not just because of its reputable Audemars Piguet name, but also because it offered something very different as the first dive watch to be launched from the Royal Oak lineup. With its distinctive octagonal shape and high-quality materials, the Royal Oak Offshore Diver was a reliable and immediately recognisable timepiece that quickly cemented itself in the minds of watch enthusiasts.
Royal Oak Offshore Diver Specifications 
Case, Caseback, Bezel, and Crown

The Royal Oak Offshore Diver Ref. 15710ST.OO.A002CA.01 comes in a 42mm stainless steel case that is extremely resistant to scratches and impacts. This is a fairly standard size for watch cases, which enables the Royal Oak Offshore Diver to fit wrists of virtually any size. This case is also embellished with a lovely, brushed finish, giving it an extremely sleek and rugged look. 
Flipping the Royal Oak Offshore Diver over, you will find a see-through caseback made of sapphire crystal. Aside from protecting the watch's insides from any bumps or hits, this transparent caseback also gives you a clear view of the movement and how it works. This caseback is also tightly screwed down. This keeps the watch's inner mechanisms sealed shut and safe from any external elements like moisture or dust. Thanks to its screw-down caseback and crown, the Royal Oak Offshore Diver has a remarkable water resistance rating of 300 metres, which is three times that of the ISO 6425 standard for dive watches.
Affixed to the top of the Royal Oak Offshore Diver's case is a distinctive octagonal bezel that sets it apart from most other luxury watches on the market. This fixed octagonal bezel, which is secured by eight visible hexagonal screws, is a signature of the Royal Oak series invented by Gerald Genta. Like the rest of the case, this large bezel is enhanced with a well-brushed finish.
Finally, the Royal Oak Offshore Diver comes with two screwed-down crowns that each have distinct functions. These two chunky crowns are located at 3 and 10 o'clock respectively. Each crown is made of polished stainless steel, with the words "AP" engraved on the top. Both crowns are also surrounded by thick layers of black rubber, which keeps the crowns safe from any bumps or scratches. The crown at 10 o'clock is used to turn the inner bezel, while the crown at 3 o'clock can be used to wind and set the time for the Royal Oak Offshore Diver.
Dial
The dial has always been a highlight for the Audemars Piguet Royal Oak and the same is true of the Royal Oak Offshore Diver. As with most Royal Oak watches, the black dial of this watch shows off a handsome Grande Tapisserie finish. This waffle pattern exudes a simple elegance that is incredibly appealing to look at. The dial is also adorned with long applique baton indices, thick sword hands, and a circular date aperture at 3 o'clock, which can be controlled using the crown next to it.
As a dive watch, one handy feature the Royal Oak Offshore Diver comes with that most Royal Oak watches do not is an inner elapsed time scale bezel. Located on the rim of the dial, this inner bezel comes in matte black, with indicators in a bold white typeface for the elapsed time scale. The hands, indices, and inner bezel of the Royal Oak Offshore Diver are all generously coated with Super-LumiNova, ensuring optimal legibility even in poor lighting conditions.
Movement

One of the great things about Audemars Piguet is that all of its watch movements are created entirely in-house, so you can rest assured that Audemars Piguet calibres are all of top-notch quality. The Royal Oak Offshore Diver, in particular, is driven by the Audemars Piguet Calibre 3120. This is an exquisite automatic movement that is crafted from a single block of 22-carat gold with diamond engravings. Indeed, it is an extravagant calibre that wearers love to admire through the watch's transparent caseback. Moreover, this movement can also last for over 60 hours when fully wound.
Watch Strap
The Royal Oak Offshore Diver is coupled with a robust rubber strap, which is an excellent choice considering its dive watch status. This is because rubber is completely waterproof, so you will not suffer any discomfort using the Royal Oak Offshore Diver with a rubber bracelet. Audemars Piguet also offers wearers a choice between various different strap colours, including green, blue, and black, so you can pick according to your preferences.
Price
 The Audemars Piguet Royal Oak Offshore Diver Ref. 15710ST.OO.A002CA.01 is offered at a price of $22,400 USD. Considering the high-quality materials used and the sheer prestige of the Royal Oak name, most would agree that the Royal Oak Offshore Diver is well worth this price. 
Alternatives to the Royal Oak Offshore Diver 
1. Rolex Submariner Ref. 116610 LN

The Rolex Submariner Ref. 116610 LN is one of the best waterproof watches ever released on the market. It is widely considered the ideal dive watch, with many watch fanatics arguing that no luxury brand has yet to match it. Following the blueprint of its predecessor, the Rolex Oyster Perpetual, the Rolex Submariner showcases the perfect blend of class, elegance, and utility. 
This Rolex Submariner watch is presented in a 40mm polished Oystersteel case, with a bracelet made of the same material. Fitted on top of the case is an Oystersteel bezel with a black, scratch-resistant Cerachrom insert, which bears indicators in silver for an elapsed time scale. Wearers can use this unidirectional rotating bezel to correctly monitor the duration of the dive as well as when decompression ends.
Complementing the bezel is a matching, jet-black dial. This dial follows the classic Submariner layout which has been popularised throughout the industry. It is furnished with distinctive Mercedes hands, hour markers in various geometric shapes, and a magnified date aperture at 3 o'clock.
This watch also runs on a Rolex Calibre 3135. Held together by 31 jewels, this automatic movement has an excellent power reserve of 50 hours. Moreover, the watch is also able to withstand water pressures of up to 300 metres. This matches the depth rating of the Royal Oak Offshore Diver and makes this watch ideal for all sorts of watersports, including high-impact diving and deep-sea scuba diving.
The Rolex Submariner Ref. 116610 LN sells at around $15,349 USD, which is a slightly less exorbitant price than that of the Royal Oak Offshore Diver.  
2. Maurice Lacroix Aikon Ref. AI6008-SS002-330-1

For a watch that looks more similar to the Royal Oak Offshore Diver but is offered at a more affordable price, the Maurice Lacroix Aikon Ref AI6008-SS002-330-1 is a great option. It utilises a 42mm stainless steel case and bracelet, with a circular fixed bezel fitted on top of the case. Although this bezel is round in shape, the watch cleverly mimics the Royal Oak watches by placing six stainless steel inserts on top of the bezel, creating a sort of optical illusion which makes the bezel look hexagonal at first glance. 
Like the Royal Oak Offshore Diver, this Maurice Lacroix watch also boasts a black dial with a handsome Clous de Paris design. This dial follows a very simple, almost minimalistic layout, comprising slender applique hour indices, sweeping sword hands, and a date complication outlined in silver at 3 o'clock.
Finally, this Maurice Lacroix Aikon watch runs on an ML115 Calibre. This automatic movement beats at a frequency of 28,800 vibrations per hour (4Hz) and has a power supply of 38 hours.
The Maurice Lacroix Aikon Ref. AI6008-SS002-330-1 retails at a price of $1,200 USD. It is a solid, accessible alternative to the Royal Oak Offshore Diver that offers the same refined vibe. 
3. Casio G-Shock "CasiOak" Ref. GA2100-1A1 

If you want a more rugged alternative to the Royal Oak Offshore Diver, you should definitely check out the Casio G-Shock Ref. GA2100-1A1. This watch is popularly known as the "CasiOak" thanks to its octagonal bezel, which gives it a distinct resemblance to the Royal Oak timepieces. Although it does not have the same razzle and dazzle as the Royal Oak, this G-Shock timepiece caters to more outdoorsy, sportier audiences with its practical and robust design.
This Casio watch uses a 45.4mm black carbon case with a thickness of 11.8mm. It has a straightforward analogue-digital display which will fulfil all your timekeeping requirements. Like most Casio G-Shock watches, this CasiOak piece is packed to the brim with complications. This includes a world time function, 31 different time zones, a full auto-calendar which gives all the way up to 2099, an alarm, and a stopwatch. All of these features can be accessed by pushing the relevant buttons on both sides of the watch case. These push-buttons are also carefully labelled, so you do not have to worry about getting confused.
In addition, the CasiOak is also equipped with the brand's innovative Tough Solar and Multiband 6 technology. This enables the watch to be charged using solar power and provides it with more precise, radio-wave controlled timekeeping. It also comes with double LED lights, which allow you to illuminate the watch face at any time, allowing for optimal legibility. All in all, the CasiOak is an incredibly reliable watch which is ready for just about any situation.
The CasiOak is priced at just $99 USD, making it a truly affordable alternative to the Royal Oak Offshore Diver that is worth every penny.
Final Thoughts
The Royal Oak may not be the most accessible watch out there, but it is definitely a great choice for an investment watch. Elegant, distinguished, and carrying the prestigious Royal Oak brand name, there is no denying that the handsome Royal Oak Offshore Diver will surely bring out the best in you as you wear it. 
All images courtesy of The Watch Company, unless stated otherwise.Featured image courtesy of Audemars Piguet.
If you want a more in-depth look at the CasiOak, take a look at our detailed review of it here.