New & Feature
20 Unique Men's Watches To Make You Feel Special
Jan 07, 2022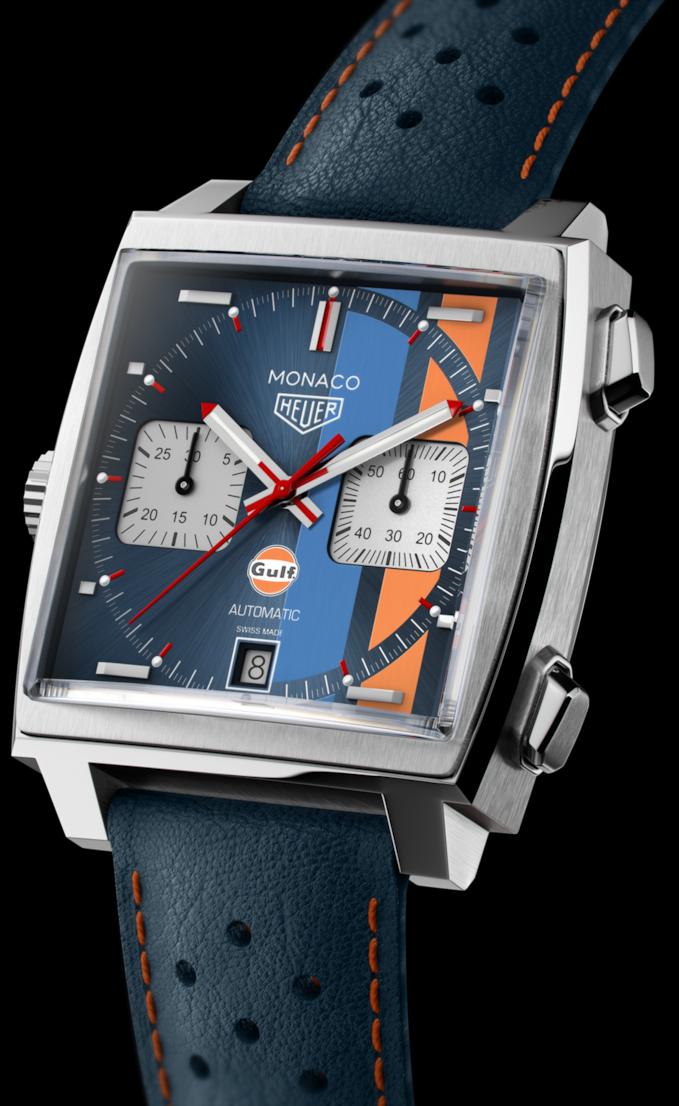 When a watch brand unveils a new timepiece with an exceptionally bold look, the reception to this new watch can be a hit or miss. Ever since the very first wristwatch was invented, there has not been significant change in the overall design build of a traditional watch. Very often, brands like to tell their consumers that their products will make them stand out from the crowd. However, when most wristwatches look generally the same, is that even possible? 
While it is true that watchmakers do not typically deviate from the standard concept of a watch, there are a number of watchmaking companies that challenge the industry by creating distinct timepieces with one-of-a-kind looks. Join us as we take a look at the 20 best unique men's watches that are guaranteed to make you feel special.
20 Unique Men's Wristwatches
1. Jaeger-LeCoultre Classic Large (Q3828420)

Among all of its watch collections, Jaeger-LeCoultre is especially renowned worldwide for its exclusive Reverso series. With its avant-garde design, which includes an innovative reversible rectangle case, the Jaeger-LeCoultre Reverso is a unique timepiece that any watch enthusiast can recognise. 
One model that truly epitomises this collection is the Jaeger-LeCoultre Reverso Classic Large. This watch comes in a rectangular 27.4mm stainless steel case that can be turned inwards and an embossed crocodile leather strap in black. Its silver dial features Arabic numeral markers and slim blued steel hands that add a splash of colour to this watch. This watch is powered by the automatic Jaeger-LeCoultre Calibre 965, which has a beat frequency of 28,800 vibrations per hour (4Hz) and a solid power reserve of 38 hours.
The Jaeger-LeCoultre Reverso Classic Large sells for around $7,430 USD. 
2. Hamilton Ventura Elvis 80 Auto (H24555331)

Originally launched in 1957, the Hamilton Ventura made history as the world's first electrical, battery-powered wristwatch. A modern version of the Hamilton Ventura that is especially appealing is the Hamilton Ventura Elvis 80 Auto. This stylish piece pays tribute to the legendary music icon and king of rock and roll, Elvis Presley. Paired with a black rubber strap, the Hamilton Ventura Elvis 80 Auto utilises an unusual, 42.5mm triangular stainless steel case topped with a layer of sapphire glass. 
This Ventura watch also has an exclusive black dial, adorned with hour indices of varying sizes, luminous silver hands, and a date window at 3 o'clock. Minute markers in red and white and vibrant red seconds hand help add a splash of colour to this otherwise monochrome watch face. Underneath the dial is a Hamilton H-10 automatic movement with a whopping 80-hour power supply.
The Hamilton Ventura Elvis 80 Auto is available at approximately $985 USD. 
3. Tag Heuer Monaco X Gulf (CAW211R.FC6401)

The Tag Heuer Monaco X Gulf is a square timepiece made in collaboration with the Gulf racing brand. Featuring one of Tag Heuer's signature sporty designs, the Monaco X Gulf has a four-sided stainless steel case measuring 39mm with a fixed steel bezel, two chronograph pushers, a crown unusually placed at the 9 o'clock position, and a water resistance capacity of 100m. Its colourful speedometer-style dial highlights the iconic blue and orange hues of Gulf racing livery and has distinct indices and red-lacquered central hands.
Operating the timepiece is an automatic Tag Heuer Calibre 11 with a beat frequency of 28,800 vibrations per hour (4Hz) and a 40-hour power reserve. To finish off this Tag Heuer Monaco's fun, casual look, the brand pairs it with a matching blue leather band with orange stitching.
You can purchase this Tag Heuer watch for an estimated price of $5,780 USD. 
4. Diesel Mr. Daddy 2.0 (DZ7314)

Not all unique men's watches need a different-looking case. Housed in a round 57mm stainless steel case, the Diesel Mr. Daddy 2.0 is a sizable timepiece that demands the attention of everybody. Its unique dial layout displays numerous sub-dials, which allows it to tell the time of four different time zones. Meanwhile, the main dial of this timepiece tells the regular time, as well as the chronograph hours, minutes, and seconds.
With regards to its structure, it should be noted that this Diesel watch is quite durable, but also pretty heavy. If you have a larger wrist or do not mind toting a watch with some heft to it, then the Diesel Mr. Daddy 2.0 is an excellent choice.
The Diesel Mr. Daddy 2.0 sells at an extremely affordable price of just $175 USD. 
5. Casio CA53W-1 Databank

Many of us know Casio for their indestructible G-Shock series. But when it comes to unique-looking pieces, there are not many Casio models that come close to the emblematic Marty McFly Calculator Watch, also known as the Casio CA53W-1 Databank.
This classic 42mm digital timepiece features an 8-digit calculator dial that wearers can use to compute basic math equations. Apart from its calculator function, this Casio piece also has a daily alarm, a 1/100 second stopwatch, an hourly time signal, and an automated calendar. In terms of its looks, this timepiece has a distinctly retro style that can fit with any casual wear.
Best of all, the Casio CA53W-1 Databank will only cost you around $25 USD. 
6. Hublot Spirit of Big Bang White Ceramic (601.HX.0173.LR)

If we are going to talk about unique men's watches, you do not want to miss out on Hublot. A brand known for its bold and eccentric designs, Hublot is home to numerous distinct models, one of which is the Hublot Spirit of Big Bang White Ceramic. This Hublot timepiece utilises a 44mm tonneau-shaped white ceramic case, making it extremely scratch-resistant and super lightweight.
The dial of this watch showcases the signature Spirit of Big Bang look with its cantilevered indices, thick applied hands, and skeleton layout. Through the sophisticated skeleton dial, wearers can view the automatic Hublot Calibre HUB4700 at work. This movement is based on the Zenith El Primero calibre and has a power reserve that can last up to 50 hours.
For those looking to buy this unique Hublot timepiece, it is worth approximately $19,930 USD. 
7. Maurice Lacroix Aikon Automatic Mercury (AI6088-SS002-030-1)

The Aikon collection by Maurice Lacroix has long been regarded by enthusiasts as a great alternative to the Audemars Piguet Royal Oak. One Aikon piece that is truly not like any other is the exceptional Maurice Lacroix Aikon Automatic Mercury. Crafted from stainless steel, this watch has a hardy 44mm watch case with a sleek, brushed finish and a depth rating of 100m.
What makes this unique men's watch particularly outstanding is the innovative way it tells time. As you go about your day, this watch's luminous Lancette hands unlock themselves from the mechanism and freely swing around the dial. When you want to check the time, the hands will lock back into position and proceed to show the precise time, as if they never left.
The Aikon Automatic Mercury retails at an estimated price of $8,140 USD.
8. Sevenfriday P-Series Racing Team Yellow (P3B/03)

Sevenfriday watches, in themselves, are unique men's watches you typically do not see every day, with bold, avant-garde designs that are sure to catch the eye. One fun and arresting model is the Sevenfriday Racing Team Yellow. Hailing from the Sevenfriday P-Series, this 47mm watch is housed in a rounded square stainless steel case finished with a dark gunmetal PVD coating. Its skeleton dial shows off a bright yellow carbon fibre surface and is adorned with applied hands, white indices, and a grooved matte black silicone animation ring. 
Paired with a colour-coordinated silicon and leather strap, the SevenFriday Racing Team Yellow boasts a loud, sporty appearance that especially appeals to younger audiences. Radiating energy, style, and reliability, this sophisticated timepiece is made for those who love to show off their wild side.
You can get your hands on this watch for just $830 USD.
9. Tommy Hilfiger Men's Analog Watch (1791326)

For an exclusive men's timepiece that will come in handy during your travels, have a look at the Tommy Hilfiger Men's Analog Watch. Its 44mm black case is made from TR90 black polymer and matches nicely with its black rubber strap and dark minimalist dial.
Featured on the watch face are two dials, the main dial and a sub-dial at 9 o'clock, that can keep track of two different time zones, along with red and white accents that brighten up the dark watch face. When travelling around the world, you can use these two dials to tell the time of your home country as well as the country you are currently visiting. Both dials can be adjusted using the crowns on the left and right of this Tommy Hilfiger watch's case.
This striking Tommy Hilfiger wristwatch is worth just $95 USD. 
10. Rado New Original Diastar Automatic (R12995203)

With its distinct dial design and hallmark Hardmetal casing, the Rado New Original Diastar Automatic is a modern timepiece that captures the essence of the 1960s Rado Diastar while also incorporating state-of-the-art innovations. Limited to just 1,962 pieces, this exclusive 38mm stainless steel Rado wristwatch shows off a textured blue dial with cantilevered indices, applied silver blunt hands, and an unusual, pronounced day-date window that is aligned vertically instead of the usual horizontal layout. There is a sapphire crystal on top of the dial, which boasts luxury and unparalleled scratch resistance.
You can purchase this Rado watch for around $1,205 USD.
11. Bell & Ross BR 03-92 Red Radar Ceramic (BR0392-RRDR-CE/SRB)

A unique men's watch with looks inspired by an aircraft's control radar, the BR 03-92 Red Radar Ceramic is a novelty timepiece that bravely bends the norms of traditional watchmaking. This Bell & Ross wristwatch comes in a 42mm matte black ceramic case that is highly scratch-resistant and matches wonderfully with its black rubber dial. The unique red dial tells time through the use of a red sonar-like hand and two aeroplane icons that travel on separated rotating discs to indicate the hours and minutes. Bell & Ross uses the automatic Calibre BR-CAL.302 to drive this watch and "navigate" the planes. 
This unique Bell & Ross men's watch fetches an approximate price of $3,540 USD. 
12. Oris Aquis Upscale (01 733 7766 4150-Set)

The next watch on this list does not just bear a distinctive look, but it also fulfills a worthy, sustainable purpose. The Oris Aquis Upscale is a stainless steel timepiece with a dial made of recycled materials, from the PET bottles that pollute the world's oceans. Through the brand's recycling process, Oris is able to create an artistic, colourful dial pattern that cannot be replicated. 
Water-resistant up to depths of 100m, this Aquis watch features a unidirectional elapsed time bezel with a grey scratch-resistant ceramic insert. The Oris Aquis Upscale is also offered in 36.5mm and 41.5mm cases, allowing people with all sorts of wrist sizes to wear it.
The Oris Aquis Upscale retails at around $1,790 USD.
13. Franck Muller Conquistador Grand Prix (8900SCDTGPG TTNRERG)

They do not call Franck Muller the "Master of Complications" for nothing. The Franck Muller Conquistador Grand Prix is a vintage luxury timepiece that perfectly encapsulates the brand's striking design style, ensuring that its wearer will always be the centre of attention.  
This Franck Muller boasts an unorthodox look that is enhanced by its red-toned 38mm Cintrée Curvex case made of lightweight titanium. This is complemented by a black rubber strap and an exclusive black dial with a surface of patterned waves. The dial is also adorned with applied skeleton steel hands and bold, stylised red appliqué Arabic numerals. Below the mesmerising watch face is a self-winding FM800 Calibre, featuring excellent precision and a lengthy 42-hour power supply.
Intrigued by this watch? You can purchase it for an estimated price of $7,625 USD. 
14. Bvlgari Gerald Genta Arena Bi-Retro Sport (103448)

Designer of epochal watches such as the Audemars Piguet Royal Oak and the Patek Philippe Nautilus, Gerald Genta is one of the most iconic names in watchmaking history. As a way of paying tribute to this watchmaking legend, Bvlgari created the Gerald Genta Arena Bi-Retro Sport, a timepiece inspired by Gerald Genta's original Bi-Retro watches. 
Powered by the automatic BVL 300 Bi-Retro Calibre, this Bvlgari Gerald Genta piece comes in a chunky 43mm stainless steel arena case and a black alligator leather strap. Its black and anthracite sector dial contains two retrograde counters for the minutes and the date, and an outlined silver window for the jumping hours.
This Gerald Genta-inspired timepiece retails at around $14,600 USD. 
15. Luminox Surefire 2211 Wristlight 

At first glance, you might be a little confused over whether this stocky piece is a wrist light or a wristwatch. Made in collaboration with Surefire, the Luminox Surefire 2211 Wristlight is a very reliable and unique men's tactical watch that can both tell the time and provide a powerful light source in the dark.
The case of this 61mm x 51mm Luminox watch is made out of anodised high-impact polymer, a compound that is not just durable but also very lightweight. It is equipped with an integrated wrist light that features adjustable power levels with a maximum output of 300 lumens, which is equivalent to the power of 300 candles. Apart from telling the time, this watch can also illuminate its own dial, allowing for greater ease of readability in low-light conditions. 
The Luminox Surefire 2211 Wristlight costs approximately $650 USD. 
16. Jaquet Droz Grande Seconde SW (J029030140) 

Showing off the recognisable figure-eight dial layout that the Grande Seconde collection is known for, the Jaquet Droz Grande Seconde SW is a versatile 45mm stainless steel watch that manages to look both dressy and sporty. Powered by an automatic Jaquet Droz 2663A-S calibre, this wristwatch tells time using two overlapping sub-dials — the smaller dial for the minutes and hour and the larger dial for the subsidiary seconds.
While this luxury sports timepiece looks incredibly artistic, Jaquet Droz also ensures that it is durable, comfortable, and very practical. This luxury men's dress watch is water-resistant up to depths of 50m and is coupled with a hardy and comfortable stainless steel bracelet. 
You can purchase this Jaquet Droz wristwatch for an estimated price of $6,290 USD.
17. Glashutte Original PanoInverse (1-66-06-04-22-05) 

You cannot go wrong with any watch from Glashutte Original. However, if you are looking for a sophisticated model that will really make you feel extraordinary, there are not many timepieces that stand out as much as the Glashutte Original PanoInverse. The star of this 42mm watch, without a doubt, is its complex watch face. Its black galvanised surface is topped with an artistically engraved power reserve indicator on the right and two black dial rings, one for the minutes and hours and the other for the small seconds.
On the lower right portion of the dial, you can also see the duplex swan-neck adjustment of the Glashutte Original Calibre 66-06. This hand-winding movement features a 41-hour reserve and a beat frequency of 28,800 vibrations per hour (4Hz).
This Glashutte Original timepiece will cost you around $8,360 USD. 
18. Piaget Altiplano Meteorite (GOA44051)

We have seen luxury watches with dials made from precious metals such as gold, silver, platinum, and so on. But have you ever seen a luxury timepiece with a dial made of meteorite shards? The Piaget Altiplano Meteorite is a limited edition watch that puts the spotlight on the magnificence of this out-of-this-world rock.
The dial of the Piaget Altiplano Meteorite consists of a grey meteorite surface with a unique and inimitable texture that will draw anyone's attention the more they look at it. Adorned with slim rose gold indices and stick hands, the watch face of this Piaget piece is protected by an ultra-thin 40mm case made of 18K rose gold and a layer of sapphire glass. Underneath the extravagant grey dial is the Piaget 1203P self-winding movement, complete with its 44-hour power supply.
As the most expensive watch on this list, the Piaget Altiplano Meteorite sells for around $24,600 USD. 
19. Tissot Heritage Banana Centenary (T117.509.16.052.00) 

When it comes to bold and unusual aesthetics, you would not normally think about the brand Tissot. Nevertheless, the Tissot Heritage Banana Centenary proves that the Swiss watchmaker does, in fact, have a rather creative and wild side.
Inspired by the 1916 Tissot "Banana" watch, the Heritage Banana Centenary features a long 49mm x 27mm rectangular case paired with a black synthetic leather strap. Its dial is adorned with large white Arabic numerals in a highly stylised typeface that nicely contrast against the smooth dark backdrop. On the inner circle of the watch face are silver spade hands and minute indices that help guide the minute hand. This timepiece is operated by a quartz movement, ensuring pinpoint accuracy and long shelf life.
The quirky Tissot piece is worth approximately $365 USD.
20. Skagen Aaren Naturals Three-hand Wood Watch

Our final entry is the Skagen Aaren Naturals Three-hand Wood Watch. Apart from its 40mm recycled steel case, this unique men's watch is notable for being almost entirely made out of sustainably sourced wood. Its dial is minimalistic, with slim indices and hands and Arabic numerals in a clean typeface, which keeps things simple and easy to read. This wooden watch is water-resistant up to depths of 50m, allowing it to survive raindrops and light splashes. This universal look also makes it a great timekeeper that you can pair with virtually any outfit. Skagen couples this wristwatch with a laser-etched wooden strap for easy wearing.
You can purchase this Skagen piece for just $125 USD. 
Final Thoughts
Initially, you might think that there are not that many watches with distinct looks. But after going through this sizable list, it can be seen that there are quite a bunch of them. The industry has numerous brands and micro brands that continue to astound and catch the attention of the watch community with their uniquely-designed timepieces. While they may not be to everyone's liking, their stand-out looks will definitely help you feel special whether you are on your own, with other fellow watch enthusiasts, or somewhere in the mundane crowd. 
As you go through the collections of different watchmakers, you are bound to come across numerous distinct watches you might like. That said, the 20 unique men's watches we have listed above are ones that are sure to impress and turn heads. As with most watch purchases, make sure you do some research of your own before finalising a purchase to ensure you have the ideal, unique men's timepiece you rightfully deserve.
Featured Image By: Tag Heuer
A watch enthusiast who's a gamer at heart? Maybe you'd want to check out this guide on Seiko's Street Fighter Collection for a vibrant dive watch.